S Korea, Japan, US seek deal to track N Korean missiles
Japan, the US and South Korea are negotiating an agreement on sharing real-time data on North Korean missile launches, Japanese Chief Cabinet Secretary Hirokazu Matsuno said yesterday.
There has been no agreement yet, but "I understand that defense authorities are vigorously proceeding to set up an arrangement," Matsuno said.
"The security environment surrounding Japan and South Korea is becoming more severe and more complex, and coordination between the two countries, as well as trilaterally with the United States, has become increasingly important," he said.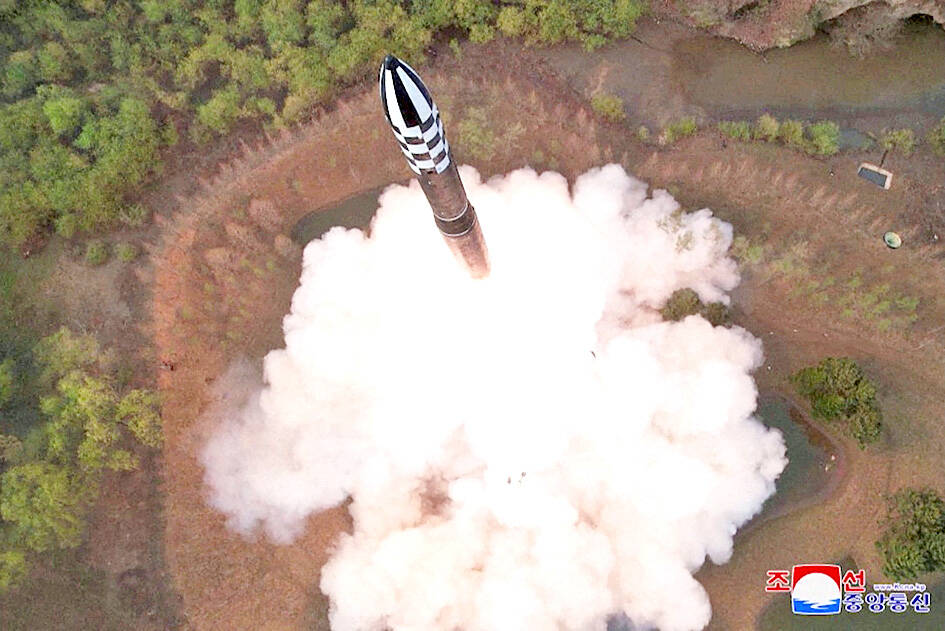 A missile is launched at an undisclosed location in an image taken from videoand released by North Korea's Korean Central News Agency.
Photo: Reuters
Japan and South Korea have been separately linked to data from US radar systems, but not directly to each other due to difficult relations strained by disputes over history, most recently over South Korean court rulings in 2018 ordering Japanese companies to compensate South Korean workers for abuses including forced labor during World War II.
Leaders of the three countries in November last year agreed to speed up information sharing on North Korean missile launches.
Japan's Yomiuri newspaper reported earlier yesterday that Tokyo and Seoul are nearing an agreement on connecting their radars via a US system to share real-time North Korean missile warning information, which would help strengthen Japanese missile defense capabilities.
The Yomiuri said that the three countries are expected to reach an agreement early next month on the sidelines of the Shangri-La Dialogue, an annual defense ministers' conference in Singapore.
Japanese and South Korean defense ministers would hold bilateral talks during the conference, the newspaper said.
Comments will be moderated. Keep comments relevant to the article. Remarks containing abusive and obscene language, personal attacks of any kind or promotion will be removed and the user banned. Final decision will be at the discretion of the Taipei Times.