China retaliates over Canada's envoy ouster
China yesterday announced the expulsion of a Canadian diplomat in retaliation for Ottawa ordering a Chinese consular official to leave the country over threats he allegedly made against a Canadian lawmaker and his family.
The Chinese Ministry of Foreign Affairs said that China was deploying a "reciprocal countermeasure to Canada's unscrupulous move," which it said it "firmly opposes."
It said Jennnifer Lynn Lalonde, the top Canadian diplomat in Shanghai, has been asked to leave by Saturday and that China "reserves the right to take further actions in response."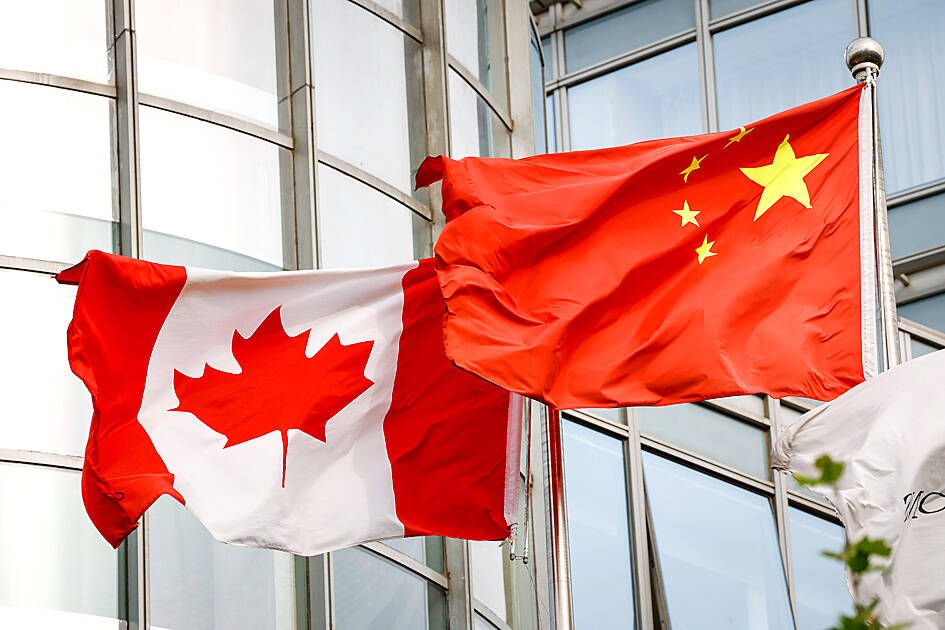 Canadian and Chinese flags flutter outside a hotel in Beijing, China, 09 May 2023.
Photo: EPA
The Canadian embassy in Beijing had no immediate comment on the expulsion order.
Ottawa earlier in the day said that Canadian Prime Minister Justin Trudeau's government is expelling a Chinese diplomat whom Canada's spy agency alleged was involved in a plot to intimidate an opposition lawmaker and his relatives in Hong Kong.
A senior Canadian government official said that Toronto-based diplomat Zhao Wei (趙巍) has five days to leave the country. It was not immediately clear if Zhao was still in Canada.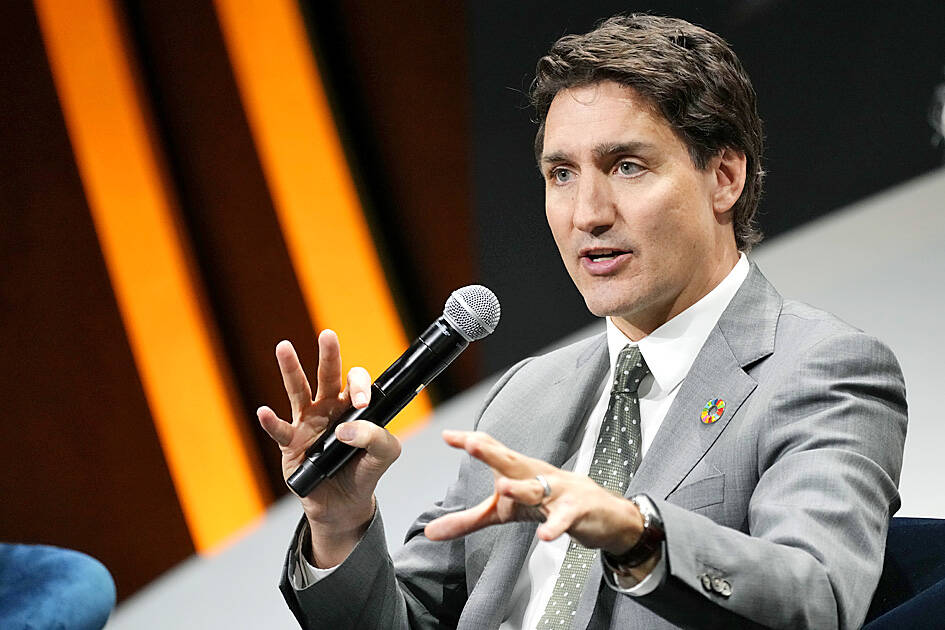 Canadian Prime Minister Justin Trudeau speaks during a panel discussion at the Global Citizen NOW Summit on April 27, 2023, in New York. Trudeau`s government is expelling a Chinese diplomat whom Canada?
Photo: AP
Canadian Minister of Foreign Affairs Melanie Joly said in a statement that Canada declared Zhao persona non grata and that Canada would "not tolerate any form of foreign interference in our internal affairs."
"Diplomats in Canada have been warned that if they engage in this type of behavior, they will be sent home," Joly said.
Canada's spy service indicated that in 2021, opposition Conservative lawmaker Michael Chong (莊文浩) and his Hong Kong relatives were targeted after Chong criticized Beijing's human rights record.
Canada's spy agency has not released details publicly.
Chong has been critical of Beijing's treatment of the Uighur ethnic group in China's Xinjiang region, hundreds of thousands of whom have been detained in prison-like political "re-education" camps.
China says attendance at what it calls vocational training centers is purely voluntary.
Chong said Zhao's expulsion should have happened years ago.
"I hope that this makes it clear not just to the People's Republic of China, but other authoritarian states who have representation here in Canada, that this crossing the line of diplomacy into foreign interference threat activities is utterly unacceptable here on Canadian soil," Chong said.
Comments will be moderated. Keep comments relevant to the article. Remarks containing abusive and obscene language, personal attacks of any kind or promotion will be removed and the user banned. Final decision will be at the discretion of the Taipei Times.