US official urges cybersecurity pacts
SECURITY RESILIENCE: Tsai Ing-wen said cybersecurity companies and experts, as well as civic groups, are partners in the effort to enhance cybersecurity in the nation
Governments should work with the private sector and civic groups to bolster their countries' cybersecurity efforts, former US secretary of homeland security Janet Napolitano said yesterday at the opening of a cybersecurity expo in Taipei.
Napolitano, who served as the department's head from 2009 to 2013, said that governments should "enlist" the private sector and civil society groups to promote readiness for cybersecurity threats.
An example of how collaboration between the public and private sectors could make cyberconnections more secure was a department campaign that encouraged the public to provide tips to law enforcement agencies, she said.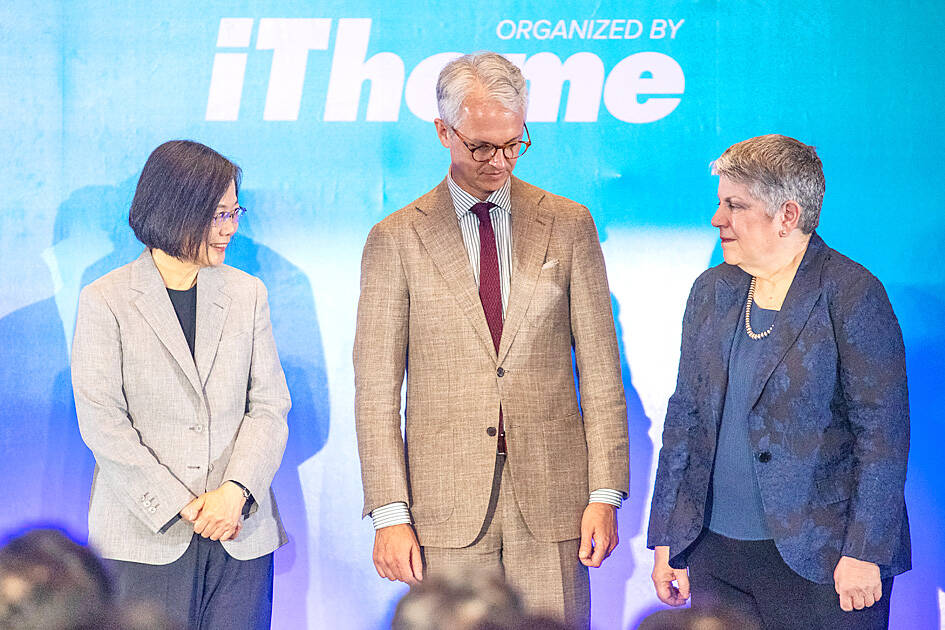 President Tsai Ing-wen, left, and former US secretary of homeland security Janet Napolitano, right, attend the opening ceremony of Cybersec in Taipei yesterday.
Photo: RITCHIE B. TONGO, EPA-EFE
She said that her former agency received "a significant volume of tips" about signs of terrorism and terrorism-related activities under the campaign known as "If you see something, say something," and that the information was often "actionable."
No matter how strong an organizational defense might be, there might be an adversary that can break through it, and what is important is to "mitigate vulnerability to cyberrisks," Napolitano said.
Napolitano, whose visit to Taiwan was not previously announced, is a member of the Intelligence Advisory Board of US President Joe Biden's administration.
She was invited to deliver remarks at Cybersec, a three-day expo in Taipei showcasing the latest products and services of more than 300 leading cybersecurity brands.
The event, which ends tomorrow, also features keynote speeches and panel discussions by cybersecurity experts, company executives and government officials, including President Tsai Ing-wen (蔡英文).
Napolitano said that the world's center of gravity is shifting to Asia and that as regional powers grow into global powers, security vulnerabilities are also emerging.
However, through information-security resilience, there is hope that known and unknown risks can be reduced, she said.
This is the first time Napolitano, who is also the founder of the Center for Security in Politics at the University of California, Berkeley, has visited Taiwan.
Taiwan and the university have a long-term and stable relationship, and have held many student exchanges, she said, adding that the institution has more than 1,000 Taiwanese alumni and the number of students from Taiwan attending has increased by more than 60 percent in the past five years.
Berkeley also works with Taiwan's Industrial Technology Research Institute, Taiwan Semiconductor Manufacturing Co (台積電), and other partners to support innovative projects, she said.
Speaking at the expo's opening ceremony, Tsai said that her administration sees cybersecurity companies and experts, as well as civic groups, as "important partners" in the effort to enhance Taiwan's cybersecurity and resilience to cyberattacks.
The government would continue to promote domestic research and development of cybersecurity products and services while encouraging investment in start-ups providing cybersecurity solutions, she said.
At the same time, Taiwan would also continue to seek international cooperation to bolster national security in cyberspace, she said.
Comments will be moderated. Keep comments relevant to the article. Remarks containing abusive and obscene language, personal attacks of any kind or promotion will be removed and the user banned. Final decision will be at the discretion of the Taipei Times.