Invasion could cost world economy US$1tn
CHIP SHUTDOWN: US intelligence officials expressed different views on China at a hearing, ranging from little threat of a Taiwan invasion to an attack as early as 2025
A Chinese invasion of Taiwan could halt production by the world's largest advanced chipmaker, wiping out up to US$1 trillion per year from the global economy in the first few years, the top US intelligence official told a hearing on Capitol Hill on Thursday.
US Director of National Intelligence Avril Haines presented what she called a "general estimate" during testimony before the US Senate Armed Services Committee.
The advanced semiconductors produced by Taiwan Semiconductor Manufacturing Co (TSMC, 台積電) are used in 90 percent of "almost every category of electronic device around the world," she said.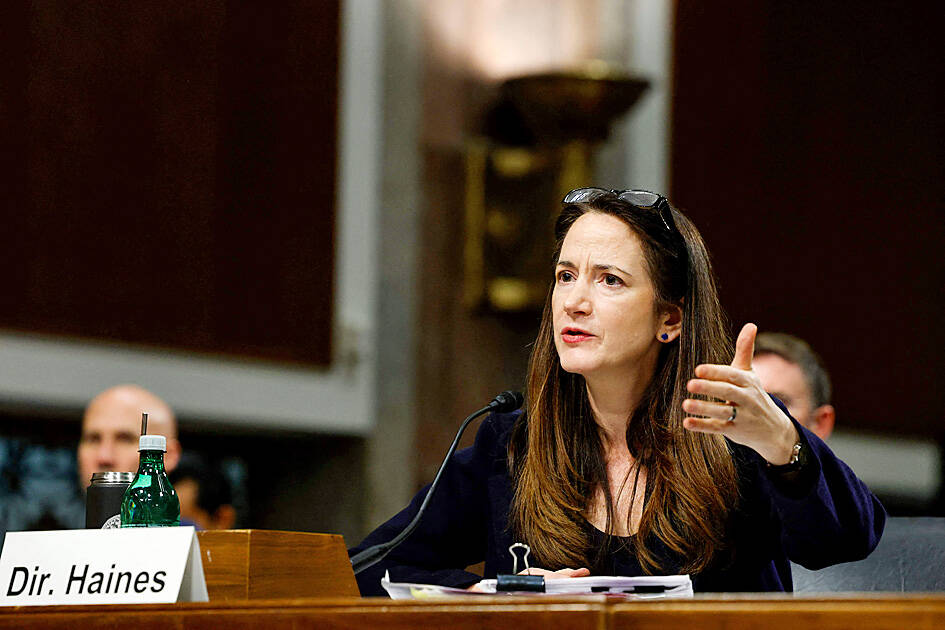 US Director of National Intelligence Avril Haines speaks at a US Senate Armed Services Committee hearing on Thursday in Washington.
Photo: AFP
If a Chinese invasion stopped TSMC from producing those chips, "it will have an enormous global financial impact that I think runs somewhere between US$600 billion to US$1 trillion on an annual basis for the first few years," she said.
"It will also have an impact on [US] GDP if there was such an invasion of Taiwan and that [TSMC's production] was blocked," Haines said.
It would also have a large impact on China's economy, she added.
To deal with that risk, TSMC is investing US$40 million to build two sophisticated wafer fabs in Arizona at Washington's urging.
A fab using the 4-nanometer process is scheduled to begin mass production next year, and the other, using the more advanced 3-nanometer process, is slated to mass-produce chips starting in 2026.
Also at the hearing, Haines said that Chinese President Xi Jinping (習近平) is leaning toward unifying with Taiwan in a "peaceful" manner, but is also preparing possible military action to achieve that goal.
"I think we continue to assess that he [Xi] would prefer to achieve unification of Taiwan through peaceful means," she said, citing US intelligence.
Regardless, Xi has directed the Chinese military to "provide him with a military option, essentially, to be able to take it without concern of [US] intervention," which is expected to "have a meaningful impact on his capacity to do so," Haines said.
Haines' comments came after US Senator Rick Scott raised concerns about the possibility of China invading Taiwan, citing Xi's remarks in the past year suggesting that he was preparing the Chinese population for a war against Taiwan.
Also at the hearing, US Defense Intelligence Agency Director Scott Berrier appeared to have greater concern than Haines about a possible invasion of Taiwan, saying that Xi's rhetoric has been "picking up" after he assumed his third term as president.
Berrier provided a list of possible invasion dates ranging from 2025 to 2049.
"I think the bottom line is he's told his military to be ready," Berrier said.
Meanwhile, Haines said the relationship between the US and China has become "more challenging," citing a speech made by Xi in March in which he blamed Washington for suppressing Beijing, reflecting his distrust of the US and his belief that Washington is seeking to contain his country.
In his March 6 speech, Xi accused the US of trying to isolate his country and hold back its development, and a US-led campaign of "containment and suppression" of China has "brought unprecedented, severe challenges."
Despite Xi's strong rhetoric, Haines said her agency's intelligence suggests that China wants to preserve stability in a bid to avoid triggering additional technology restrictions or sanctions from the US.
Comments will be moderated. Keep comments relevant to the article. Remarks containing abusive and obscene language, personal attacks of any kind or promotion will be removed and the user banned. Final decision will be at the discretion of the Taipei Times.