US majority support defending Taiwan
COMMON ENEMY? In a 'Newsweek' survey, 41% of respondents said China was the top threat to the US, while half thought the US was 'committed by treaty' to defend Taiwan
More than half of Americans believe that the US should defend Taiwan in the event of a Chinese invasion, a survey commissioned by Newsweek found.
Of the respondents, 31 percent said they would approve and 25 percent said they would strongly approve of the US' involvement in a cross-strait crisis, Newsweek reported on Friday.
The percentage increased to 56 percent from 47 percent in the middle of August last year, it said, adding that those who were against the US intervening remained the same at 12 percent.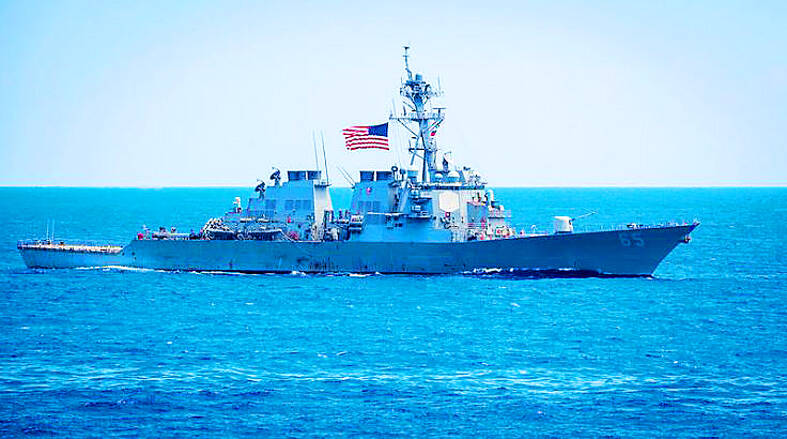 The Arleigh Burke-class guided-missile destroyer USS Benfold sails in formation in the Philippine Sea on June 15, 2018.
Photo: Reuters
Half of the respondents believed the US was "committed by treaty" to defend Taiwan from a Chinese invasion, Newsweek reported.
The treaty refers to the US' Taiwan Relations Act.
The survey collected 1,500 valid responses from eligible voters, and was conducted on April 4, the day before President Tsai Ing-wen (蔡英文) met with US House of Representatives Speaker Kevin McCarthy in California, Newsweek said.
The poll reflected that Taiwan was more frequently mentioned by political leaders in the US, said political scientist Raymond Kuo (郭泓均), director of RAND Corp's Hu Taiwan Policy Initiative.
"There's always been a latent amount of public support for Taiwan," Newsweek quoted Kuo as saying.
Americans, regardless of political affiliation, are becoming more familiar with and concerned about Taiwan issues, he added.
However, one-third of the respondents said that they did not know whether Taiwan was a military ally of the US, indicating that "the semantic subtleties of US policy towards Taiwan are often lost," Newsweek said.
Kharis Templeman, a research fellow at Stanford University's Hoover Institution and program manager of the Hoover Project on Taiwan in the Indo-Pacific Region, was quoted as saying that the US should articulate its position on Taiwan.
Washington "views Taiwan's international status as undecided, and that a final determination requires a peaceful and voluntary agreement from both sides of the strait," Templeman said.
Although the US has made no official commitment to defend Taiwan, it has "a long-standing interest in seeing a peaceful resolution of differences across the strait," he said.
Americans tend to take an unfavorable view of China and distrust Chinese President Xi Jinping (習近平), a sentiment that has grown in recent years, Newsweek said.
Forty-one percent of the poll's respondents said China was "the greatest threat" to US interests, followed by Russia with 35 percent, North Korea with 7 percent and Iran with 3 percent, it said.
In other news, experts on Taiwan-US relations said in a new book published on Saturday titled US-Taiwan Relations: Will China's Challenge Lead to a Crisis? that a cross-strait conflict is not inevitable.
Authors of the book include Ryan Hass, a senior fellow at the Brookings Institution, Bonnie Glaser, managing director of the German Marshall Fund of the US' Indo-Pacific program, and former American Institute in Taiwan chairman Richard Bush.
The book discusses the US' most effective responses to tackle China's growing military threats against Taiwan, Amazon.com says.
The authors say that the US' Taiwan policies should focus on understanding the hopes and fears of Taiwanese regarding the threats posed by China.
Maintaining a credible military deterrence is the minimum threshold, they said, adding that the US should fortify Taiwan's economic dynamism, political autonomy, military preparedness, and dignity and respect on the world stage.
Comments will be moderated. Keep comments relevant to the article. Remarks containing abusive and obscene language, personal attacks of any kind or promotion will be removed and the user banned. Final decision will be at the discretion of the Taipei Times.