US to sell Taiwan NASAMS: source
SURFACE-TO-AIR MISSILES: The new system could be integrated with equipment that the military already has and be used to defend key areas, the source said
The US is to sell Taiwan four sets of Norwegian Advanced Surface-to-Air Missile Systems (NASAMS), which can be integrated with systems Taiwan already uses, including the domestically developed Tien Chien II (Sky Sword) missile system, a source said yesterday.
The NASAMS can also be integrated with the US-made Avenger vehicle-launched air-defense missile system, which Taiwan also uses, through the use of a Link 16 military data link, the source said.
The NASAMS would be used to defend key areas, including military airports and government sites in Taipei, the source said.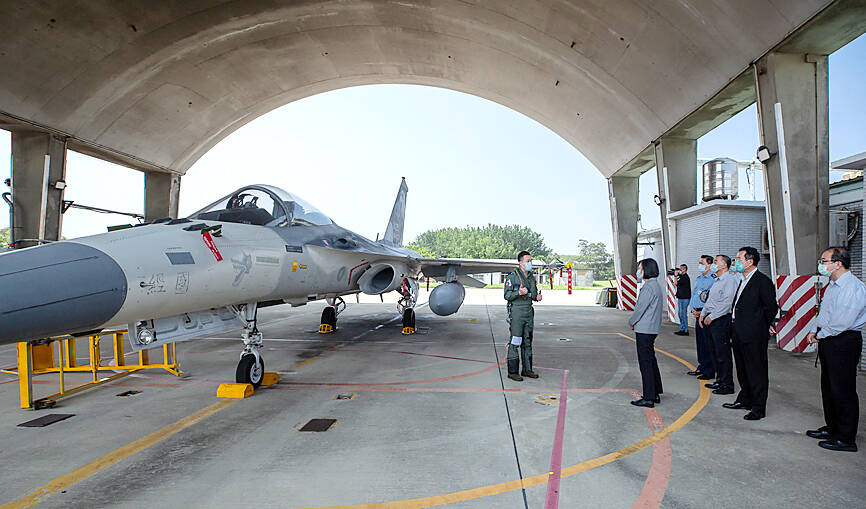 President Tsai Ing-wen, second left, visits the Air force's Third Tactical Fighter Wing in Taichung yesterday.
Photo courtesy of the Presidential Office
Whether Taiwan would acquire the NASAMS through the US$2 billion in direct loans for military purposes stipulated in the Omnibus Consolidated Appropriations Act signed by US President Joe Biden last year, or the US$10 billion of grants over five years stipulated in the US' National Defense Authorization Act for Fiscal Year 2023, remained unclear, the source said.
However, the NASAMS are expected to be delivered next year, they said.
"NASAMS combines the MPQ-64 Sentinel radar, compatibility with multiple types of short and medium-range air defense missiles, and the Link 16 military tactical data link network used by NATO," the source said. "It is a powerful ground-to-air defense system that can defend against aircraft up to 50km away."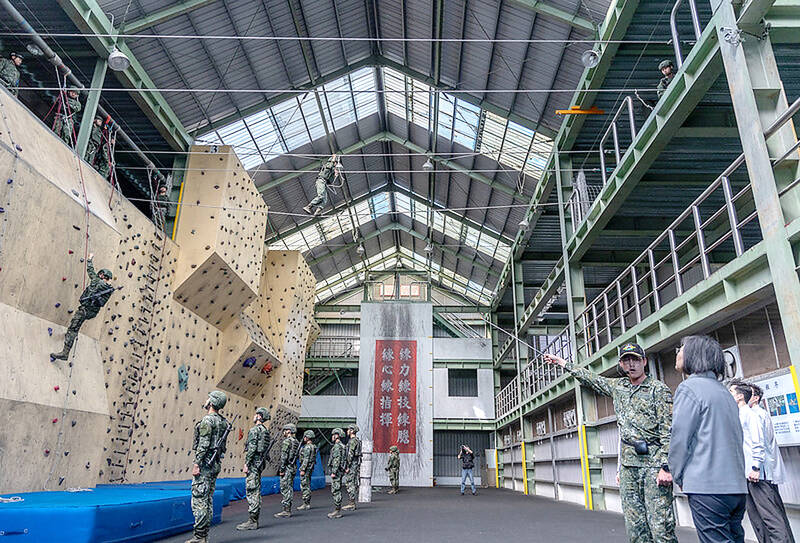 President Tsai Ing-wen, right, visits the Army Special Combat Training Center in Taichung yesterday.
Photo courtesy of the Presidential Office
Missiles compatible with NASAMS include the AIM-120 Advanced Medium-Range Air-to-Air Missile (AMRAAM), the AMRAAM Extended Range missile, the short-range AIM-9X Block II Sidewinder missile and the German-made IRIS-T short-range anti-aircraft missile, among others, the source said.
"The flexibility to use Sidewinders is a key advantage of the NASAMS, as we have seen in Ukraine. When a runway is damaged and planes cannot take off, the Sidewinders can be taken off the planes and loaded into the NASAMS," the source said.
The acquisition of NASAMS, a laser-based drone defense system produced in the US and Norway, the AGM-158C Long Range Anti-Ship Missile and other types of precision ammunition promised to Taiwan by the US would greatly bolster Taiwan's defensive capabilities, Institute of National Defense and Security Research fellow Su Tzu-yun (蘇紫雲) previously said in an interview.
Separately yesterday, President Tsai Ing-wen (蔡英文) thanked fighter jet pilots who scrambled against China's air force during its drills around Taiwan proper and pledged to further bolster the armed forces.
China began the exercises, including simulated precision strikes with bombers and missiles, on Saturday last week, after Tsai returned from Los Angeles, where she met US House of Representatives Speaker Kevin McCarthy.
During a meeting in Taichung with pilots who are frequently stationed at a frontline air base in Penghu County's Magong City (馬公), Tsai thanked them for their hard work and for sticking to their posts at all times.
"I want to tell everyone: As long as we are united, we can reassure the country's people and let the world see our determination to protect the nation," she said in a video clip provided by the Presidential Office.
Tsai added that the Taiwan-made Ching-kuo Indigenous Defense Fighters (IDF), which entered service in 1997, had been upgraded to more advanced versions.
"In the future, we will continue to upgrade software and hardware facilities, and improve personnel training," she said.
Tsai's office showed images of her talking to pilots dressed in flight uniforms and being given a briefing in front of an IDF parked in a hangar.
China's three-day drills formally ended on Monday, but Taiwan has reported continued Chinese activity, although on a reduced scale.
Yesterday morning, the Ministry of National Defense said it had not spotted any Chinese military aircraft crossing the median line of the Taiwan Strait in 24 hours.
In its regular morning report on Chinese military activities, the ministry said it had detected four Chinese military aircraft and eight Chinese warships around Taiwan.
Comments will be moderated. Keep comments relevant to the article. Remarks containing abusive and obscene language, personal attacks of any kind or promotion will be removed and the user banned. Final decision will be at the discretion of the Taipei Times.