US preparing arms deliveries: senator
'VISITING FRIENDS': Washington is on working on delivering US$19.5 billion in military hardware to Taiwan, US Senator John Hoeven told President Tsai Ing-wen
The US is working on arms deliveries to Taiwan, visiting US Senator John Hoeven told President Tsai Ing-wen (蔡英文) yesterday, as he called on other countries in the Indo-Pacific region to work together to safeguard peace and stability.
Hoeven arrived in Taiwan yesterday for his first visit to the country. Upon arrival for his three-day visit, he said: "I felt now it's an important time to come to see my friends."
Taiwan has been "a very good friend" to himself, his home state of North Dakota and the US, so it is important to continue to stand together as friends and to work together "for deterrence, for peace and for prosperity," he said.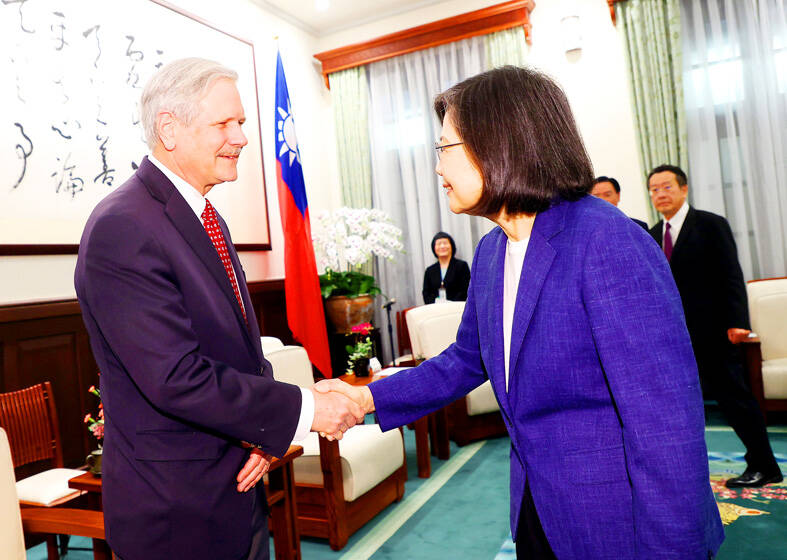 President Tsai Ing-wen, right, shakes hands with US Senator John Hoeven at the Presidential Office in Taipei yesterday.
Photo: CNA
Hoeven is scheduled to discuss exchanges between Taiwan and the US in the fields of economics, agriculture and security, which he called areas that the two countries should continue working on together.
"We want peace and stability in the Taiwan Strait," while China's aggressive actions are causing concerns in the US, he said.
Hoeven, who is a member of the US Senate Committee on Appropriations, said that the US is working on delivering US$19.5 billion in military hardware that Taiwan has purchased.
By visiting Taiwan and listening to Tsai and senior officials in her administration, he hopes to learn about other potential areas for Taiwan-US cooperation, Hoeaven said, adding that such projects would enhance the nation's self-defense capabilities.
Such efforts also require cooperation with other countries in the region, including Japan and South Korea, which he visited before coming to Taiwan, as well as the Philippines, which is conducting joint military drills with the US, he said.
Tsai thanked Hoeven for promoting trade and economic relations with Taiwan, saying that he sent North Dakota's first trade delegation to Taiwan in 2004, when he was the state's governor.
Taiwan established sister-state relations with North Dakota in 1986, after which the state has been one of the most important agricultural exporters to Taiwan, she said.
During his visit, Hoeven is also to meet with National Security Council Secretary-General Wellington Koo (顧立雄), and officials at the Council of Agriculture, the Ministry of Health and Welfare and the Office of Trade Negotiations. He would also participate in a banquet presided over by Minister of Foreign Affairs Joseph Wu (吳釗燮).
Separately, the Ministry of Foreign Affairs thanked the US and the Philippines for underlining the importance of peace and stability in the Taiwan Strait in a joint statement.
The two countries in Washington on Tuesday held the US-Philippines 2+2 Ministerial Dialogue, attended by US Secretary of State Antony Blinken, US Secretary of Defense Lloyd Austin, Philippine Secretary of Foreign Affairs Enrique Manalo and Philippine Secretary of National Defense Carlito Galvez Jr.
The four officials "reiterated the importance of maintaining peace and stability across the Taiwan Strait as an indispensable element of global security and prosperity," the two countries said in a joint statement after the meeting.
The foreign ministry yesterday welcomed the statement, saying that the two countries for the first time mentioned cross-strait peace in a statement after the ministerial dialogue.
Countries around the world have voiced grave concerns about China's military drills around Taiwan this week, the ministry said, calling on the international community to condemn China's irrational provocation and stand with Taiwan to safeguard regional stability.
Since China began its drills, the administrations or legislatures of 42 countries have voiced support for Taiwan, including the US, Japan and the EU, ministry spokesman Jeff Liu (劉永健) said, adding that "this is the stance taken by the democratic camp."
He also expressed gratitude to countries that underlined the importance of cross-strait security and stability, and opposed any unilateral change to the "status quo" at international events.
Regarding recent visits to China by several world leaders, including French President Emmanuel Macron, Singaporean Prime Minister Lee Hsien Loong (李顯龍) and Spanish Prime Minister Pedro Sanchez, Liu said that the ministry is well aware of the development and would continue to pay attention.
Comments will be moderated. Keep comments relevant to the article. Remarks containing abusive and obscene language, personal attacks of any kind or promotion will be removed and the user banned. Final decision will be at the discretion of the Taipei Times.