China simulates 'sealing off' Taiwan
MILITARY EXERCISES: China released a video showing an H-6 bomber pilot readying the fire control button. The US meanwhile deployed a warship in the area
China yesterday simulated "sealing off" Taiwan during a third day of war games around the nation, while the US deployed a naval destroyer into the South China Sea in a show of force.
China launched the exercises on Saturday in response to President Tsai Ing-wen (蔡英文) meeting with US House of Representatives Speaker Kevin McCarthy last week, an encounter it had said would provoke a furious response.
After two days of exercises that included simulating targeted strikes on Taiwan and encirclement of the nation, the Chinese military said the war games also included "sealing" it off, and Chinese state media reported that dozens of planes had practiced an "aerial blockade."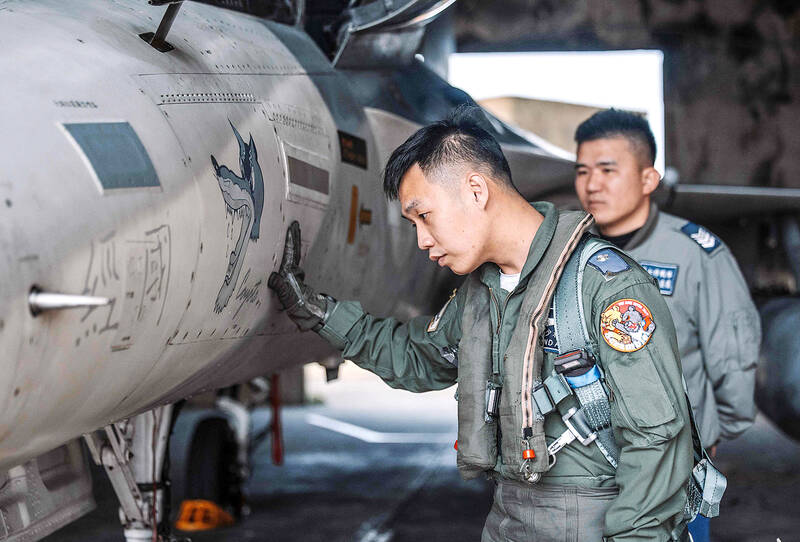 An air force pilot inspects an Indigenous Defense Fighter jet at an undisclosed location in Taiwan on Sunday.
Photo: AFP/ Ministry of National Defense
The People's Liberation Army said that one of China's two aircraft carriers — the Shandong — also took part in combat patrols and showed fighters taking off from its deck.
The US, which had repeatedly called for China to show restraint, yesterday sent the USS Milius guided-missile destroyer through contested parts of the South China Sea.
"This freedom of navigation operation upheld the rights, freedoms, and lawful uses of the sea," the US Navy said in a statement.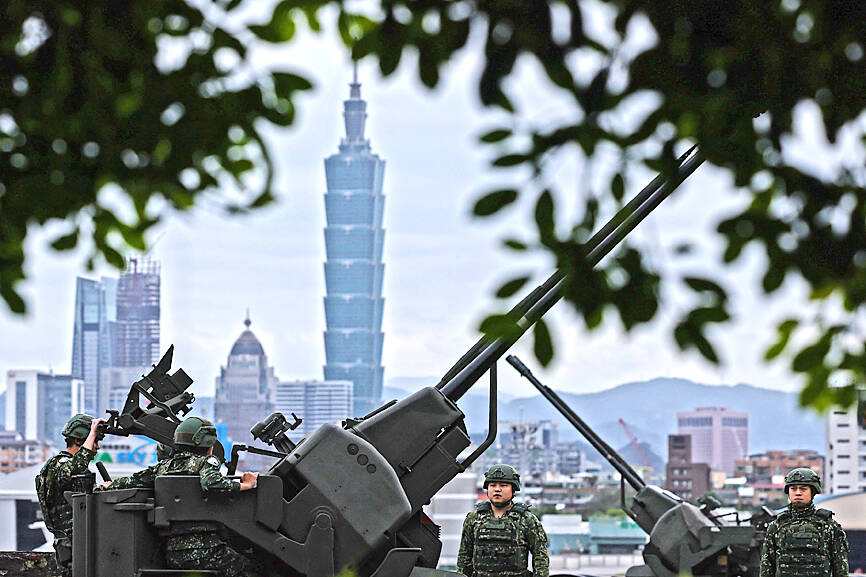 Soldiers station anti-aircraft artillery near Taipei on Sunday.
Photo: AFP / Ministry of National Defense
The ship sailed within 12 nautical miles (22km) of Mischief Reef (Meiji Reef, 美濟礁), where China has its largest outpost on artificial islands in the South China Sea and the closest to Philippine territory.
"These operations demonstrate that the United States will fly, sail, and operate wherever international law allows — regardless of the location of excessive maritime claims and regardless of current events," the statement said.
The deployment of the Milius triggered more anger from China, which said the vessel had "illegally intruded" into its territorial waters.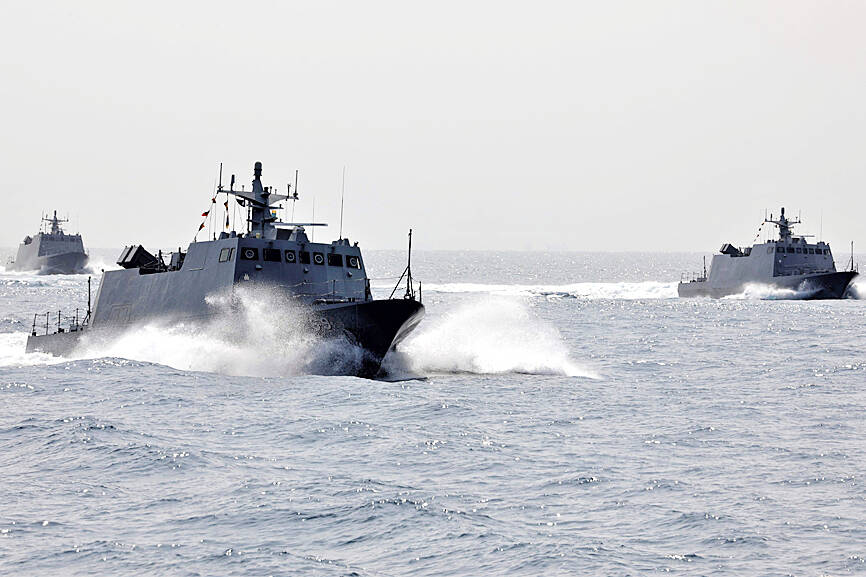 Military vessels take part in a drill off the coast of Taiwan yesterday.
Photo: AFP / Ministry of National Defense
Beijing asserts it has rights to more than 80 percent of the South China Sea, whose other claimants are Taiwan, Malaysia, Indonesia, Vietnam, Brunei and the Philippines. The US as well as the Permanent Court of Arbitration in The Hague have refused to recognize China's claims.
China yesterday released a short video on WeChat showing an H-6 bomber flying in what it said was the skies north of Taiwan.
"The missiles are in good condition," an unidentified voice says, as the video shows images from the cockpit of a missile under the aircraft's wing.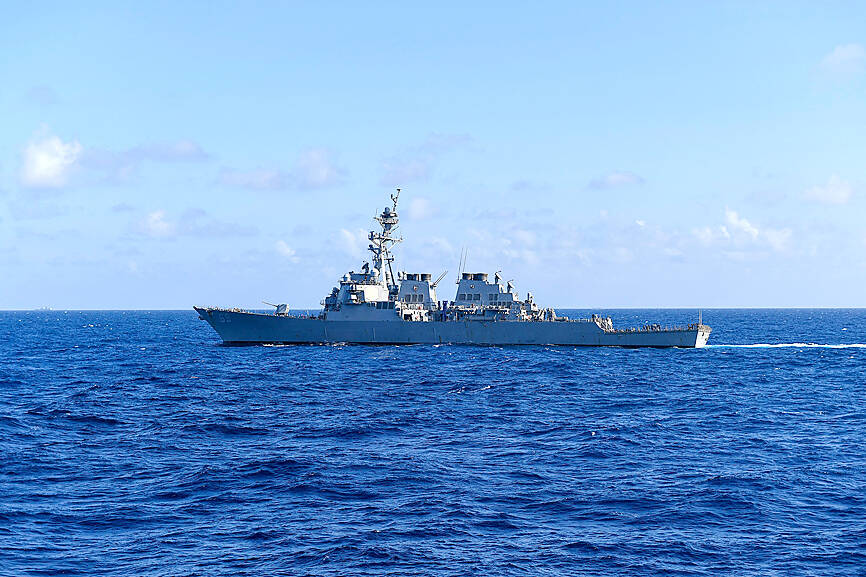 The US Navy's USS Milius sails in the South China Sea on Nov. 20, 2021.
Photo: AFP / US Navy / Omar-Kareem Powell
It then shows a pilot readying the fire control button for what it described as a simulated attack, and then pressing the button, though it did not show any missiles being fired.
The military has repeatedly said that it would respond calmly to China's drills and not provoke conflict.
A report by the Military News Agency yesterday said that the military also stepped up its guard by having marines move an anti-ship missile vehicle unit into a tactical position and dispatching missile boats to prepare for an emergency drill.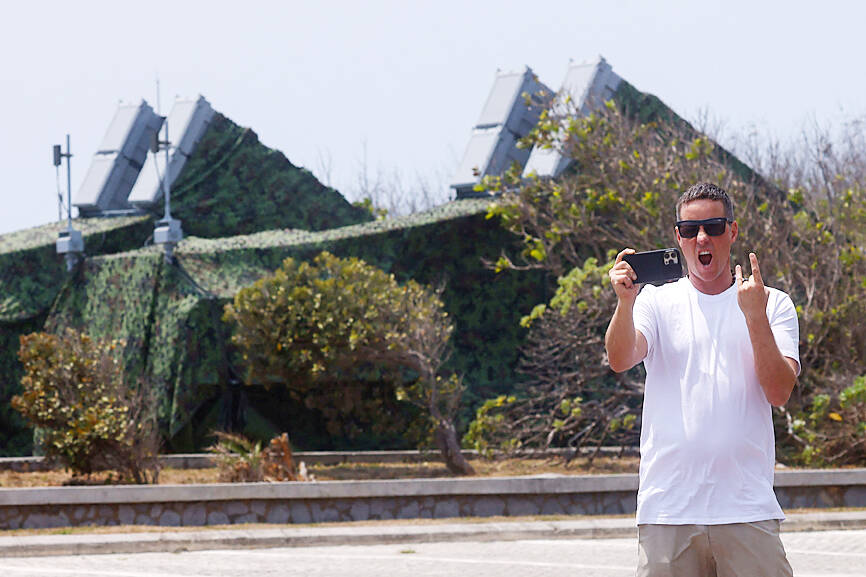 A tourist takes a selfie with Hsiung Feng mobile missile launchers at Cape Maobitou Park in Pingtung County yesterday.
Photo: Ann Wang, Reuters
During the exercise, the Marine Corps guarded the Haifeng Missile Brigade to complete the deployment, while Hsiung Feng II Anti-Ship Missile System was on standby to track and target, the report said.
"Through joint intelligence, surveillance and reconnaissance efforts, the military closely monitored the enemy's situation at sea and maintained a high degree of vigilance around the clock," it said.
Meanwhile, several Kuang Hua VI-class missile boats left port to practice tactical movements and engagement procedures, and bolster their ability to respond to emergencies, it added.
Separately yesterday, the Ministry of National Defense also released pictures of mobile launchers for Taiwan-made Hsiung Feng anti-ship missiles at an undisclosed location, as well as missile-armed fast attack boats at sea.
The military also used mission aircraft and ships as well as shore-mounted air defense and anti-ship missile systems to closely monitor and respond to the whereabouts of the Shandong fleet, which conducted flight training in the west Pacific, the ministry said in a statement.
"As the Chinese Communist Party continues to threaten and harass the country with aircraft and ships, which also threatens the regional situation, our servicemen and women adhere to the principle of neither escalating conflicts nor causing disputes, closely monitor the situation and cope with challenges calmly," Navy Command Headquarters said in a statement.
The ministry said that as of 6pm yesterday, 91 military aircraft and 12 ships had been detected in areas around Taiwan, including 54 warplanes that crossed the median line of the Taiwan Strait or flew into the southwestern part of Taiwan's air defense identification zone.
Meanwhile, Japan yesterday said that it had scrambled jets in recent days as Chinese planes landed and took off from the Shandong.
Jets and helicopters took off and landed on the carrier 120 times from Friday to Sunday, with the carrier, three other warships and a support vessel coming within 230km of Japan's Miyako island, the Japanese Ministry of Defense said.
Japan has been following China's military drills around Taiwan "with great interest," a government spokesperson said yesterday.
Japan has long worried about China's military activities in the area given how close southern Japanese islands are to Taiwan.
The southern Japanese island of Okinawa hosts a major US air force base and in August last year when China staged war games to protest the visit of then-US house speaker Nancy Pelosi to Taipei, Chinese missiles landed within Japan's exclusive economic zone.
Additional reporting by Chen Yu-fu
Comments will be moderated. Keep comments relevant to the article. Remarks containing abusive and obscene language, personal attacks of any kind or promotion will be removed and the user banned. Final decision will be at the discretion of the Taipei Times.