Force 'unacceptable' to resolve Taiwan issues: EU leader
Using force to change the "status quo" across the Taiwan Strait would be "unacceptable," European Commission President Ursula von der Leyen told Chinese President Xi Jinping (習近平) at a meeting in Beijing on Thursday.
"We all agree that stability in the Taiwan Strait is of paramount importance. We have a very clear interest in preserving this stability," Von der Leyen said.
"The threat of, or the use of, force to change the status quo is unacceptable, and it is important that the tensions that might occur should be resolved through dialogue," she said.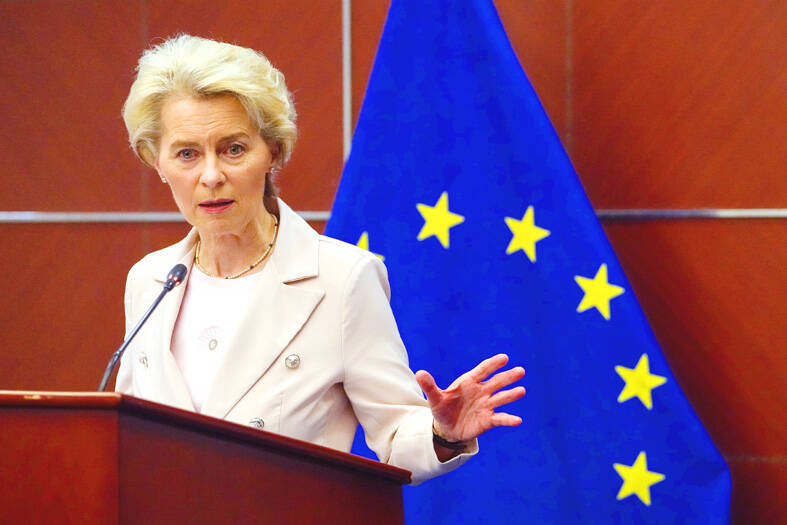 European Commission President Ursula von der Leyen speaks at a press conference in Beijing on Thursday.
Photo: AP
Europe has "very clear interests in the [Indo-Pacific] region," and therefore it has interests in seeing stability maintained in the Taiwan Strait, Von der Leyen said at a news conference following the meeting.
The Ministry of Foreign Affairs in a statement thanked Von der Leyen for raising the issue in her meeting with Xi.
"Countries in the EU have repeatedly expressed support for Taiwan and concern for peace and stability in the Taiwan Strait, echoing similar statements from like-minded nations elsewhere, including the US and Japan," it said.
"Taiwan will continue to strengthen cooperation with international democratic partners to jointly maintain security and prosperity in the Indo-Pacific region, as well as global freedom and democracy," it added.
The Chinese Ministry of Foreign Affairs said in a statement that the "Taiwan issue is at the center of China's core interests. Anyone who expects China to compromise on the Taiwan issue suffers from wishful thinking and will shoot themselves in the foot."
Chinese state media reports on the meeting omitted Von der Leyen's comments regarding the use of force.
Chinese news reports said that Von der Leyen "reiterates that the EU has no intention of changing the long-standing one China policy, recognizes the government of the People's Republic of China as the sole legal government representing the whole of China, and hopes that the Taiwan Strait region will maintain peace and stability."
Von der Leyen also discussed trade with Xi, saying that the EU's trade deficit with China of nearly 400 billion euros (US$436.54 billion) is an "unsustainable trend."
She also said that European companies face unfair competition in China, citing a "buy Chinese" policy that she said discriminates against outside manufacturers of medical equipment.
Companies are also under pressure to transfer technology and face insufficient protection against infringements on intellectual property rights, she said.
While not looking to decouple from China, the European Commission would adopt a "derisking" policy toward the country, she said, adding that trade and competition issues should be resolved through dialogue.
She also raised concerns about human rights in Xinjiang, and encouraged China to make more environmental progress.
Comments will be moderated. Keep comments relevant to the article. Remarks containing abusive and obscene language, personal attacks of any kind or promotion will be removed and the user banned. Final decision will be at the discretion of the Taipei Times.