Terry Gou again to seek KMT presidential ticket
Hon Hai Precision Industry Co founder Terry Gou (郭台銘) would again seek the Chinese Nationalist Party (KMT) nomination for president, he told a news conference marking his return from the US at a hotel near Taiwan Taoyuan International Airport yesterday.
The business tycoon was a contender for the 2019 KMT presidential nomination, but lost to former Kaohsiung mayor Han Kuo-yu (韓國瑜). He quit the party the same year.
Taiwan can only avoid war with China by reducing tensions between the US and China, and voting the Democratic Progressive Party (DPP) out of office, he said.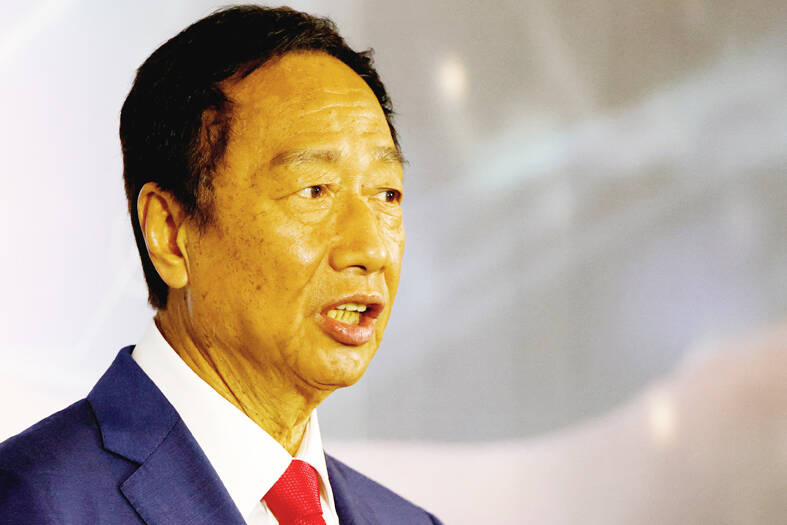 Hon Hai Precision Industry Co founder Terry Gou speaks at a news conference in Taoyuan yesterday.
Photo: Carlos Garcia Rawlins, Reuters
"We must honestly tell young people that it is dangerous to vote for the DPP, which exalts Taiwanese independence, and hates and opposes China," he was quoted by Reuters as saying. "Peace is not taken for granted, and people need to make the correct choice."
Gou apologized for leaving the KMT and pledged to support New Taipei City Mayor Hou You-yi (侯友宜) — widely presumed to be planning to run for the presidency — if Hou wins the party nomination.
The KMT is to select its presidential and legislative candidates via a special committee consisting of party leaders, it announced on March 23.
Reached for comment, Hou said that protecting the nation and loving its people are the most important things in his life, adding that solidarity is needed for the good of the nation.
Hou was speaking at a news event following a mayoral visit to the light rail station in New Taipei City's Tamsui District (淡水)
Asked whether he would run for president, Hou said his top priority remains to lead the New Taipei City Government, as city residents have been suffering from rising prices of daily necessities.
KMT caucus whip William Tseng (曾銘宗) said Gou's remark that the DPP must be voted out of office and his apology are positive signs.
The party, even united, could still lose next year's election and a disunited party would be doomed, he said, adding that the KMT must reach out to swing voters.
The creation of the KMT special committee to nominate candidates was a move to avoid disunity that could arise from primary elections, he said.
The inclusion of Gou in the national polls is a matter for the KMT Central Standing Committee to decide, which has the full support of KMT lawmakers, he said.
Citing his own sources, Tseng said the KMT headquarters has initiated measures following the announcement of Gou's presidential bid to ensure that the nomination would be fair and transparent.
KMT legislative caucus secretary-general Hsieh Yi-fong (謝衣?) — the first in the party to declare support for Hou's presumed presidential bid — said she remains "cautiously optimistic" that Hou is the most likely contender to be chosen by the party organization.
"The DPP absolutely viewed Hou as the strongest opponent it could face in the election," she said.
Hou is a "pragmatic and drama-free" candidate for next year's presidential election, KMT legislative caucus whip Lin Wei-chou (林為洲) said.
DPP spokeswoman Michelle Lin (林楚茵) said that Gou's entry into the race reflects Hou's falling approval ratings and a surge in public criticism of his stance toward China.
The KMT presidential nomination is likely to devolve into a political affray, as shown by the rivalry between KMT Legislator Alex Fai (費鴻泰) and Taipei City Councilor Hsu Chiao-hsin (徐巧芯) to become the party's legislative candidates, she said.
Gou has a long way to go in his presidential bid, and that is why he targeted the DPP using colorful language, Michelle Lin said, adding that the DPP does not respond to unreasonable remarks.
While Gou is popular with young people and those who vote on economic issues, the KMT has gone backward in democracy by its decision to nominate candidates without a vote, DPP Legislator Hsu Chih-chieh (許智傑) said.
Peace would not be achieved through Gou's platform of avoiding war by improving US-China relations and voting out the DPP, Hsu said, adding that the Russian invasion of Ukraine has shown the world how authoritarian states operate.
Gou's peace proposal would require him to "pay a visit to Beijing as a tributary vassal and praise China's pandemic response, as former president Ma Ying-jeou (馬英九) did recently," he said.
Additional reporting by Reuters
Comments will be moderated. Keep comments relevant to the article. Remarks containing abusive and obscene language, personal attacks of any kind or promotion will be removed and the user banned. Final decision will be at the discretion of the Taipei Times.