TSMC chairman urges government chip initiative
Taiwan Semiconductor Manufacturing Co (TSMC, 台積電) yesterday called on the government to provide more equipment essential to advanced chipmaking, as it seeks to shore up its critical role in a US$550 billion industry.
Taiwan needs to build a fuller domestic semiconductor supply ecosystem, TSMC chairman Mark Liu (劉德音) told a conference organized by the Taiwan Semiconductor Industry Association.
Liu made the remarks in his farewell speech as chairman of the association. He is to be succeeded by TSMC vice president Cliff Hou (侯永清), who was elected yesterday.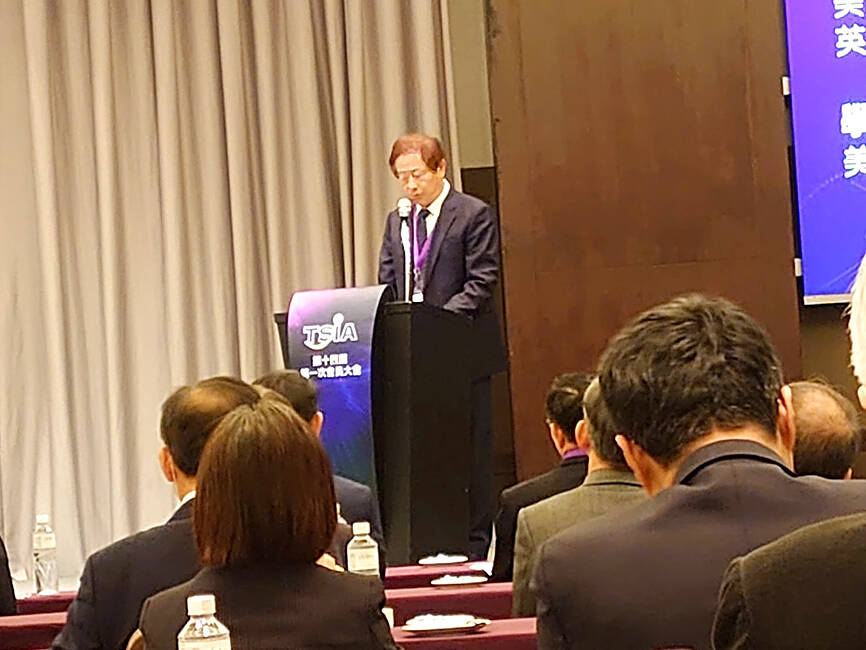 Taiwan Semiconductor Manufacturing Co chairman Mark Liu speaks at the Taiwan Semiconductor Industry Association convention in Hsinchu yesterday.
Photo: CNA
US sanctions are curtailing the flow of vital technology to China, and Taiwan could play a bigger role in the global supply of machines needed to make chips, Liu said.
The TSMC chairman called on the government to assist Taiwan's semiconductor companies to develop crucial technologies and enhance their capabilities to produce high-end semiconductor equipment and materials, saying it would help the nation fend off growing competition from China.
The US tightened its curbs on advanced semiconductor technology and equipment exports to China, which could change China's role in local semiconductor component supply, Liu said.
The government should help businesses build a comprehensive semiconductor ecosystem to produce high-end manufacturing equipment and components, he said.
Liu said that some clauses in application guidelines for chip investment subsidies under the US' CHIPS and Science Act are unacceptable.
South Korean memorychip maker SK Hynix Inc yesterday said that the application process is too demanding.
The South Korean government yesterday also said that the requirements that applicants disclose detailed technical and financial information, usually considered trade secrets, are onerous.
The US government demands that companies applying for subsidies under the CHIP and Science Act submit files containing information on how they calculate profits, the BusinessKorea magazine reported on Wednesday.
"We are still in discussions [with the US Department of Commerce]. Some conditions are unacceptable," Liu said. "We hope [the department] will make some adjustments."
The chipmaker's operations in Taiwan would not be adversely affected by the US investment rules, Liu said.
TSMC, the world's biggest contract chipmaker, has pledged to double its US investment to US$40 billion, as it is planning to build two advanced chip fabs in Arizona.
The first fab is scheduled to begin producing chips on 4-nanometer nodes next year, while the second is to start producing 3-nanometer chips in 2026.
Comments will be moderated. Keep comments relevant to the article. Remarks containing abusive and obscene language, personal attacks of any kind or promotion will be removed and the user banned. Final decision will be at the discretion of the Taipei Times.