Doctors hail transplant for three-year-old
COMPLEX PROCEDURE: Surgeons precisely measured the girl's abdominal cavity to ensure that the kidney from an adult donor could be placed into the tiny space
Surgeons overcame several obstacles to successfully complete an organ transplant surgery for a three-year-old with inherited kidney disease, Taipei Veterans' General Hospital said yesterday.
The patient, a girl surnamed Hsu (許), was diagnosed with polycystic kidney disease, a rare genetic disorder, at birth, the hospital told a news conference.
She has taken medication and had dialysis daily since she was two, and the condition limited her growth, it said, adding that at 86.3cm and 11.5kg, she is shorter and lighter than most other children her age.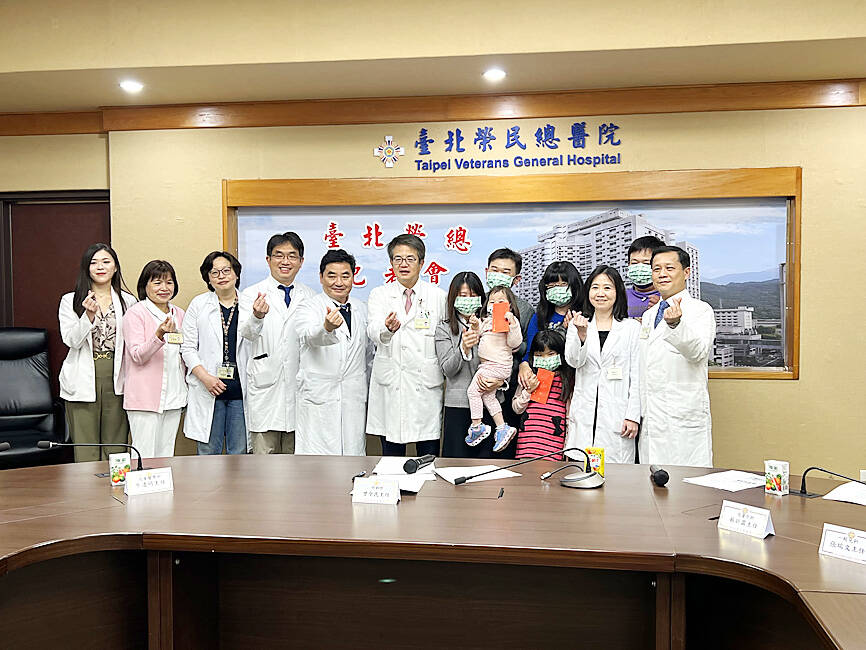 A three-year-old girl surnamed Hsu is held by her mother, center, among doctors and nurses at a news conference at Taipei Veterans' General Hospital yesterday. Hsu underwent a successful kidney transplant at the hospital.
Photo: CNA
Pediatric Surgery Division director Tsai Hsin-lin (蔡昕霖) said that most children who need a kidney transplant have inherited urinary system abnormalities, glomerulonephritis, acute kidney damage or other genetic disorders.
However, dialysis can cause delays in physical and neurocognitive development in young children, Tsai said.
As their bodies are so small, surgery on the urinary system of children with chronic kidney disease is more complicated, but if they do not get a kidney transplant before adulthood, the stunting of their growth might worsen, leading to learning disabilities, uremia, anemia, or even acute stroke or heart attack, he said.
Getting a transplant is a race against time, he added.
Another issue is that most kidney donors are adults, Tsai said.
After waiting a year for a compatible kidney from a donor who weighed 57kg, the big challenge for the surgical team was how to implant a 12cm-long kidney into Hsu's abdominal cavity, which was only about 20cm long, he said, adding that the organ they removed was 8cm long.
The team had to precisely calculate the dimensions of Hsu's abdominal cavity and the operation took seven hours, he said.
The surgeons removed the damaged kidney, moved her large intestine and duodenum to the left to make room for the donor kidney and connected blood vessels to it to prevent tubular necrosis, he said.
The team also reported the successful cases of a nine-year-old child, surnamed Chen (陳) and four other kidney transplants involving children since August 2020.
Pediatric Division director Chang Jei-wen (張瑞文) said that a kidney transplant is the best treatment for children with end-stage renal disease, as it not only has the best prognosis, but can also allow a young patient's physical and cognitive growth to catch up with children of the same age.
Comments will be moderated. Keep comments relevant to the article. Remarks containing abusive and obscene language, personal attacks of any kind or promotion will be removed and the user banned. Final decision will be at the discretion of the Taipei Times.