President to stop over in New York, LA
'NOTHING NEW': China should not use Tsai Ing-wen's transits through the US as a pretext to step up aggressive activity in the Taiwan Strait, a Washington official said
President Tsai Ing-wen (蔡英文) is to stop over in the US on her way to and from Central America next week, but her administration would not confirm a meeting with US House of Representatives Speaker Kevin McCarthy.
Tsai's delegation is to leave Taipei on Wednesday next week and stop over in New York City, Presidential Office spokeswoman Lin Yu-chan (林聿禪) told a news conference yesterday.
Tsai is then to head to Guatemala on Saturday next week for talks with Guatemalan President Alejandro Giammattei and to meet with Taiwanese expatriates, the Ministry of Foreign Affairs said.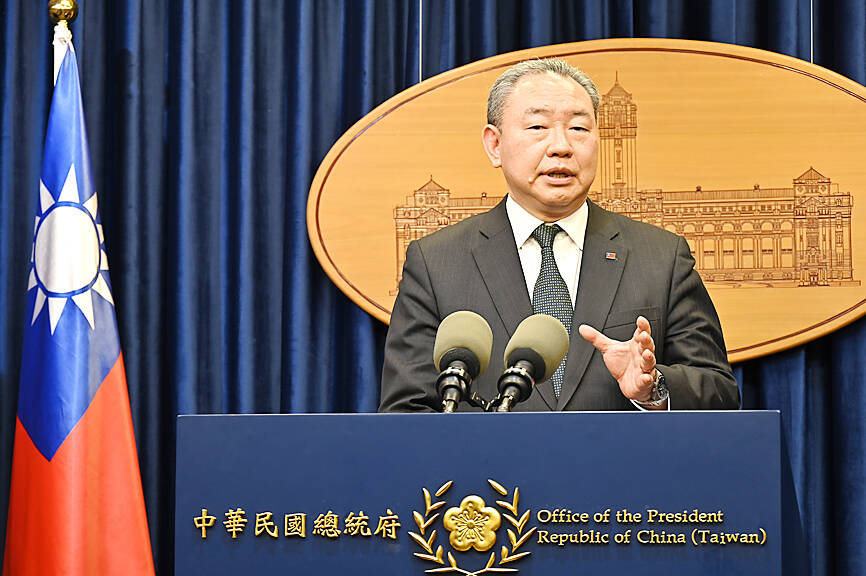 Vice Minister of Foreign Affairs Alexander Yui speaks during a news conference at the Presidential Office in Taipei yesterday.
Photo: Tu Chien-jung, Taipei Times
On April 3, Tsai is scheduled to travel to Belize to meet with Belizean Prime Minister Johnny Briceno, give a speech at the Belizean Parliament, attend a state banquet hosted by Belizean Governor-General Froyla Tzalam, and tour an exhibition on women's empowerment.
Tsai's delegation will then fly from Belize to Los Angeles for a transit stop on April 4, before returning to Taiwan on the night of April 7, the ministry said.
Sources told Reuters that McCarthy intends to meet her during the California leg of her visit.
Asked whether he could confirm the McCarthy meeting, Vice Minister of Foreign Affairs Alexander Yui (俞大㵢) said details of the US transits would be released at a later date once arrangements have been finalized.
Taiwanese presidents routinely pass through the US while visiting diplomatic allies in Latin America, the Caribbean and the Pacific, which, while not official visits to the US, are often used by both sides for high-level meetings.
China has said it is "seriously concerned" about Tsai's transit plans.
Speaking shortly before Taiwan's announcement of Tsai's trip, a senior US administration official said her expected transits are standard practice and China should not use them as a pretext for aggressive action toward Taipei.
Every president of Taiwan has transited through the US, and Tsai has done so herself six times since taking office in 2016, most recently in 2019, the official said, adding that Tsai had met members of the US Congress during those visits.
"We see no reason for Beijing to turn this transit, again, which is consistent with long-standing US policy, into anything but what it is. It should not be used as a pretext to step up any aggressive activity around the Taiwan Strait," the official said.
The official said Washington had communicated to Beijing that Tsai's stopovers are in keeping with precedent.
"There is nothing new from our point of view," the official said.
Noting that US President Joe Biden hoped to speak to Chinese President Xi Jinping (習近平) soon and that US Secretary of State Antony Blinken would like to reschedule a postponed trip to Beijing, the official said: "We urge the PRC [People's Republic of China] to keep these channels of communication open."
"In terms of contact with McCarthy's office, we offer briefings to members before engagements. We tend to do that before travel, before meetings. We've had some regular contact there," the official added.
Tsai's anticipated US meeting with McCarthy is seen as a potential alternative to a sensitive visit by the US speaker to Taiwan, a trip he has said he hopes to make.
China staged military exercises around Taiwan in August last year following a visit to Taipei by then-US House speaker Nancy Pelosi.
Additional reporting by CNA
Comments will be moderated. Keep comments relevant to the article. Remarks containing abusive and obscene language, personal attacks of any kind or promotion will be removed and the user banned. Final decision will be at the discretion of the Taipei Times.