Office confirms Ma's plan to visit China
'COINCIDENCE': The former president should keep in mind local and global response to his actions and abide by the law to safeguard national interests, the MAC said
The Presidential Office yesterday confirmed that it has received an application from former president Ma Ying-jeou (馬英九) to visit China next week and would be discussing his security detail.
"As the travel restrictions on former president Ma have expired, we respect his plan to pay respect to his ancestors in China," Presidential Office spokeswoman Lin Yu-chan (林聿禪) said. "We will review his travel plan and consult concerned agencies to assist him in arranging his security detail."
"We also hope that Ma, as a former commander in chief of Taiwan, acts in a manner that aligns with national interests and does not hurt the feelings of Taiwanese," Lin said. "He should seek to convey the values of Taiwan's liberal democracy and reiterate that cross-strait exchanges should proceed in an equal and dignified manner, especially after Russia's invasion of Ukraine and China's continuous expansion of military operations in the Taiwan Strait and the Indo-Pacific region."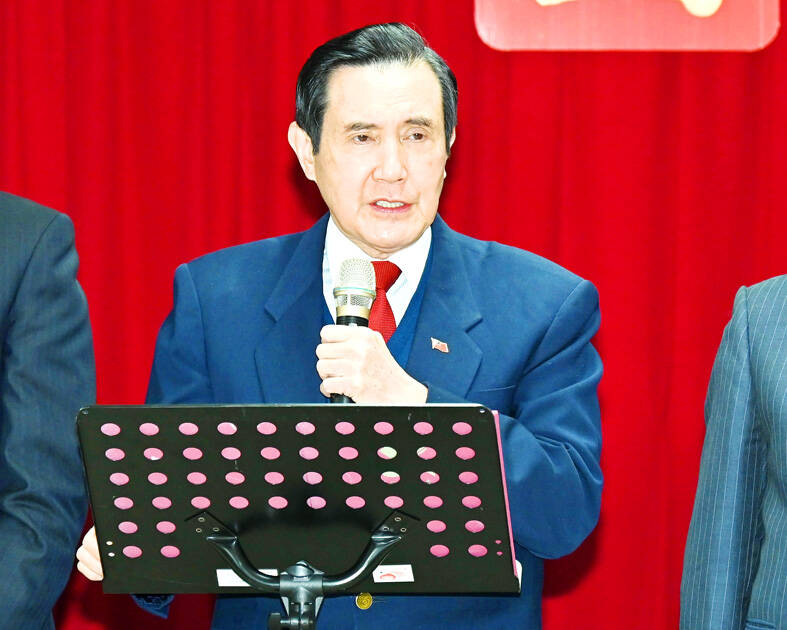 Former president Ma Ying-jeou addresses an event at Chinese Nationalist Party (KMT) headquarters in Taipei on Jan. 30.
Photo: Tu Chien-jung, Taipei Times
The Mainland Affairs Council (MAC) said that high-ranking officials still carry certain responsibilities and obligations after leaving office.
Even after the removal of travel restrictions, Ma should still keep in mind local and international reaction to his words and actions when he visits China, and abide by cross-strait laws and regulations to safeguard the nation's interests, the council said.
Ma's trip to China would make him the first former Taiwanese president to visit China since 1949, when the Chinese Communist Party took over China after the Chinese Nationalist Party (KMT) government lost the Civil War.
Based on the itinerary released yesterday by the Ma Ying-Jeou Foundation, the former president is to leave for China on Monday next week and return on April 7.
Aside from his sisters, Ma would be accompanied by about 30 Taiwanese students, former Presidential Office secretary-general Tseng Yung-chuan (曾永權), Ma Ying-jeou Foundation director Wang Kuang-tzu (王光慈), and National Chengchi University's East Asian studies professor Chiu Kun-shuan (邱坤玄) and associate law professor Liao Yuan-hao (廖元豪).
In addition to honoring his ancestors in Hunan Province's Changsha and Xiangtan cities on Saturday next week, Ma would visit the Sun Yat-sen Mausoleum and the Nanjing Massacre Memorial Hall, the Wuchang Uprising Memorial Hall, the Chongqing War Museum and the Sihang Warehouse Battle Memorial, the itinerary shows.
He would also conduct informal discussions with students at Hunan University and Wuhan University, it says.
"The purpose of the former president's first trip to China is to honor his ancestors and give Taiwanese students an opportunity to meet with their Chinese counterparts. All the places that he would visit are in central China. He is not planning to go to Beijing, nor does he plan to see key figures from Beijing," Ma Ying-jeou Foundation executive director Hsiao Hsu-tsen (蕭旭岑) said.
Ma is turning 73 in July and is the only high-ranking government official who has yet to visit China, despite having been involved in cross-strait affairs for nearly 40 years, Hsiao said.
"China has lifted its travel restrictions, and we believe we can all identify with former president Ma's intention of honoring his ancestors in China, as it is a tradition rooted in our culture," he said.
Asked if the foundation scheduled Ma's trip to divert public attention from President Tsai Ing-wen's (蔡英文) trip to the US, Hsiao said it was pure coincidence.
They were not informed of Tsai's travel plans, and Ma had begun planning the trip before the Lunar New Year holiday, he said.
China would address the former president as "Mr Ma Ying-jeou," following the precedent set in the meeting between Ma and Chinese President Xi Jing-ping (習近平) in 2015, he said.
Hsiao added that Ma believes cross-strait tensions could de-escalate if there is dialogue between Taiwanese and Chinese students.
"The more young people on both sides of the Taiwan Strait know each other, the less risk there is of war," he said. "No amount of weapon can match the value of exchanges among young people."
China's Taiwan Affairs Office yesterday said it "welcomes" Ma's visit and would provide any necessary assistance during his trip.
Additional reporting by CNA
Comments will be moderated. Keep comments relevant to the article. Remarks containing abusive and obscene language, personal attacks of any kind or promotion will be removed and the user banned. Final decision will be at the discretion of the Taipei Times.