Biden sends envoy to Honduras amid Beijing ties affair
A senior envoy of US President Joe Biden is to travel to Honduras and Panama this month, the US Department of State said on Thursday, two days after Honduras said it would establish formal diplomatic ties with Beijing, stoking concern that it might cut ties with Taipei.
US Special Presidential Adviser for the Americas Chris Dodd would visit the two Central American countries from yesterday to Tuesday, the department said in a statement.
The US has in the past few years focused on migration and security challenges stemming from Central America, as well as trade and development priorities, but it has also been concerned about Chinese efforts to expand its influence in the region.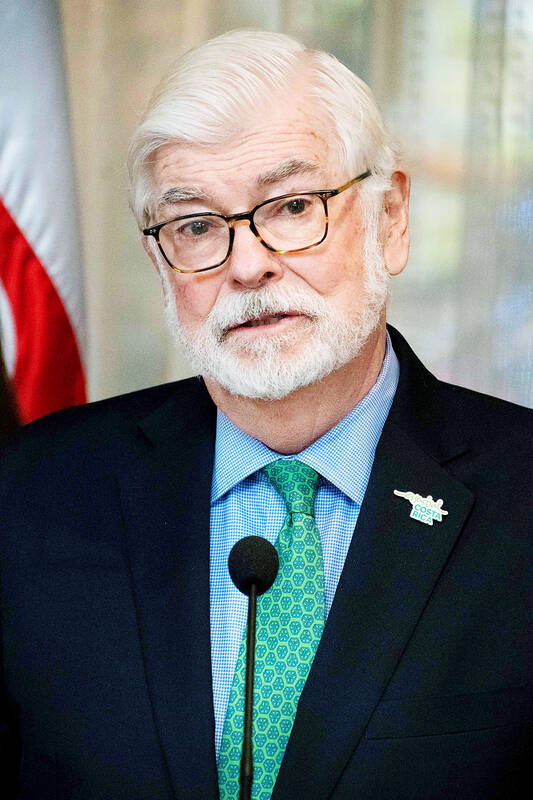 US Special Presidential Advisor for the Americas Christopher Dodd speaks at a news conference in San Jose, Costa Rica, on Dec. 14 last year.
Photo: AFP
Dodd, a former US senator, is to meet Honduran officials and private-sector representatives, and Panamanian officials and finance leaders, as well as attend an annual conference of the Inter-American Development Bank.
"These visits advance the commitment of the United States to foster inclusive economic growth, democracy, human rights and rule of law in the western hemisphere," the department said.
Dodd in 2021 led a delegation to visit Taiwan on behalf of Biden, with whom he has a close relationship.
On Tuesday, Honduran President Xiomara Castro wrote on Twitter that her administration would seek diplomatic ties with Beijing, which would come at the expense of Taiwan.
Honduran Minister of Foreign Affairs Eduardo Enrique Reina on Wednesday said that the pivot to China was partly because Honduras was "up to its neck" in financial challenges and debt, including US$600 million it owes Taiwan.
Speaking to reporters in Taipei yesterday, Premier Chen Chien-jen (陳建仁) reiterated a warning to Honduras not to trust China and its monetary offers.
"China has been suppressing Taiwan's diplomacy, so it will invest funds related to specific countries in order to block Taiwan's diplomatic development," he said.
Chinese investment as part of its Belt and Road Initiative in these countries had mostly failed, Chen said.
"Therefore, we very much hope that Honduras can recognize the true nature of China, and hope they maintain diplomatic relations and not be deceived," he added.
The Ministry of Foreign Affairs is still "working hard" regarding the ties with Honduras, Minister of Foreign Affairs Joseph Wu (吳釗燮) told a legislative hearing yesterday.
The nation has never given up on anything for being too difficult, he said, but added that "we will not engage in bidding-war diplomacy with China."
China on Thursday denied that former Taiwan allies, such as Panama and El Salvador, had not benefited since forging relations with Beijing, saying they had received "tangible benefits."
Taiwan has 13 UN-recognized diplomatic allies, including Honduras, as well as Somaliland.
Asked about the Honduras-Taiwan ties, US Secretary of State Antony Blinken said that Taiwan has a "lot to offer."
"Taiwan has a lot to offer, including ... in international institutions, where remarkably talented people have tremendous experience and expertise," he said. "Countries have to decide for themselves whether and how they want to benefit from that."
Additional reporting by Wu Su-wei and Su Yung-yao
Comments will be moderated. Keep comments relevant to the article. Remarks containing abusive and obscene language, personal attacks of any kind or promotion will be removed and the user banned. Final decision will be at the discretion of the Taipei Times.