Rebate registration to begin next week
ALL CHILDREN ELIGIBLE: The Cabinet approved the latest version of the tax rebate distribution plan that unlike earlier versions, has no age limit, the finance ministry said
Taiwanese and eligible foreign residents can from next week register online for a tax rebate of NT$6,000 (US$196) from last year's NT$380 billion revenue surplus, the Ministry of Finance said yesterday.
The Cabinet earlier in the day approved the rebates for Taiwanese, foreign spouses of Taiwanese, Alien Permanent Resident Certificate holders and public employees working abroad and their spouses, it said.
Parents can also claim the rebates for their children, the ministry said, after earlier versions of the plan had excluded young children.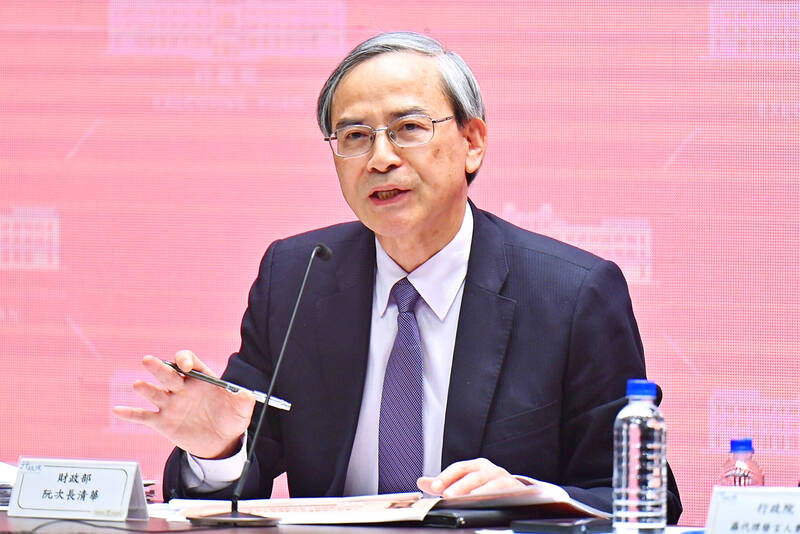 Deputy Minister of Finance Frank Juan yesterday in a news conference announces that Taiwanese and eligible foreign residents can start to register online from March 22 for a tax rebate of NT$6,000 (US$196) each.
Photo courtesy of Executive Yuan
Registration via 6000.gov.tw would be open from 8am on Wednesday, the ministry said, adding that the rebates would be wired to peoples' bank accounts.
People who receive payments through the Labor Insurance, National Pension and Labor Pension systems would not need to register to receive the rebates to their bank accounts, it said, adding that people can also claim them in cash at ATMs and post offices.
Residents of Pingtung County's Shihtzu Township (獅子), Hualien County's Wanrong Township (萬榮) and Taitung County's Jinfeng Township (金峰), which neither have an ATM nor a post office, can register at the respective police precincts from Monday to Friday next week, it said.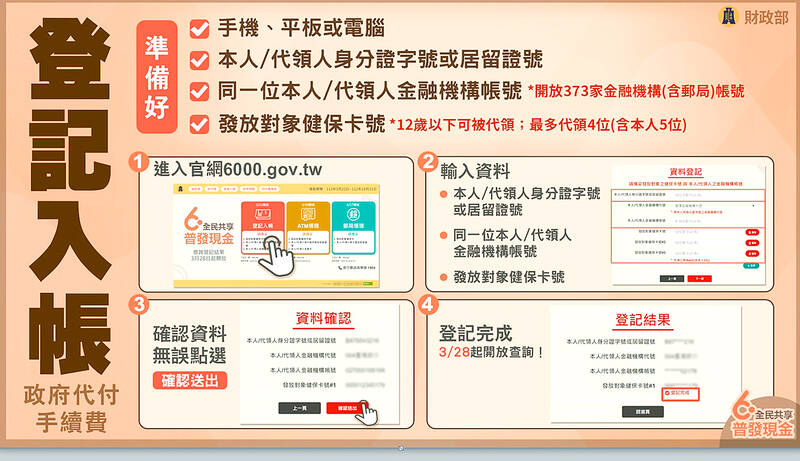 Ministry of Finance makes a graph to show steps for online registration for the NT$6000 tax rebate, including 1. enter " 6000.gov.tw " website 2. Key in personal information such as National ID No.(or National Insurance Card No. for Children ), Resident Certification ID No., and bank account. 3. Send out information. 4. Complete Registration. Registration results will open from March 28 for double check and reconfirm.
Photo courtesy of Executive Yuan
The Ministry of Digital Affairs, which designed the online platform, said it is equipped with technology that allows people to log on safely without having to use their physical ID cards.
STAGGERED OPENING
The opening date of the online registration system would vary depending on the last digit of people's ID numbers, the digital affairs ministry said.
The system would be opened for the last group on Saturday next week, it said, adding that it would determine the order in a draw on Monday.
The platform would remain open for at least six months, the ministry added.
Premier Chen Chien-jen (陳建仁) has instructed government officials to ensure the Web site would function properly, Executive Yuan spokesman Lo Ping-cheng (羅秉成) told a news conference following a Cabinet meeting.
This story has been amended since it was first published.
Comments will be moderated. Keep comments relevant to the article. Remarks containing abusive and obscene language, personal attacks of any kind or promotion will be removed and the user banned. Final decision will be at the discretion of the Taipei Times.