Pakistani police fail in arrest bid
Police yesterday appeared to have given up an attempt to arrest former Pakistani prime minister Imran Khan, ending a siege of his residence after violent clashes with hundreds of his supporters.
Agence France-Presse correspondents and witnesses near Khan's home in the Zaman Park suburb of Lahore said that police and paramilitary rangers had retreated after abandoning a series of roadblocks and checkpoints.
"The police and rangers sent to harm Imran Khan were pushed back by the people," his Pakistan Tehreek-e-Insaf (PTI) party wrote on Twitter, along with a video of supporters celebrating outside his house.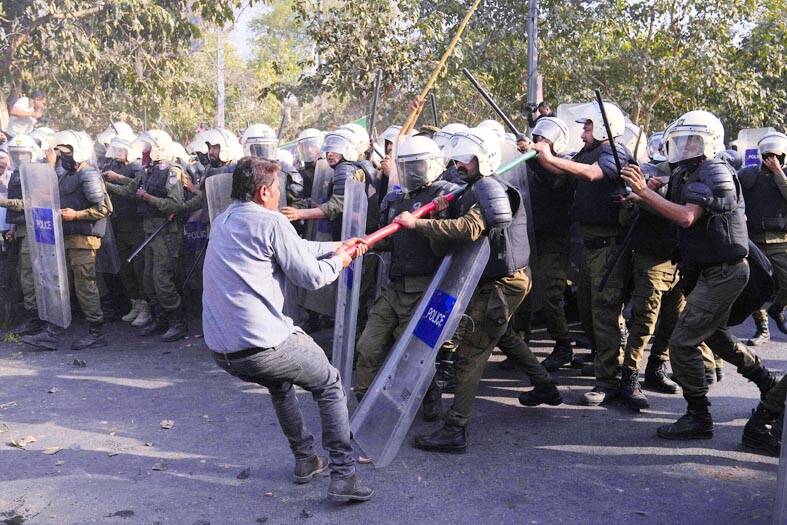 A man scuffles with police officers outside the residence of former Pakistani prime minister Imran Khan in Lahore, Pakistan, on Tuesday.
Photo: AP
"More people are coming to Zaman Park and will never let the evil intentions of this imported government succeed, God willing," it wrote in Urdu.
Police had fought pitched battles with Khan's supporters throughout the night, firing fusillades of teargas and dodging rocks thrown by crowds.
Groups of police were seen running from the direction of the house yesterday afternoon.
Khan was ousted from office by a no-confidence vote last year and has been snarled in dozens of legal cases as he campaigns for early elections and a return to office.
PTI social media accounts showed videos of Khan greeting dozens of people inside his garden and supporters celebrating outside.
Police say they have a warrant to arrest Khan following his failure to appear before an Islamabad court on graft charges, but the former leader and his lawyers say he has been granted bail on the charge.
"The PTI leader does not have protective bail for this particular case," Islamabad police spokesman Muhammad Taqi Jawad said.
He said the arrest warrant would stand and denied that police had retreated.
"Our actions will strictly adhere to the law and we are committed to fulfilling our duty," he said.
Earlier Khan issued a video sitting in front of Pakistan and PTI flags at a desk decorated with spent teargas canisters.
"They will teargas our people and do other such things, but you should know that they have no justification to do so," he said.
A PTI official wrote on Twitter that there was "an urgent need" for first aid kits at the Zaman Park neighborhood.
Comments will be moderated. Keep comments relevant to the article. Remarks containing abusive and obscene language, personal attacks of any kind or promotion will be removed and the user banned. Final decision will be at the discretion of the Taipei Times.