New US lend-lease defense act proposed
BACK ON THE TABLE: The bill follows similar ones proposed last year and also on March 1, designed to 'send an unmistakable message' to the CCP, a US lawmaker said
A US senator has reintroduced a bill aimed at authorizing Washington to lend or lease defense equipment to Taipei to deter Chinese aggression against Taiwan.
US Senator Marsha Blackburn on Thursday introduced the Taiwan Democracy Defense Lend-Lease Act, cosponsored by senators Rick Scott and Marco Rubio.
The content of the bill is the same as a bill Blackburn sponsored last year that failed to make it through the US Senate.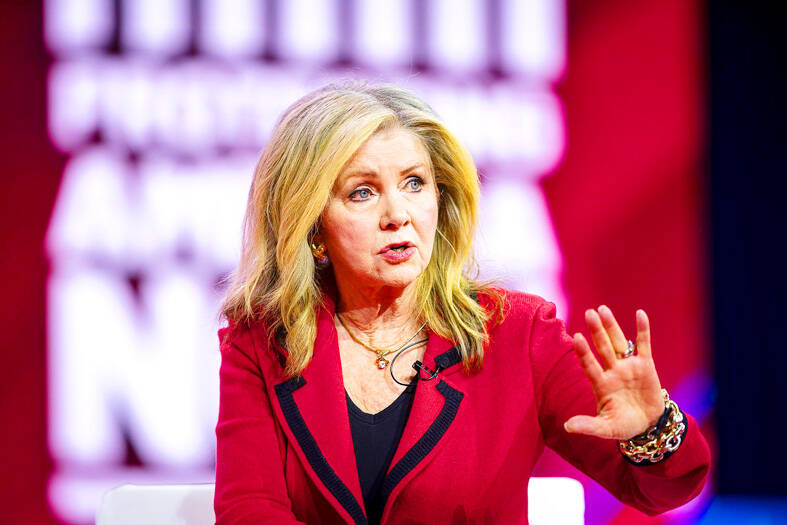 US Senator Marsha Blackburn speaks at the Conservative Political Action Conference in National Harbor, Maryland, on Thursday.
Photo: Bloomberg
Under the bill, Washington would be permitted to lend or lease defense equipment to Taiwan with interest, as part of efforts to protect the country from "potential aggression carried out by the People's Liberation Army of China."
Acts of aggression by Beijing include a full or partial naval blockade of Taiwan, an amphibious assault or ground invasion, or a seizure of one or more of Taiwan's outlying islands, among others, the bill states.
It stipulates that the US military should report to the US Congress about the defense items it deems "appropriate" to loan or lease to Taiwan within 90 days of the bill being signed into law.
No later than 60 days after the bill is enacted, the US president should establish expedited procedures for the delivery of loaned or leased defense items to Taiwan, it states.
Blackburn, who visited Taiwan and met with President Tsai Ing-wen (蔡英文) in August last year, said in a statement that the bill aims to "ensure Taiwan has the capacity to defend itself and strengthen the United States' commitment to preserving freedom around the globe."
US representatives Michelle Steele and Jimmy Panetta introduced a companion bill on March 1.
Steele said in a statement that the passage of the bill "will send an unmistakable message" to the Chinese Communist Party (CCP) that the US "stands with our allies and is prepared to arm Taiwan with the tools it needs to defend itself from a CCP attack."
A US funding bill signed into law by US President Joe Biden in December last year authorizes Washington to provide up to US$2 billion in direct loans to Taiwan for military purposes under the US Foreign Military Financing Program.
Taipei at that time said it would work closely with all branches of the US government to ensure those provisions are realized in line with its national policy.
Separately, French President Emmanuel Macron and British Prime Minister Rishi Sunak on Friday issued a joint declaration, which, among other things, called for the countries to "reaffirm the importance of peace and stability across the Taiwan Strait and call for the peaceful resolution of cross-Strait issues."
It also said that France and the UK would "coordinate on their concerns regarding China's challenge to the rules-based international order, and will work with partners to manage increasing systemic rivalry and competition."
Comments will be moderated. Keep comments relevant to the article. Remarks containing abusive and obscene language, personal attacks of any kind or promotion will be removed and the user banned. Final decision will be at the discretion of the Taipei Times.