Virginia backs Taiwan trade office
WELCOME ARRIVALS: Four US representatives are in Taiwan to discuss security cooperation and economic and trade ties with the president and senior officials
The Virginia General Assembly has voted in support of a proposal to open a trade office in Taiwan.
"Touched and thankful to learn of the bipartisan Virginia General Assembly House vote today, 99-0, supporting an analysis to open a Trade Office in Taiwan," Representative to the US Hsiao Bi-khim (蕭美琴) wrote on Twitter on Saturday. "I believe such an office will add momentum to deepening trade and economic ties."
The general assembly's upper house, the Senate of Virginia, earlier this month supported opening an office in Taiwan to promote economic and trade developments.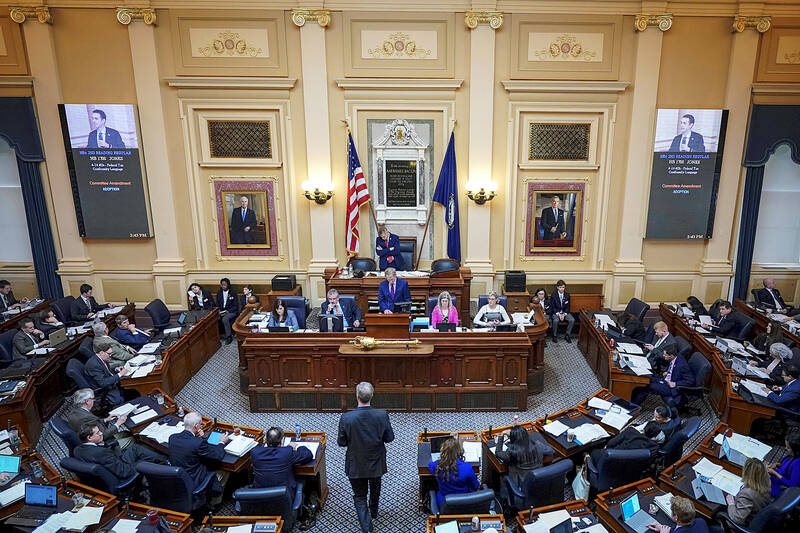 The House of Delegates chamber is pictured at the Virginia General Assembly in Richmond on Feb. 7, 2019.
Photo: AFP
During a visit to Richmond, Virginia, on Friday, Hsiao also expressed gratitude to the lawmakers for supporting Taiwan's democracy and forming the Virginia Taiwan Friendship Caucus.
"Grateful that state legislators are organizing a Virginia Taiwan friendship caucus as a platform for continuing friendship and support," Hsiao wrote on Twitter on Friday.
The friendship caucus, which is cochaired by Virginia senators Bryce Reeves and Scott Surovell, and state delagates A.C. Cordoza and Suhas Subramanyam, is the second of its kind in the US following one previously established by the Delaware General Assembly.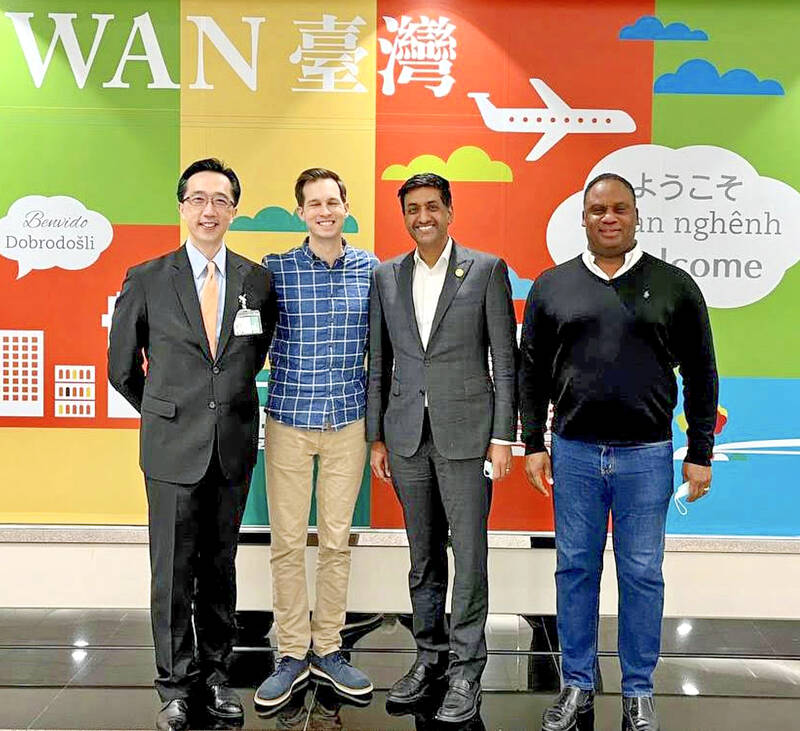 From left, Department of North American Affairs Director-General Douglas Hsu welcomes US representatives Jake Auchincloss, Ro Khanna and Jonathan Jackson upon their arrival at Taiwan Taoyuan International Airport yesterday. US Representative Tony Gonzales is also part of the delegation.
Photo: CNA
In other developments, a bipartisan US congressional delegation arrived in Taiwan yesterday for five days.
While visiting, they are to meet with President Tsai Ing-wen (蔡英文) and senior government officials to discuss ways to enhance security cooperation and economic and trade ties, the Ministry of Foreign Affairs said.
The delegation of US representatives comprises Democrats Ro Khanna, Jake Auchincloss and Jonathan Jackson, and Republican Tony Gonzales, the ministry said in a news release.
Upon their arrival at Taiwan Taoyuan International Airport, the four were welcomed by Douglas Hsu (徐佑典), head of the ministry's North American Affairs Department, it said.
The delegation is also to meet with local business representatives to discuss cooperation in the fields of business and technology, the ministry said.
The US congressional delegation is the second to visit Taiwan during the US Congress' current session, following Republican US Senator Todd Young's visit last month.
Comments will be moderated. Keep comments relevant to the article. Remarks containing abusive and obscene language, personal attacks of any kind or promotion will be removed and the user banned. Final decision will be at the discretion of the Taipei Times.