US launches 'disruptive technologies' unit
A top US law enforcement official on Thursday unveiled a new "disruptive technology strike force" tasked with safeguarding US technology from foreign adversaries and other national security threats.
US Deputy Attorney General Lisa Monaco, the second-most senior US Department of Justice official, made the announcement at a speech at Chatham House in London.
Monaco said the initiative would be a joint effort between her department and the US Department of Commerce, and seeks to block adversaries from "trying to siphon our best technology."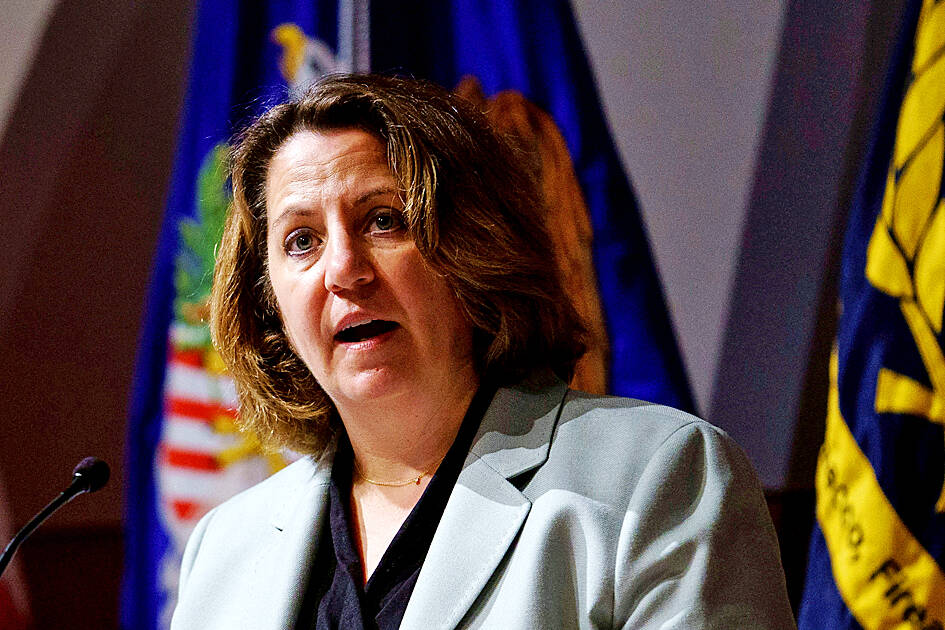 Deputy US Attorney General Lisa Monaco speaks at a forum in Washington on May 6 last year.
Photo: REUTERS
Monaco also addressed concerns about Chinese-owned video sharing app TikTok.
The US Committee on Foreign Investment in 2020 ordered ByteDance Ltd (字節跳動) to divest TikTok because of fears that user data could be passed on to the Chinese government.
The divestment has not taken place.
The committee and TikTok have been in talks for more than two years aiming to reach a national security agreement.
"I will note I don't use TikTok, and I would not advise anybody to do so because of these concerns. The bottom line is China has been quite clear that they are trying to mold and put forward the use and norms around technologies that advance their privileges, their interests," Monaco said.
The justice department has in the past few years increasingly focused its efforts on bringing criminal cases to protect corporate intellectual property, US supply chains and private data about Americans from foreign adversaries using cyberattacks, theft or sanctions evasion.
US law enforcement officials have said that China by far remains the biggest threat to US technological innovation and economic security — a view that Monaco reiterated on Thursday.
"China's doctrine of 'civil-military fusion' means that any advance by a Chinese company with military application must be shared with the state," Monaco said. "So if a company operating in China collects your data, it is a good bet that the Chinese government is accessing it."
Under the administration of former US president Donald Trump, the justice department created a "China initiative" tasked with combating Chinese espionage and intellectual property theft.
After US President Joe Biden took office, the justice department changed the initiative's name and refocused it amid criticism it was fueling racism by targeting professors at US universities over whether they disclosed financial ties to China.
The justice department did not back away from continuing to pursue national security cases involving China and its alleged efforts to steal intellectual property or other US data.
The commerce department last year imposed new export controls on advanced computing and semiconductor components in a measure to prevent China from acquiring certain chips.
Monaco on Thursday said the US "must also pay attention to how our adversaries can use private investments in their companies to develop the most sensitive technologies, to fuel their drive for a military and national security edge."
She said the Biden administration is "exploring how to monitor the flow of private capital in critical sectors" to ensure it "doesn't provide our adversaries with a national security advantage."
A bipartisan group of US lawmakers last year called on Biden to issue an executive order to boost oversight of investments by US companies and individuals in China and other countries.
Comments will be moderated. Keep comments relevant to the article. Remarks containing abusive and obscene language, personal attacks of any kind or promotion will be removed and the user banned. Final decision will be at the discretion of the Taipei Times.