Xi expresses support for Iran amid visit by Raisi
Chinese President Xi Jinping (習近平) on Tuesday expressed support for Iran during a visit by Iranian President Ebrahim Raisi as Tehran tries to expand relations with Beijing and Moscow to offset Western sanctions over its nuclear development.
The official Chinese account of Xi's meeting with Raisi gave no indication of whether they discussed Russia's war in Ukraine.
Tehran supplied military drones to Russian President Vladimir Putin's government, but says they were delivered before the war began.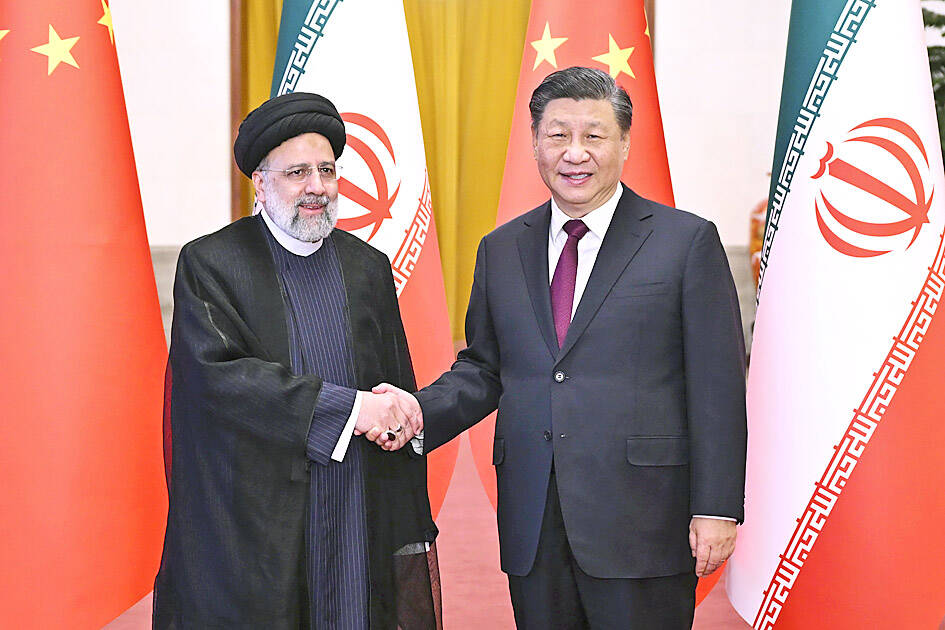 Iranian President Ebrahim Raisi, left, shakes hands with Chinese President Xi Jinping at the Great Hall of the People in Beijing on Tuesday.
Photo: AP
Xi expressed support for Raisi's government in language Beijing uses to criticize Washington's domination of global affairs.
"China supports Iran in safeguarding national sovereignty" and "resisting unilateralism and bullying," Xi said in a statement carried by Chinese state TV on its Web site.
Xi and Raisi attended the signing of 20 cooperation agreements, including on trade and tourism, the Chinese government said.
Those add to a 25-year strategy agreement signed in 2021 to cooperate in developing oil, industry and other fields.
Iran has for years struggled under trade and financial sanctions imposed by Washington and other Western governments over what they say is Tehran's efforts to develop nuclear weapons, an accusation the Iranian government denies.
US Department of State spokesman Ned Price urged the People's Republic of China (PRC) to influence Iran and lower potential threats in the region, saying that "would be in both of our interests."
"The PRC has a role to play in very clearly signaling to Iran that its destabilizing activities — that its brinksmanship — is not going to be rewarded, it's not going to be countenanced. It is not something that the international community is prepared to sit idly by and watch," Price told reporters in Washington.
Xi said that Beijing "opposes external forces interfering in Iran's internal affairs and undermining Iran's security and stability," the government statement said.
It said Xi promised to "work together on issues involving each other's core interests," but gave no details.
Raisi's government did not immediately release details of the meeting, but the president called the two governments "friends in difficult situations" in a commentary published on Monday by the People's Daily.
Chinese Ministry of Foreign Affairs spokesman Wang Wenbin (汪文斌), asked whether Beijing was concerned that getting closer to Iran might complicate US-Chinese ties, said their "friend relations" contribute to "promotion of peace and stability in the Middle East."
"Our relations do not target any third parties," Wang said.
Comments will be moderated. Keep comments relevant to the article. Remarks containing abusive and obscene language, personal attacks of any kind or promotion will be removed and the user banned. Final decision will be at the discretion of the Taipei Times.