Rules to ease for HK, Macau visitors
DELAY DUE TO BEIJING: An official said that the plans to resume entry for Hong Kong and Macau travelers was delayed because China changed its COVID-19 policy
Individual travelers from Hong Kong and Macau from Monday next week can apply for entry permits to Taiwan, as the domestic COVID-19 outbreak has shown signs of easing, the Mainland Affairs Council (MAC) said yesterday.
The National Immigration Agency (NIA) is to begin accepting online applications for entry permits at 9am on Monday, MAC Deputy Minister Liang Wen-chieh (梁文傑) told a news conference in Taipei.
Hong Kong and Macau residents who hold valid single-entry-exit permits, successive endorsement permits or multiple-entry-exit permits; those who have been allowed to enter Taiwan; as well as those who were born in Hong Kong or Macau, have permanent residence status in either of the territories and do not hold passports issued by other countries are eligible to file online applications, the NIA said.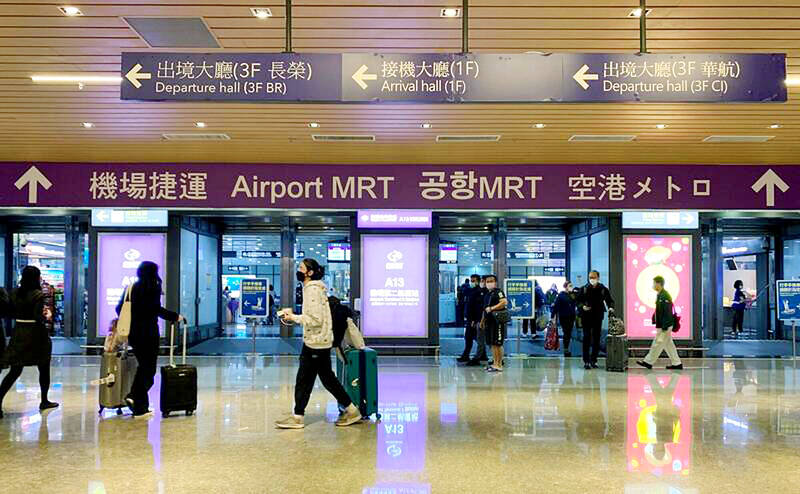 People walk through Taiwan Taoyuan International Airport in an undated photograph.
Photo courtesy of Taoyuan International Airport Corp
"All the restrictions imposed on Hong Kong and Macau travelers during the pandemic are also to be lifted on Monday next week," Liang said. "The requirement that they must be part of a tour group to travel to Taiwan, which was implemented on Nov. 7 last year, is to be canceled as well."
The government would have lifted entry restrictions sooner if it were not for Beijing's unexpected decision to remove all travel restrictions on Jan. 8, he said.
"Prior to China's announcement, we had studied the possibility of resuming entry for individual travelers from Hong Kong and Macau for a while, but China's sudden change in its COVID-19 policy added uncertainty to our judgement of the COVID-19 situations in the two Chinese regions," he said. "As such, we must ensure other supporting measures are in place before implementing the new policy."
"We want to apologize to our friends in Hong Kong and Macau that we could not announce the new policy sooner so they could spend Valentine's Day in Taiwan," Liang said. "Hopefully, we are making it up by announcing this good news on Valentine's Day."
Disease prevention measures and statistics are more transparent in Hong Kong and Macau than what Beijing provides, which helped facilitate the decision to reopen, he said.
Asked if the new policy is a sign that the government might soon reopen the borders for Chinese tourists, Liang said that Beijing did not include Taiwan as one of the 20 countries that Chinese tour groups are allowed to visit after its travel restrictions were eased.
"The Chinese government does not allow Chinese travel agencies to organize tours to Taiwan," he said. "It has also since Aug. 1, 2019, stopped allowing Chinese tourists to travel in Taiwan independently."
The Tourism Bureau said it welcomed the new policy for tourists from Hong Kong and Macau, as it could be a key factor for growth in international visitors this year.
Taiwan has been one of the main travel destinations for residents of Hong Kong and Macau, as flight times are less than two hours, the bureau said.
In 2019, Hong Kong and Macau had a combined population of 8.1866 million, 1.758 million of whom had visited Taiwan, the bureau said, adding that they were the third-largest source of international tourists to Taiwan.
Despite tour groups from the territories being allowed into Taiwan since Nov. 7, growth had remained weak, as prior to the pandemic, more than 90 percent of Hong Kong and Macau tourists visited Taiwan independently, it said.
"Residents of Hong Kong and Macau have not been able to travel overseas freely for nearly three years and need the 'healing effects' brought by travel," the bureau said. "Given Taiwan's proximity to Hong Kong and Macau, tourism campaigns in the territories would highlight Taiwan as a top destination for those seeking to relax and destress."
Eighteen Hong Kong reporters and travel agents traveled to Taiwan this month to visit the Taiwan Lantern Festival in Taipei and scout potential travel routes, the bureau said, adding that more reporters and travel agents are expected to arrive in the next few weeks.
Next month, the bureau is to work with Hong Kong-based online platform "Mill Milk" and online travel agencies to promote tours to Taiwan," the bureau said.
Bureau Director-General Chang Shi-chung (張錫聰) is encouraging travel agencies to facilitate visits by people from Hong Kong and Macau by chartering flights to Taiwan, the bureau said.
Individual travelers would receive tickets for the high-speed rail and airport MRT systems, as well as vouchers for Wi-Fi service and Taiwanese fruit, it said.
Travel Quality Assurance Association spokesman Ringo Lee (李奇嶽) said that allowing individual travelers from Hong Kong and Macau would contribute to the increase of international travelers in Taiwan's metropolitan areas.
The policy also helps ease cross-strait tensions, he said.
Taitung Visitors' Associations chairwoman Lucy Pan (潘貴蘭) told reporters that tourism operators in Taitung are happy to hear the news, as the county has been a popular travel destination for Hong Kongers.
Lee and Pan said that the government should move quickly to restart visits by independent Chinese tourists.
Comments will be moderated. Keep comments relevant to the article. Remarks containing abusive and obscene language, personal attacks of any kind or promotion will be removed and the user banned. Final decision will be at the discretion of the Taipei Times.