Infant rescued a week after quake
END OF OPERATIONS: Taiwan's rescue team was to return home on Wednesday, as the hope of finding survivors more than a week after the quake dimmed
Rescuers yesterday pulled a seven-month-old baby and a teenage girl from the rubble nearly a week after a powerful earthquake devastated huge areas of Turkey and Syria, killing more than 28,000 people.
UN Undersecretary-General for Humanitarian Affairs and Emergency Relief Coordinator Martin Griffiths said that the death toll was likely to at least double, while denouncing a failure to provide sufficient aid for victims in war-torn northwestern Syria.
"We have so far failed the people in northwest Syria. They rightly feel abandoned. Looking for international help that hasn't arrived," Griffiths wrote on Twitter.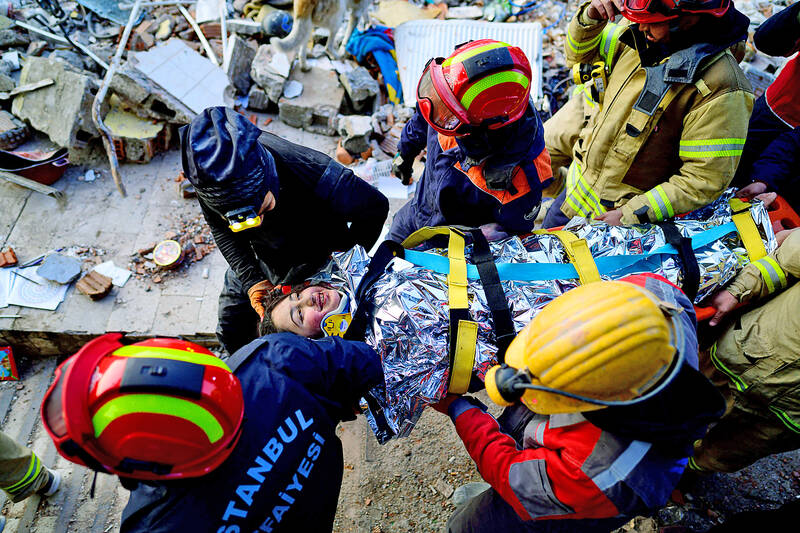 Rescuers transport a Syrian girl from the rubble of a destroyed building in Turkey's Hatay Province yesterday, almost a week after a magnitude 7.8 earthquake.
Photo: AFP
"My duty and our obligation is to correct this failure as fast as we can," he added.
Griffiths arrived in southern Turkey on Saturday to assess the quake's damage, telling Sky News he expected the death toll to "double or more" as the chances of finding survivors dim with each passing day.
Tens of thousands of rescue workers continued to scour flattened neighborhoods in freezing weather that has deepened the misery of millions in desperate need of aid.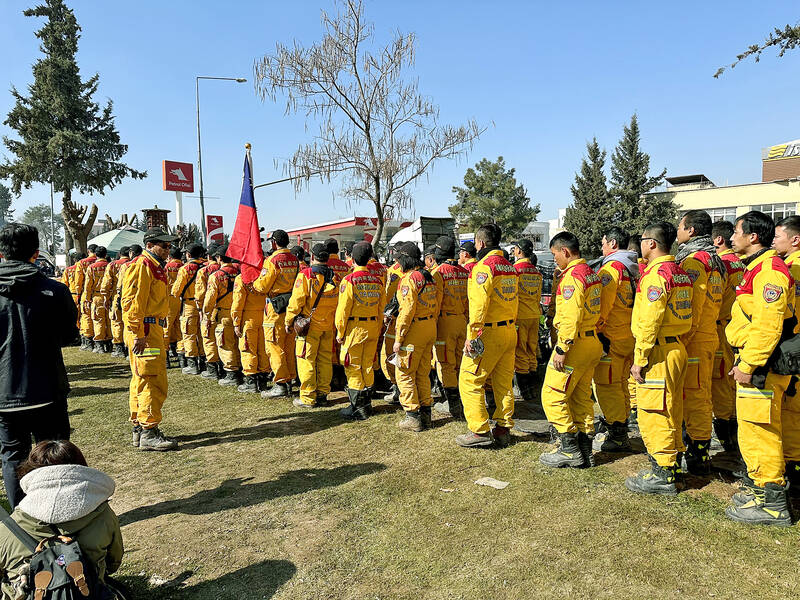 Members of Taiwan's search-and-rescue team stand in formation yesterday and pay respects to earthquake victims after finishing rescue operations in Turkey.
Photo: CNA
Security concerns led some aid operations to be suspended, and dozens of people have been arrested for looting or trying to defraud victims in the aftermath of the quake in Turkey, state media reported.
However, miraculous tales of survival still emerged.
"Is the world there?" asked 70-year-old Menekse Tabak as she was pulled out from the concrete in the southern Turkish city of Kahramanmaras, near the epicenter of the magnitude 7.8 tremor, to applause and cries praising God, a video on state broadcaster TRT Haber showed.
A seven-month-old baby named Hamza was rescued in southern Hatay Province more than 140 hours after the quake, while Esma Sultan, 13, was also saved in Gaziantep, state media reported.
Families were racing against time to find their missing relatives' bodies in southern Turkey.
"We hear [the authorities] will no longer keep the bodies waiting after a certain period of time, they say they will take them and bury them," Tuba Yolcu said in Kahramanmaras.
Another family clutched each other in grief at a cotton field transformed into a cemetery, where a seemingly endless stream of bodies arrived for swift burials.
Officials and medics said that 24,617 people had died in Turkey and 3,574 in Syria. The confirmed total was 28,191.
Taiwan's search-and-rescue team is to return on Wednesday, Minister of the Interior Lin Yu-chang (林右昌) said on Saturday.
With the hope of finding survivors waning after more than 120 hours since the earthquake on Monday last week, the Turkish government has begun to send heavy equipment into the worst-hit areas, which makes further rescue efforts unlikely, Lin said in a statement.
After careful consideration, the team has decided to wrap up its mission and return home, he said.
The Taiwanese rescue workers were to withdraw from Adiyaman Province yesterday morning and arrive in Istanbul tomorrow before boarding an EVA Airways charter flight home.
Shortly after the earthquake, Taiwan sent a 130-member rescue team and five search dogs to join international efforts to find survivors in Adiyaman.
The efforts of the Taiwanese team have been recognized internationally and helped Taipei forge closer friendships with Ankara, Lin said.
On Thursday, about 89 hours after the quake, members of the Taiwanese team pulled a 35-year-old woman from a collapsed residential building.
She was the second person rescued by the team.
They rescued another woman from a collapsed building in Adiyaman on Wednesday night. She died shortly afterward at a local hospital.
Additional reporting by staff writer, with CNA
Comments will be moderated. Keep comments relevant to the article. Remarks containing abusive and obscene language, personal attacks of any kind or promotion will be removed and the user banned. Final decision will be at the discretion of the Taipei Times.