China set up online attack on Tsai, Su: source
National security authorities have uncovered a Chinese cyberoperation to flood the Facebook accounts of President Tsai Ing-wen (蔡英文) and former premier Su Tseng-chang (蘇貞昌) with derogatory comments.
The government found 825 Facebook accounts run by China's cyberarmy that posted large numbers of anti-government comments on Tsai's and Su's Facebook pages, a national security source said on Saturday, asking to remain anonymous.
The accounts were found to be part of China's cognitive warfare operations that aim to deride Taiwan's government over its close ties with the US.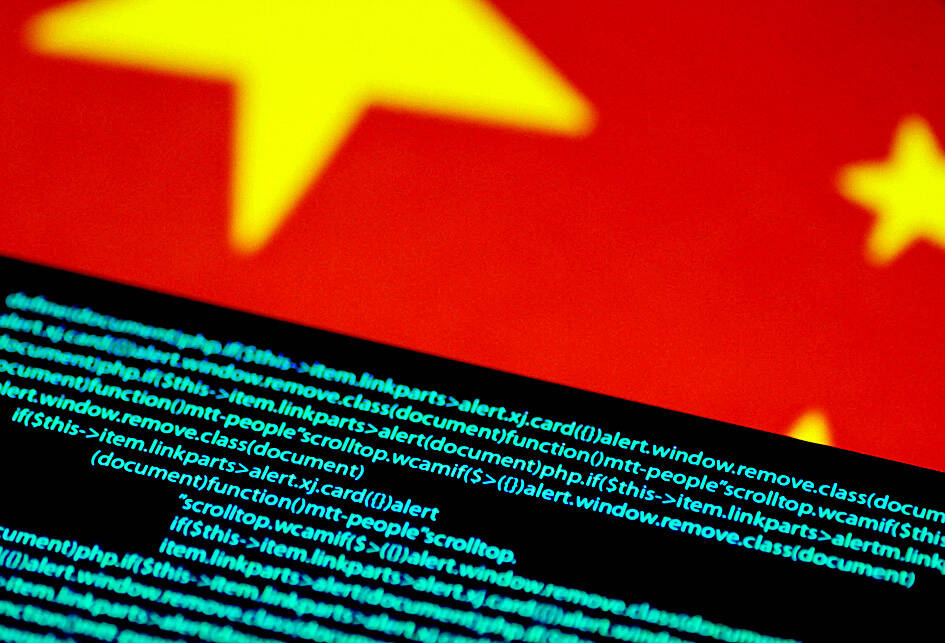 Computer code is pictured on a screen above a Chinese flag on July 12, 2017.
Photo: Reuters
One comment repeatedly made by the accounts was: "Taiwan wants to become ashes of war by acting like Ukraine to fight for the US."
Another commonly repeated comment said that the Tsai administration had bitten off more than it could chew by siding with Washington against Beijing.
One of the Chinese accounts identified themselves as "Yanchun Song," who appeared to run a media planning company in Liaoning Province in northeast China, the national security source said.
Security authorities identified Song as the president of Dandong Bokai Advertisement Planning Co (丹東博凱廣告公司) in Liaoning, the source said.
China has long used its cyberarmy to disseminate misinformation through a step-by-step process in an attempt to manipulate public opinion in Taiwan, they added.
The first two steps are creating fake accounts to post misinformation and then using Facebook pages run by people overseas to share the misinformation, the source said.
The third step is to use several dummy accounts to spread the false information, they added.
The final step is to share those accounts on Facebook groups commonly used by Taiwanese in a bid to generate clicks, create controversy and draw attention to the misinformation, the source said.
The model is aimed at "brainwashing" Taiwanese with the goal of defeating the enemy without having to use force, they said.
The source accused China's cyberarmy of using similar tactics and attacks during Taiwan's local government elections in November last year, and said that their next target could be next year's presidential and legislative elections.
China's cyberarmy could try to exploit several issues ahead of the elections to try to convince Taiwanese that the government is doing a poor job and that war across the Taiwan Strait could break out soon, the source said.
Among the issues that could be exploited are China's import bans on Taiwan's agriculture and fishery products, Taiwan's wide wealth gap, China's military drills and expensive US arms sales to Taiwan, the source added.
China could also spread the idea that Washington would abandon Taipei in a war with Beijing, they said.
Academia Sinica's Institute of European and American Studies in a recent study found that China's cognitive warfare against Taiwan was becoming more diverse, expanding from efforts to influence via mostly personal bilateral exchanges to online propaganda.
Comments will be moderated. Keep comments relevant to the article. Remarks containing abusive and obscene language, personal attacks of any kind or promotion will be removed and the user banned. Final decision will be at the discretion of the Taipei Times.