European Chips Act eyes partnership with Taiwan
The European Parliament's Committee on Industry, Research and Energy on Tuesday passed a proposed European Chips Act, with Taiwan listed as one of its target partners to achieve supply chain resiliency.
The global semiconductor shortage caused by the COVID-19 pandemic has yet to end, with Swedish auto manufacturer Volvo AB last week saying it was shutting down operations at its plant in Ghent, Belgium, for a week due to a chip shortage.
Realizing the strategic importance of chip supply, many Western governments have proposed bills to achieve supply chain autonomy.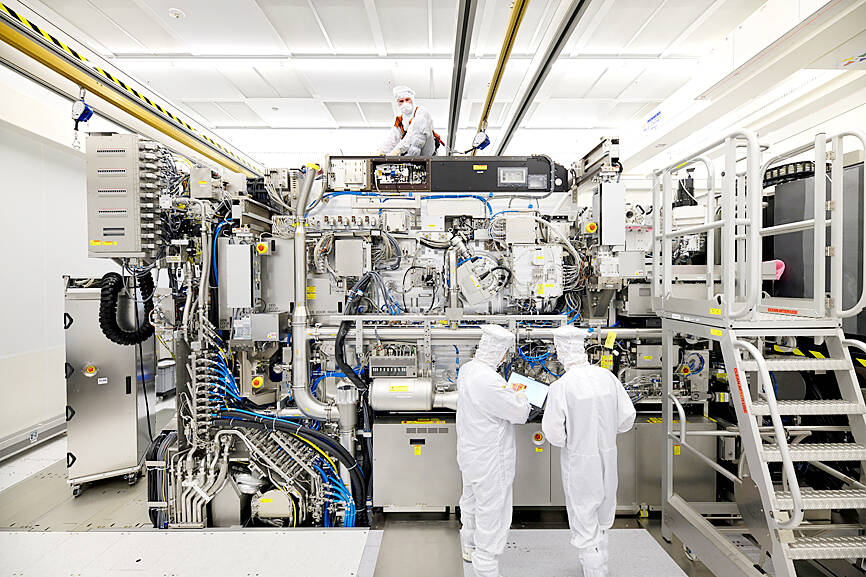 Employees work on the final assembly of ASML's TWINSCAN NXE:3400B semiconductor lithography tool with its panels removed, in Veldhoven, Netherlands, on April 4, 2019.
Photo: Bart van Overbeeke Fotografie / ASML / Reuters
The European Commission last year proposed the European Chips Act, whose goals include doubling the region's global market share of semiconductors from 10 percent to at least 20 percent by 2030.
The draft bill was passed by the committee, with 67 votes in favor and only one against it.
The act aims to bolster technological capacity building, production and innovation, and build a mechanism to monitor the semiconductor supply chain and coordinate actions during a crisis.
Article 7 of the act says that building partnerships with chip-producing countries is important to strengthen Europe's semiconductor ecosystem, and ensure security of supply and resilience, so the European Commission, with assistance from the European Semiconductor Board, should seek important partners.
Many legislators, including European Parliament Vice President Nicola Beer, who visited Taiwan last year, have proposed similar amendments to the act, and listed Taiwan as an important partner.
A diplomat who is familiar with the European Parliament told the Central News Agency that it is very rare for Taiwan to be mentioned in a proposed EU law.
The amended Article 7 of the act stipulates that the European Commission should seek like-minded strategic partners, such as global semiconductor leaders Japan, South Korea, Taiwan and the US.
It encourages the EU to engage in semiconductor diplomacy to improve its resilience in facing challenges such as supply chain disruptions, and requires the bloc to establish a chip diplomacy mechanism, strike trade and investment agreements or seek other diplomatic measures with partners.
The proposed European Chips Act next goes through interparliamentary meetings when the European Parliament holds its plenary session in Strasbourg, France, from Feb. 13 to 16.
If unopposed, the proposal is to be passed on to the European Council for negotiations among member states' representatives, and promulgated if a consensus is reached.
Comments will be moderated. Keep comments relevant to the article. Remarks containing abusive and obscene language, personal attacks of any kind or promotion will be removed and the user banned. Final decision will be at the discretion of the Taipei Times.