Ex-vice president to be next premier
OPINIONS SPLIT: Critics said Chien-jen lacks administrative experience, while his defenders said he is a good communicator and has a wide diplomatic network
The Presidential Office last night confirmed that former vice president Chen Chien-jen (陳建仁) would be the next premier, with a formal announcement to be made tomorrow.
The Chinese-language Liberty Times (the Taipei Times' sister newspaper) yesterday published an exclusive report saying that Chen had accepted the nomination following a meeting with President Tsai Ing-wen (蔡英文) during the Lunar New Year holiday.
The nomination has to be approved by the Legislative Yuan, with opposition lawmakers vowing to scrutinize his performance if Chen was nominated.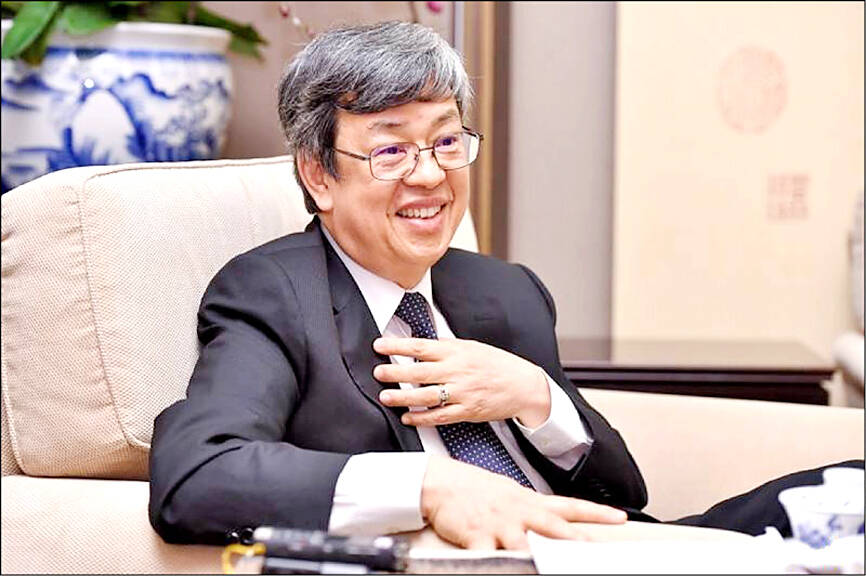 Former vice president Chen Chien-jen speaks during an interview in Taipei in an undated photograph.
Photo: Chung Li-hua, Taipei Times
Chen accepted the nomination because he believes the Democratic Progressive Party (DPP) must be united for the presidential election in January next year, the report said, adding that the new Cabinet must strive to deliver the best performance within a little more than a year to support the DPP's presidential candidate.
"I would like to remind the next premier that people would only feel safe and secure if the new premier heeds public opinion, addresses the nation's rising crime rate and protects the nation's cybersecurity systems," Chinese Nationalist Party (KMT) Cultural and Communications Committee head Hung Mong-kai (洪孟楷) said.
"I also hope that the new premier would select Cabinet members from among professionals and experts. He should not pick those who lost in the nine-in-one local elections or from a narrow circle of people," Hung added.
KMT caucus whip William Cheng (曾銘宗) said that the public would have an even more negative view of the DPP administration if Chen were to lead the Cabinet.
Chen "lacks administrative experience, and he had favored Medigen Vaccine Biologics Corp (高端疫苗)," Tseng said, referring to the developer of a local COVID-19 vaccine, which has been a target of KMT criticism.
"He also made controversial comments while campaigning for other candidates during the nine-in-one elections last year. The KMT caucus will scrutinize his performance and carefully question him when the next legislative session opens next month," Tseng said.
Taiwan People's Party Legislator Jang Chyi-lu (張其祿) said Chen would have no "honeymoon" once his nomination is approved.
"The country is experiencing all sorts of problems, from strained cross-strait relations to skyrocketing housing prices, stagnant salaries, delays in US arms sales to Taiwan, and a decline in agricultural and fishery product exports. These issues will have to be addressed immediately once he becomes premier," Jang said.
DPP Legislator Hsu Chih-chieh (許智傑) said Chen has a positive image as a public health expert.
"As the convener in charge of reforming the pension systems for military personnel, civil servants and public school teachers, Chen showed great communication skills. As a Catholic, he cares for the economically disadvantaged, and knows a lot of people in diplomatic and religious circles," Hsu said.
Comments will be moderated. Keep comments relevant to the article. Remarks containing abusive and obscene language, personal attacks of any kind or promotion will be removed and the user banned. Final decision will be at the discretion of the Taipei Times.