US preparing for speaker's visit to Taiwan: report
The Pentagon is preparing for US House of Representatives Speaker Kevin McCarthy to visit Taiwan later this year, Punchbowl News reported on Monday, citing an official directly involved in the talks.
US administration officials anticipate McCarthy would visit Taiwan some time in the spring, the report said.
McCarthy had previously pledged to visit Taiwan if he became House speaker. He was elected speaker earlier this month.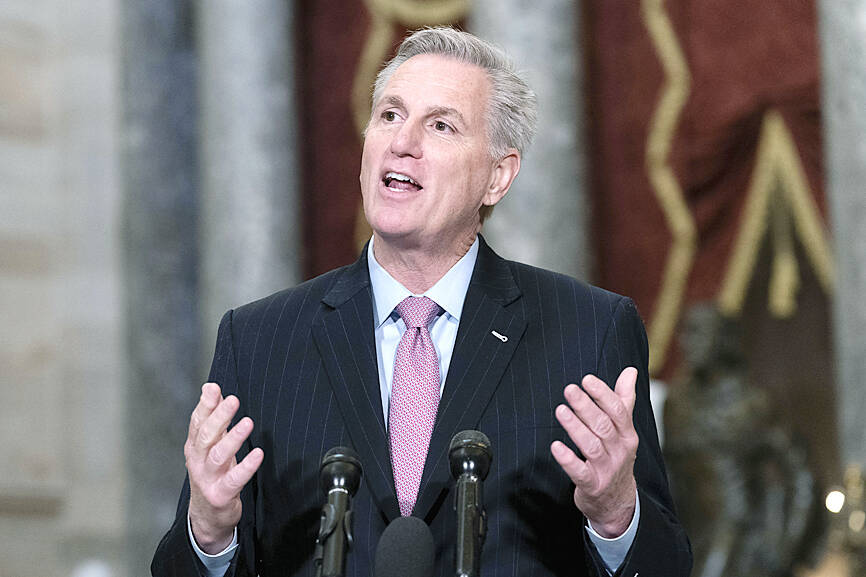 US House of Representatives Speaker Kevin McCarthy speaks during a news conference in the Statuary Hall at the Capitol in Washington on Thursday last week.
Photo: AP
He had also said that he would have liked to join then-US House speaker Nancy Pelosi's delegation when she visited Taiwan in August last year.
Pelosi's 19-hour visit to Taipei marked the first time in 25 years that a sitting US House speaker visited Taiwan.
Beijing ramped up incursions and launched large-scale military drills around Taiwan proper following Pelosi's visit.
When asked in an interview last week with The Associated Press if McCarthy should make good on his pledge to visit Taiwan, Representative to the US Hsiao Bi-khim (蕭美琴) said "that will be his decision."
"But I think ultimately the people of Taiwan have welcomed visitors from around the world," she said, adding that Beijing "has no right to decide or define how we engage with the world."
Comments will be moderated. Keep comments relevant to the article. Remarks containing abusive and obscene language, personal attacks of any kind or promotion will be removed and the user banned. Final decision will be at the discretion of the Taipei Times.