Taipower aims to increase coal storage
YEAR-LONG PLAN: Increased storage would improve national security and create more space to store coal that goes unused as the nation transitions to clean energy
Taiwan Power Co (Taipower, 台電) is looking into potential sites to store enough coal to generate up to 50 days of electricity in the event Taiwan faces a blockade or war, a source said on Saturday.
Government regulations require the utility to store up to 30 days of coal, but Taipower generally maintains a reserve of 40 to 42 days.
However, following China's drills in August last year, during which it imposed a partial blockade around Taiwan proper, the company might further increase its coal storage to 50 days, the source said.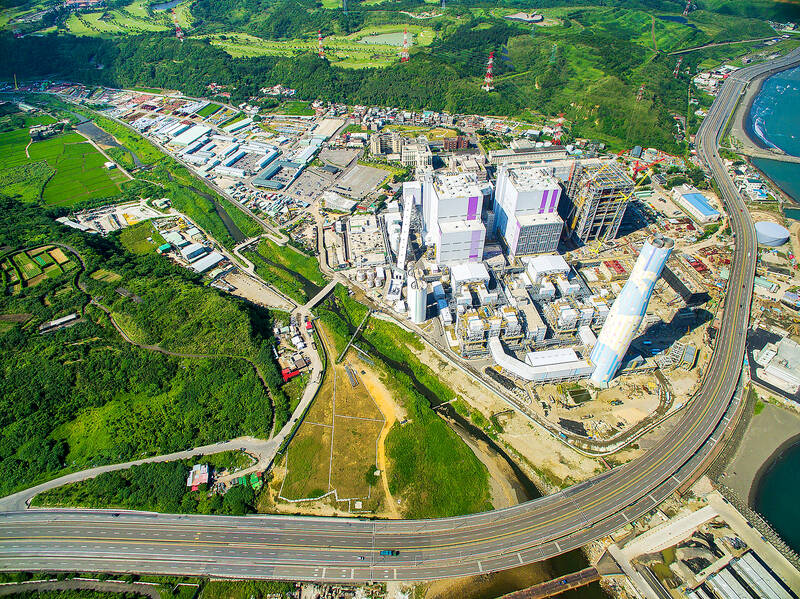 The ultra-supercritical power plant in New Taipei City's Linkou District is pictured in an undated photograph.
Photo courtesy of Taiwan Power Co
Another reason is rising coal inventories due to the nation's transition to clean energy, as well as some coal-fired power plants shutting down during winter to reduce air pollution, they said.
"If a coal shipment arrives at a port and existing stocks have not been depleted, this causes port congestion," the source said.
"However, Taipower has only just started looking for storage sites and it would take at least a year to conduct a feasibility study on the plan," the source said.
The company wants to find a site near a coal-fired power plant, particularly one like the ultra-supercritical plant in New Taipei City's Linkou District (林口), the source said.
"Another option would be Taichung Power Plant. It will decommission its coal burners and switch to natural gas, but the coal burners would be used as a backup if the need arises," the source said.
However, Taipower would not restart coal plants in areas where they have caused public discontent, and any restarted plants would use ash ponds to reduce the amount of airborne pollutants, the source said.
Taipower hopes that the central government would subsidize the expenses that would arise from expanding coal storage capacity, especially as the plan would improve national security, the source added.
Separately, CPC Corp, Taiwan (CPC, 台灣中油), which maintains stocks of liquefied natural gas (LNG), said it has a combined stock of 100 days of LNG across all of its facilities nationwide — exceeding the mandated minimum of 90 days.
However, to improve energy security, the company would install additional storage tanks at receiving stations, including those at Taoyuan's Guantang Industrial Park (觀塘工業區), Kaohsiung's Yongan Port (永安) and the terminal in Taichung.
The additional tanks would increase storage capacity at each facility from 16 days to 24 days, the company said.
Comments will be moderated. Keep comments relevant to the article. Remarks containing abusive and obscene language, personal attacks of any kind or promotion will be removed and the user banned. Final decision will be at the discretion of the Taipei Times.