Myanmar arms industry growing after coup: report
Companies from at least 13 nations have helped Myanmar build up its capacity to produce weapons that are being used to commit atrocities following a 2021 military takeover, independent international experts have found.
A report released yesterday by the Special Advisory Council for Myanmar details how the nation has stepped up arms production since the army seized power on Feb. 1, 2021, igniting a mass public opposition movement.
The army's takeover from elected civilian leaders reversed nearly a decade of progress toward democracy after 50 years of military rule. After security forces used lethal force against peaceful demonstrators, opponents of military rule took up arms. Some UN experts have characterized the situation as a civil war.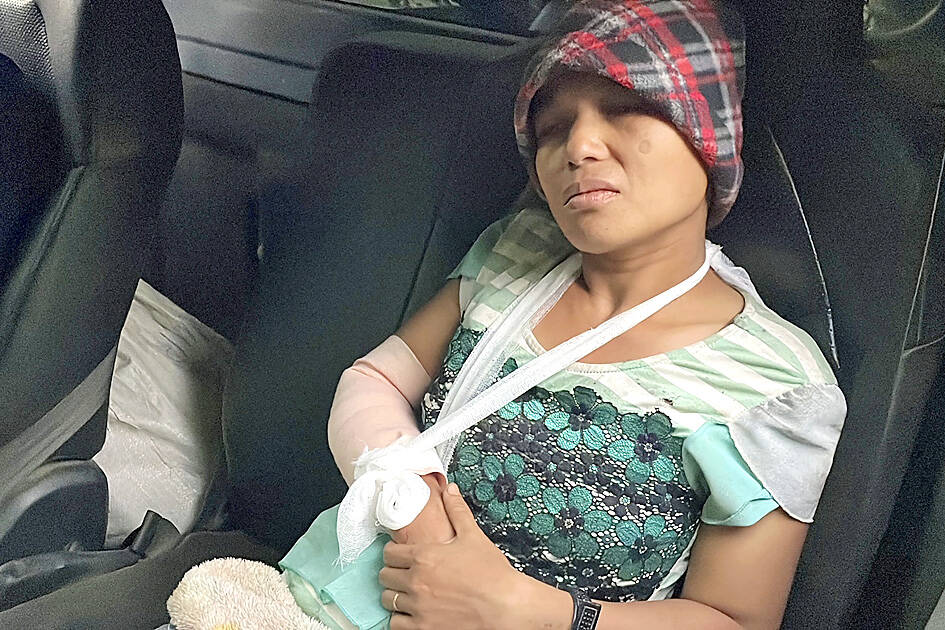 A photograph provided by the Free Burma Rangers shows a wounded woman resting in Lay Wah, Myanmar, on Thursday last week. The Free Burma Rangers said its volunteers watched from a distance as the Burmese military made two bombing runs on Thursday last week.
Photo: AP
The Assistance Association for Political Prisoners has documented more than 2,700 civilian deaths in the violence, including 277 children, while more than 13,000 people have been detained. The true number is believed to be much higher.
Companies in the US, Europe, Asia and the Middle East are supporting the military supply chain, the report says, urging those businesses to ensure they are not facilitating human rights abuses.
The growth of the homegrown arms industry comes as some nations have enforced arms embargoes or sanctions against individuals and companies involved in trading or manufacturing arms.
The US Department of the Treasury in October last year imposed sanctions against Aung Moe Myint, a businessman close to the army who it said facilitates arms deals on its behalf. His brother, Hlaing Moe Myint, and the trading company they founded, Dynasty International Co Ltd, were also targeted. One of its directors, Myo Thitsar, also was designated for sanctions.
The US in November then imposed sanctions on aircraft suppliers to the military, citing deadly airstrikes on civilians.
Myanmar has no private arms makers, so any such companies are run by the Burmese Ministry of Defense and Directorate of Defense Industries, the report said.
Local factories still can draw upon licensed technology and overseas supply chains, technical support and other backing, sometimes by sending equipment to Taiwan or Singapore for upgrading and maintenance, it said.
In a statement, council expert Chris Sidoti urged governments to investigate and, when justified, initiate action against companies that enable the Burmese military to make weapons used in "indiscriminate attacks on civilians."
"Foreign companies that profit from the suffering of the Myanmar people must be held accountable," said Sidoti, a human rights lawyer and a member of the UN Fact Finding Mission on Myanmar from 2017 to 2019.
A report last year by the UN Office of the High Commissioner for Human Rights outlined some of those links, naming companies in Russia, China, Ukraine, Israel, Singapore and the Philippines.
A major factor driving the buildup in the domestic arms industry is the risk that imports of arms, military aircraft and other weaponry would be cut off by embargoes or sanctions. The army is now self-reliant in making small arms and light weapons, the report says.
Myanmar's arms-making capacity includes a wide variety of items from assault rifles and machine guns to mortars, anti-tank and anti-aircraft weapons, missiles and missile launchers, and artillery and air defense systems, it said.
Land mines and naval mines are among other products being made in Myanmar, said the report, citing people who have worked in the industry and also photographs of weapons displayed at a defense and security exhibition in Bangkok that showcased such products.
Weapons factories, known as "KaPaSa," an abbreviation of the local name for the Directorate of Defense Industries, draw on components such as fuses, optical sights and detonating caps imported from India and China. They also have computer numerical control machines for milling, grinding and other functions made in Taiwan, Japan, Austria, Germany and the US, the report said.
The exact number of such factories is unclear, but analysis of satellite images and other information has identified dozens.
Comments will be moderated. Keep comments relevant to the article. Remarks containing abusive and obscene language, personal attacks of any kind or promotion will be removed and the user banned. Final decision will be at the discretion of the Taipei Times.