Lawmakers pass bill to deter 'house flippers'
FLIPPING HECK: House purchase agreements can be 'flipped' to other buyers when the price of the units go up, a tactic speculators have used to make sizeable profits
Lawmakers yesterday passed revisions aimed at curbing speculation in the property market, including the introduction of a repeatable NT$50 million (US$1.64 million) fine for market manipulators, in a bid to bring down the nation's high house prices.
The amendments to the Equalization of Land Rights Act (平均地權條例) were passed with all lawmakers present voting in favor of the revisions.
One of the key revisions prohibits the reselling or transfer of purchase agreements for presale or newly constructed residential units to third parties, long considered a loophole that encourages speculation.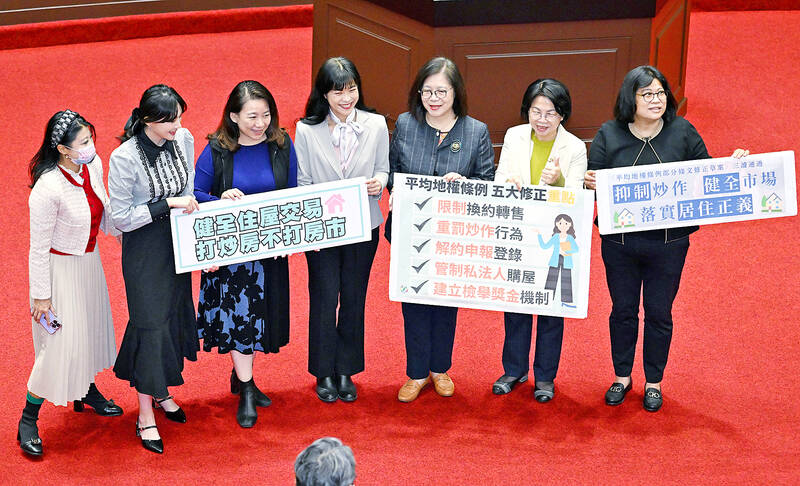 Democratic Progressive Party legislators hold placards supporting measures to curb real-estate speculation at the legislature in Taipei yesterday.
Photo: Liao Cheng-hui, Taipei Times
In presale residential housing developments it is common practice for interested buyers to reserve the right to purchase a housing unit by placing a deposit and receiving a "purchase order" that includes an agreed-upon price.
The purchase agreements can then be "flipped" to other buyers when the price of the units go up as the presale process proceeds, a tactic speculators have used to make sizeable profits.
Under the amendments, the practice is prohibited unless the purchase agreement is transferred to a person's spouse or first or second-degree relative, or in situations to be defined by the Ministry of the Interior.
People who breach the rule would be subject to a fine of NT$500,000 to NT$3 million, with the penalty also applying to realtors who help people resell or transfer purchase agreements.
In situations where a purchase agreement for a presale house is dissolved, the property developer is required to report the cancelation within 30 days or face a fine of NT$30,000 to NT$150,000 per unit.
The revisions also set specific penalties for people who manipulate the real-estate market or earn a profit by spreading false information about house prices, collude with others to fake transactions, overstate the number of houses sold or engage in illegal transactions.
Those who engage in such behavior would be subject to a fine of between NT$1 million and NT$50 million depending on the number of transactions, and the fine can be repeated.
Another key revision prohibits private entities from reselling, transferring or appointing a future receiver of a property within five years of purchasing it.
Private entities also need to present a proposal for property use to their respective governing authority and gain its approval before they can purchase a residential unit.
The amendments also establish a reward mechanism for people who report illegal transactions or actual transaction prices that have not been accurately registered, paying informants a certain share of the fines collected.
Also adopted was a motion sponsored by the Democratic Progressive Party caucus to simplify the application process to have buildings included in urban renewal projects or for private entities when they purchase houses to be used as dormitories. Under the motion, reviews of such applications shall not, in principle, exceed seven working days.
The amended act also revises the makeup of land evaluation committees at the local government level, raising the representation of experts and members of civil groups to at least 50 percent while eliminating the presence of elected local officials and "other types of impartial individuals."
The amendments are to be sent to President Tsai Ing-wen (蔡英文) to be signed into law.
The number of houses purchased by private entities increased from 10,219 in 2019 to 17,779 in 2021, which sparked concern about people engaging in house flipping through private entities, which previously did not face any restrictions when buying properties.
Acting Minister of the Interior Hua Ching-chun (花敬群) said in a statement that the amendments were aimed at deterring house flipping and bringing order to the housing market.
Comments will be moderated. Keep comments relevant to the article. Remarks containing abusive and obscene language, personal attacks of any kind or promotion will be removed and the user banned. Final decision will be at the discretion of the Taipei Times.