Brazil patrols buildings retaken from Bolsonaro rioters
OVERWHELMED: Security forces used tear gas, stun grenades and water cannons to fight back the rioters protesting a 'rigged' election until they were finally subdued
Brazilian security forces locked down the area around the Brazilian Congress, the presidential palace and the Brazilian Supreme Court yesterday, a day after supporters of former Brazilian president Jair Bolsonaro stormed the seat of power in riots that triggered an international outcry.
In stunning scenes reminiscent of the Jan. 6, 2021, invasion of the US Capitol building by supporters of then-US president Donald Trump, backers of Bolsonaro broke through police cordons and overran the seats of power in Brasilia, smashing windows and doors, and ransacking offices.
Initially overwhelmed security forces used tear gas, stun grenades and water cannons to fight back the rioters until they were finally subdued.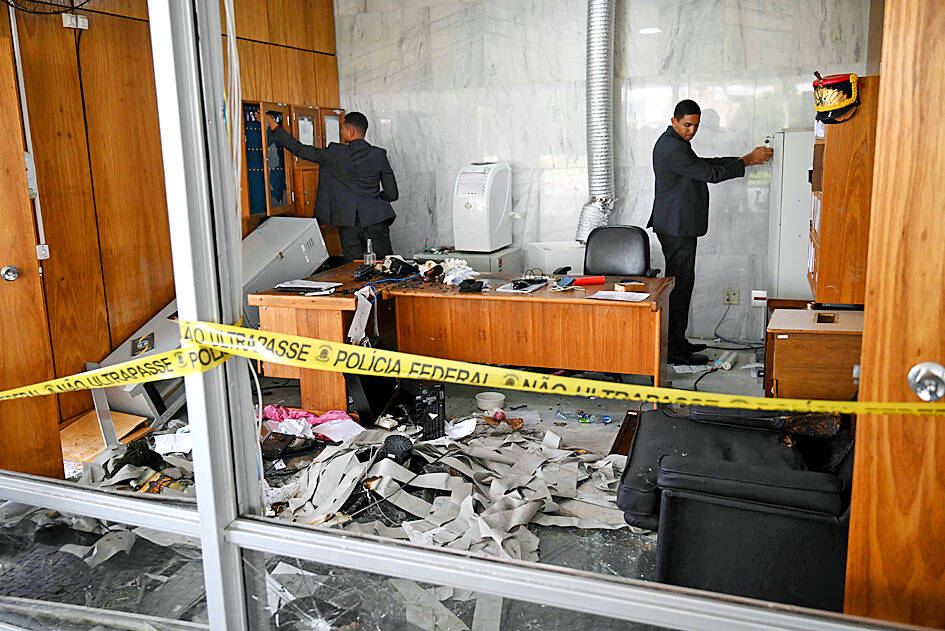 Planalto Presidential Palace security members in Brasilia inspect offices destroyed by supporters of former Brazilian former president Jair Bolsonaro after a riot yesterday.
Photo: AFP
Newly inaugurated Brazilian President Luiz Inacio Lula da Silva, the veteran leftist who narrowly won Brazil's bitter, divisive October elections, condemned the invasions as a "fascist" attack.
Meanwhile, the far-right Bolsonaro condemned "pillaging and invasions of public buildings" in a Twitter post.
However, he rejected Lula's claim that he incited the attacks.
Lula, who was in the southeastern city of Araraquara visiting a region hit by severe floods, signed a decree declaring a federal intervention in Brasilia, giving his government special powers over the local police force to restore law and order in the capital.
"These fascist fanatics have done something never before seen in this country's history," said Lula, 77, who took office a week ago. "We will find out who these vandals are and they will be brought down with the full force of the law."
Lula returned to Brasilia and viewed the damage at the presidential palace and the Supreme Court.
He said he would work from the palace yesterday, despite the destruction.
Police have made 170 arrests, media reports said.
TV images showed police ushering Bolsonaro supporters in single file down the ramp from the Planalto presidential palace.
The chaos came after a sea of protesters dressed in military-style camouflage, and the green and yellow of the Brazilian flag flooded into Brasilia's Three Powers Square, invading the floor of Congress, trashing the Supreme Court building and climbing the ramp to the Planalto.
Social media footage showed rioters breaking doors and windows to enter the Congress building, then streaming inside en masse, trashing lawmakers' offices and using the sloped speaker's dais on the Senate floor as a slide as they shouted insults directed at the absent lawmakers.
Protesters damaged artworks, historical objects, furniture and decorations as they ran riot through the buildings, Brazilian media reports said.
One video showed a crowd outside pulling a policeman from his horse and beating him to the ground.
Police, who had established a security cordon around the square, fired tear gas in a bid to disperse the rioters — initially to no avail.
A journalists' union said at least five reporters were attacked, including a photojournalist who was beaten by protesters and had his equipment stolen.
Hardline Bolsonaro supporters have been protesting outside army bases calling for a military intervention to stop Lula from taking power since his election win.
Lula's government vowed to find and arrest those who planned and financed the attacks.
Brasilia Governor Ibaneis Rocha fired the capital's public security chief, Anderson Torres, who previously served as Bolsonaro's justice minister.
The attorney general's office said it had asked the Supreme Court to issue arrest warrants for Torres "and all other public officials responsible for acts and omissions" leading to the unrest.
It also asked the high court to authorize the use of "all public security forces" to take back federal buildings and disperse anti-government protests nationwide.
Protester Sarah Lima said they were demanding a review of the "fraudulent election."
Lula narrowly won the runoff by a score of 50.9 percent to 49.1 percent. Bolsonaro, who left for Florida on the second-to-last day of his term, has alleged he is the victim of a conspiracy against him by Brazil's courts and electoral authorities.
"I'm here for history, for my daughters," said Lima, 27, wearing the yellow jersey of the Brazilian national football team -- a symbol Bolsonaro backers have claimed as their own -- and protesting with her young twin daughters.
Fellow protester Rogerio Souza Marcos said the elections had been plagued by "multiple signs of fraud and corruption."
Newly installed Justice and Public Security Minister Flavio Dino called the invasion "an absurd attempt to impose [the protesters'] will by force."
"It will not prevail," he wrote on Twitter.
There was swift international condemnation of the protesters.
The UN said it "vehemently condemns" the attacks.
US President Joe Biden slammed the scenes as "outrageous," European Council President Charles Michel expressed "absolute condemnation" on Twitter, and French President Emmanuel Macron called for respect for Brazil's institutions and sent Lula "France's unwavering support."
Even Italy's far-right Prime Minister Giorgia Meloni condemned the riots.
A raft of Latin American leaders joined in, with Chilean President Gabriel Boric denouncing a "cowardly and vile attack on democracy" and Mexico's Andres Manuel Lopez Obrador calling it a "reprehensible coup attempt."
Comments will be moderated. Keep comments relevant to the article. Remarks containing abusive and obscene language, personal attacks of any kind or promotion will be removed and the user banned. Final decision will be at the discretion of the Taipei Times.