German lawmakers visit Taipei as China concerns mount
A delegation of German Free Democratic Party (FDP) lawmakers led by German Bundestag Committee on Defense Chairwoman Marie-Agnes Strack-Zimmermann and party deputy chair Johannes Vogel arrived in Taiwan yesterday.
The visit is a gesture of German "solidarity" with Taiwan, they said.
Legislative Speaker You Si-kun (游錫堃) hosted a banquet to welcome the delegation.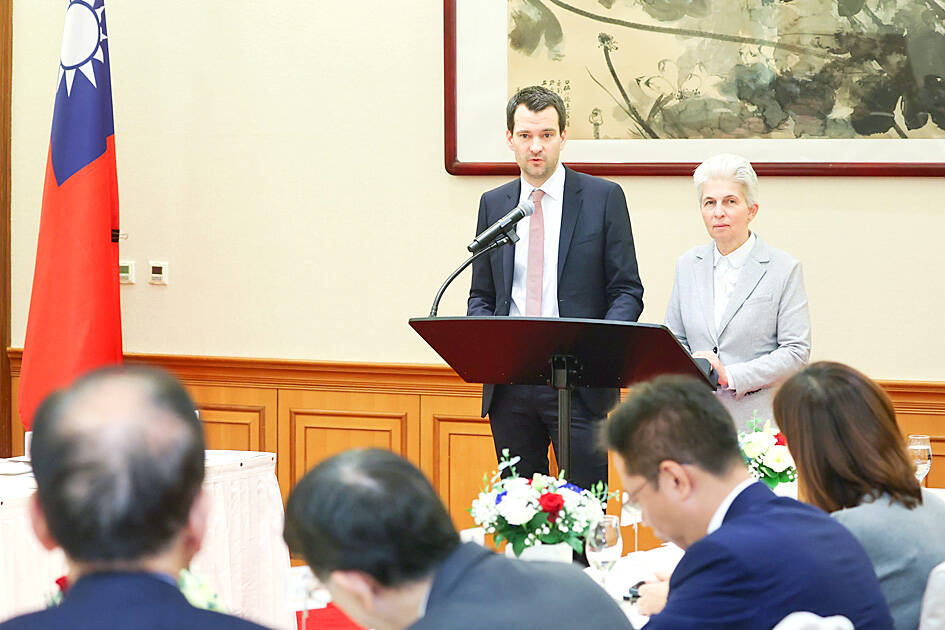 German Free Democratic Party deputy chair Johannes Vogel, left, speaks at a reception hosted by Legislative Speaker You Si-kun, not pictured, in Taipei yesterday, as German Bundestag Committee on Defense Chairwoman Marie-Agnes Strack-Zimmermann looks on.
Photo courtesy of the Taipei Photojournalist Society
"As a model of democracy against authoritarianism, Taiwan draws admiration from the world" because of its mature and stable democratic system," Vogel said.
The FDP is a junior partner in Germany's coalition government.
Vogel said that Taiwan's peaceful and smooth transition to democracy was a "quite rare" event worthy of admiration.
The situation between Taiwan and China is complicated, and the FDP and the EU must support the "one China" policy, but the party is nonetheless supportive of Taiwan, he said.
Germany would like to send China a message that military intimidation is not acceptable, he said, adding that the trip is to "demonstrate Germany's massive support for Taiwan."
You said he was touched when the FDP in 2021 deleted mention of the "one China" policy from its election platform in an effort to support Taiwan.
Germany and the EU should engage with Taiwan more, he said.
You said he hopes that allies support Taiwan's resistance against aggression and bullying, safeguard global peace and stability, and work to encourage China's democratization.
German Minister of Education and Research Bettina Stark-Watzinger, also of the FDP, plans to visit Taipei in the spring, Agence France-Presse reported.
It would be the first visit by a member of the German Cabinet in 26 years.
The delegation is to meet with President Tsai Ing-wen (蔡英文) and other senior officials, the Ministry of Foreign Affairs said in a statement.
The members are scheduled to visit the Hsinchu Science Park and the National Human Rights Museum before departing on Thursday.
The Chinese Ministry of Foreign Affairs yesterday criticized the visit.
"The root of the Taiwan problem is precisely that of the law of the jungle — hegemonism, colonialism, militarism and nationalism. China suffered deeply from these behaviors throughout history," Ministry of Foreign Affairs Wang Wenbin (汪文斌) told a news conference.
"Germany once experienced a profound and painful historical lesson in this regard," he added.
Separately, a parliamentary delegation from Lithuania arrived in Taiwan yesterday morning.
Lithuanian Parliamentary Group for Relations with Taiwan vice chair Dovile Sakaliene on Sunday said on Facebook that Lithuania and Taiwan would discuss cybersecurity and geopolitical security challenges.
The invasion of Ukraine showed that the threats Lithuania and Taiwan face are real, and the two countries should "learn, unite, and act now," she said.
Additional reporting by Lu Yi-hsuan
Comments will be moderated. Keep comments relevant to the article. Remarks containing abusive and obscene language, personal attacks of any kind or promotion will be removed and the user banned. Final decision will be at the discretion of the Taipei Times.