PRC post on Koreans' visit 'despicable'
OFFICIAL DELEGATION: Taipei 'solemnly censures' China's 'uncouth language' and wolf warrior behavior in response to a visit by dignitaries, the government said
The Ministry of Foreign Affairs yesterday criticized Beijing's embassy in Seoul over "despicable" comments protesting a visit of a delegation to Taiwan last week led by South Korean National Assembly Deputy Speaker Chung Woo-taik.
In a post on WeChat, an embassy spokesperson said that the lawmakers' visit contravenes the "one China" principle and harms the development of friendly relations between China and South Korea.
When referring to the visit, the spokesperson used the derogatory term cuan fang (竄訪), which equates the lawmakers to rats "scurrying" around. Beijing had used the term before when discussing then-US House of Representatives speaker Nancy Pelosi's visit to Taiwan last year.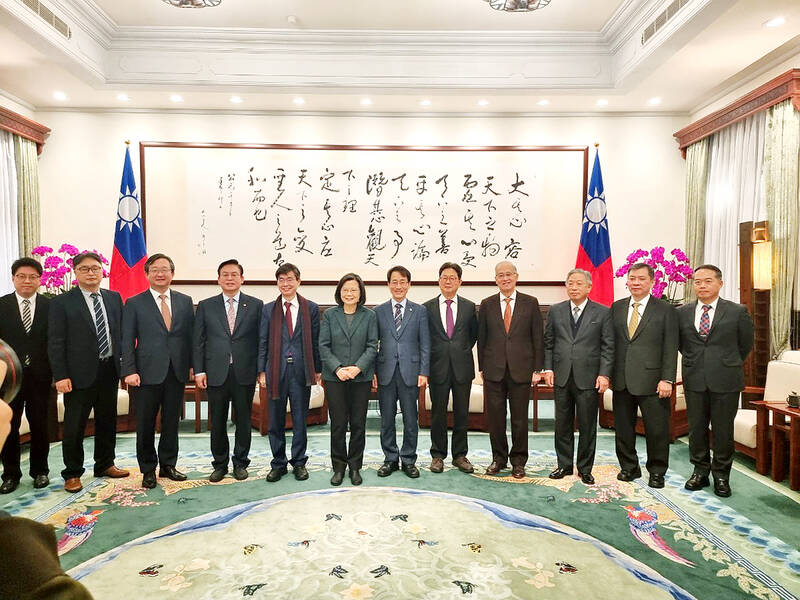 President Tsai Ing-wen, sixth left, meets with members of the South Korea-Taiwan Friendship Association in Taipei during the group's visit from Wednesday last week to Sunday.
Photo from South Korean lawmaker Lee Dal-gon's Facebook page
The spokesperson also said "Taiwan independence secessionist forces" and meddling by foreign forces were threatening stability in the Taiwan Strait.
Taiwan "solemnly censures" the Chinese ambassador in South Korea, who made comments that "seriously distorted facts and infringed on the dignity of South Korea and our country's sovereignty," the ministry said in a statement.
"China's overturning of right and wrong, its uncouth language and its wolf warrior behavior can only be described as despicable," the statement said.
Taipei's reception of foreign guests, including major political figures and lawmakers, is "an exercise of national sovereignty and a normal activity of democracies," it said.
The international community agrees that Taiwan and China are non-subordinate, sovereign nations, and that the People's Republic of China has never governed Taiwan, the ministry said.
Taiwan and South Korea are democratic, sovereign countries, and Seoul has the right to conduct relations with any foreign nation it wishes, including Taiwan, it added.
The statement said that Beijing's complaints are baseless, as the South Korea-Taiwan Friendship Association had visited the nation every year prior to the COVID-19 pandemic, and thanked the visiting lawmakers for their significant contributions to bilateral relations.
Taiwan and South Korea share the universal values of freedom, democracy and the rule of law, and have close ties in matters of substance including trade and mutual visits, it said.
The statement also said that Seoul declared the importance of maintaining peace and stability across the Taiwan Strait in 2020, and has often repeated that message since, including in last month's publication of its strategic document for the Indo-Pacific region.
"Again, the Chinese government did not heed facts and acted in bad faith in its futile attempt to impede Taiwan's conduct of normal relations with the rest of the world," it said, calling for democratic countries to support Taiwan.
"China should stop its presumptuous behavior toward South Korea's parliamentarian diplomacy," South Korean lawmaker Cho Kyoung-tae said.
Beijing's actions were "not the behavior of a normal country," the Korea Times cited him as saying. "Interference into domestic affairs should not occur."
Premier Su Tseng-chang (蘇貞昌) told a ribbon-cutting ceremony in New Taipei City that Beijing's interference in Taiwan's affairs makes China "a bad neighbor, always meddling and trying to start arguments."
"The world judges China on its unneighborly behavior," he added.
Comments will be moderated. Keep comments relevant to the article. Remarks containing abusive and obscene language, personal attacks of any kind or promotion will be removed and the user banned. Final decision will be at the discretion of the Taipei Times.