COVID-19: Chinese arrivals to undergo PCR testing
INTERNATIONAL CONCERN: The policy follows similar measures in other countries and aims to detect and prevent the spread of new variants in Taiwan, the CECC said
Starting on Sunday, travelers from China will be required to take a polymerase chain reaction (PCR) test upon arrival in Taiwan, the Central Epidemic Command Center (CECC) said yesterday, as it reported 27,942 new local cases.
The Chinese National Health Commission on Monday announced that it would drop quarantine requirements for inbound travelers from Jan. 8. It also removed restrictions on the number of international flights and passenger capacity, and said that people with COVID-19 would no longer need to self-isolate.
Following the announcement, governments across the world started implementing measures to test or restrict travelers from China.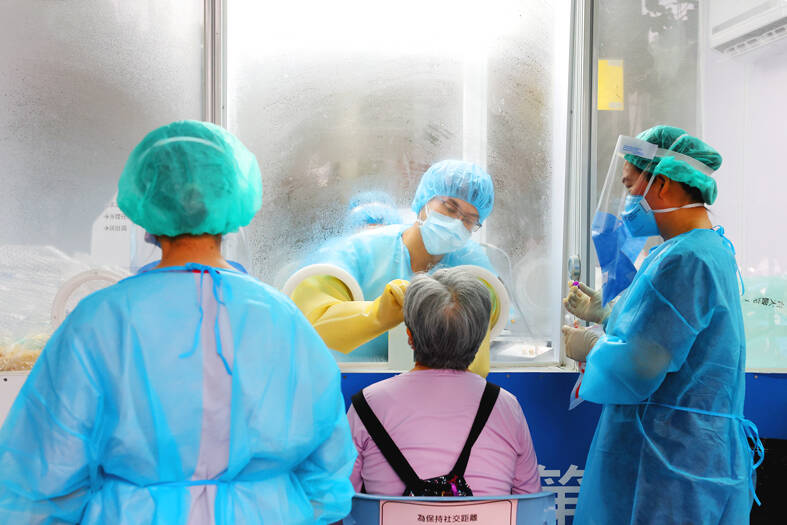 A medical worker performs a polymerase chain reaction test on a woman at National Taiwan University Hospital in Taipei on June 15.
Photo: CNA
Japanese Prime Minister Fumio Kishida on Tuesday said that starting at midnight tomorrow, travelers from China or those who have been in China within the previous seven days would be subject to a mandatory COVID-19 test upon arrival. Those who test positive would be quarantined for seven days. Direct flights from China, Hong Kong and Macau would be allowed to depart from and land at only four airports in Japan.
The US government is considering imposing new COVID-19 measures on travelers to the US from China, Reuters reported yesterday.
Malaysia has imposed new tracking and surveillance measures.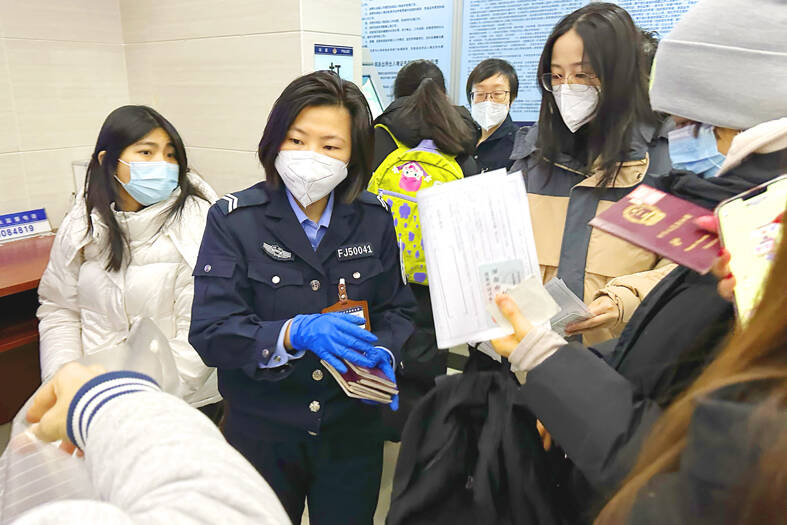 An officer collects passport renewal applications at a police station in Beijing yesterday.
Photo: AP
India began random testing of about 2 percent of passengers arriving from other countries at all international airports a week ago to minimize the risk of any new variant entering the country.
Philippine Secretary of Transportation Jaime Bautista yesterday called for COVID-19 measures, including testing of inbound travelers from China.
"We should be very cautious, because if they have a lot of COVID cases, we should be careful about Chinese visitors coming into the Philippines," he told reporters.
At an enlarged Cabinet meeting yesterday morning, Premier Su Tseng-chang (蘇貞昌) said that Taiwan generally has not allowed Chinese travelers into the nation since the pandemic began, but more than 30,000 people are expected to arrive from China during the Lunar New Year holiday.
Su said that as some countries have taken action, he has instructed the CECC to implement preventive measures.
Deputy Minister of Health and Welfare Victor Wang (王必勝), who heads the center, in the afternoon said that from Sunday to Jan. 31, travelers from China — either on direct flights from four Chinese cities, or on ferries or flights through the "small three links" to the outlying counties of Kinmen or Lienchiang — would have to show a negative PCR test result upon arrival.
The direct flights from China do not include those from Hong Kong and Macau, and travelers do not include airline crew members, the CECC said.
Wang said inbound travelers need to practice seven days of self-disease prevention even if they test negative.
Those who test positive would be subjected to the "5+n" rule — five days of home isolation, followed by up to seven days of self-health management until they test negative with a rapid test.
Virus samples would be taken from travelers who test positive and sent to the Centers for Disease Control's (CDC) laboratory for genome sequencing, in a bid to detect possible mutations in SARS-CoV-2 strains, he added.
People undergoing seven days of self-disease prevention must take a rapid test on the day of arrival or the first day of self-disease prevention, the CECC said.
They also must take a rapid test if they develop symptoms and must test negative in a rapid test two days prior to leaving home.
The Cabinet implemented the policy due to a lack of data transparency amid a COVID-19 surge in China, Wang said, adding that inbound travelers should seek medical attention as soon as possible if they develop symptoms.
The CECC yesterday also reported 27,942 new local cases, up 46.7 percent from Wednesday last week, 226 imported cases and 25 deaths.
Wang is tomorrow to travel to Lienchiang to meet with County Commissioner Wang Chung-ming (王忠銘) to better understand the outlying county's healthcare capacity, as well as its testing and quarantine preparations, the CECC said.
Additional reporting by Bloomberg
Comments will be moderated. Keep comments relevant to the article. Remarks containing abusive and obscene language, personal attacks of any kind or promotion will be removed and the user banned. Final decision will be at the discretion of the Taipei Times.