Japan LDP policy boss touts Taipei ties
'A FRIEND INDEED': Koichi Hagiuda said Taiwan is a trustworthy trade partner, so he hopes it can join the CPTPP and become a partner in the global hydrogen supply chain
Taiwan and Japan's friendship should be expanded in many aspects, the policy chief of Japan's ruling Liberal Democratic Party (LDP) said in Taipei yesterday, while expressing the hope that Taiwan would be able to join the Comprehensive and Progressive Agreement for Trans-Pacific Partnership (CPTPP).
The LDP's Policy Research Council chairman Koichi Hagiuda made the remarks during his opening speech at the Japan Taiwan Relationship Sustainability Forum at the Grand Hotel, cohosted by the Ministry of Foreign Affairs' Taiwan-Japan Relations Association and the Japan-Taiwan Exchange Association.
Hagiuda first thanked the many Taiwanese who paid tribute to late Japanese prime minister Shinzo Abe.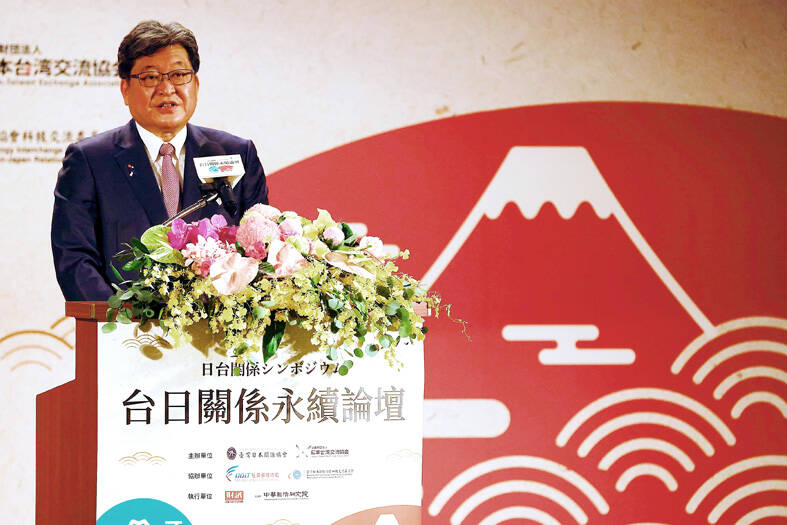 The Japanese Liberal Democratic Party's Policy Research Council chairman Koichi Hagiuda speaks at a forum in Taipei yesterday.
Photo: Ann Wang, Reuters
Taiwan quickly came to Japan's aid after the 2011 earthquake and tsunami, and Japan sent rescue teams after a big earthquake hit eastern Taiwan in 2018, proving that "a friend in need is a friend indeed," he said, adding that hopefully that friendship could be deepened and broadened.
On achieving economic security, he said that Japan places importance on establishing free and fair trade, with the CPTPP as the core, so Japan would insist on expanding it globally.
Hagiuda said he supports Taiwan joining the trade bloc.
"We do not want to work with those trading partners that we cannot put our trust in," he said, adding that this is not the case with Taiwan, as it is a trustworthy trade partner with which Japan shares deep connections.
As the world is striving for net zero emissions, energy supply cooperation would also become an important task, Hagiuda said.
However, solar and wind power are relatively unstable depending on the weather, so Japan is developing hydrogenic energy generation, he said, adding that Japan is the first country to have transported liquid hydrogen in bulk across continents.
Hopefully, Taiwan could become a partner in a global hydrogen supply chain, he said.
Taiwan Semiconductor Manufacturing Co (TSMC, 台積電) provides about 70 percent of the chips for automobiles and other world-leading consumer electronics, so its semiconductor supply chain must not be disrupted and its production should be diversified, Hagiuda said.
A good example of cooperation was the establishment of TSMC's joint venture Japan Advanced Semiconductor Manufacturing Inc in Japan's Kumamoto, he said.
The Japanese government has also increased funding for research and innovation in artificial intelligence and quantum technologies, Hagiuda said.
Due to heated global competition for technological hegemony, Japan can only share its most advanced technologies with countries that also value freedom, democracy and human rights, so Taiwan is a trusted partner of Japan, he said.
A new challenge is economic strength being weaponized in diplomacy and security, which would be discussed at the G7 summit in Japan next year, as using economic strength in ways that contravene international rules cannot be tolerated, Hagiuda said.
Regarding the "shared-value island chain" in the western Pacific, Taiwan is closest to China, so peace and stability in the Taiwan Strait is crucial to maintaining a free and open Indo-Pacific region, he added.
LDP Vice President Taro Aso was the last LDP policy chief to visit Taiwan when he held the position in 2003.
Japanese Ambassador to China Sakutaro Tanino, as well as Japanese lawmakers and academics, also attended the forum.
Additional reporting by CNA
Comments will be moderated. Keep comments relevant to the article. Remarks containing abusive and obscene language, personal attacks of any kind or promotion will be removed and the user banned. Final decision will be at the discretion of the Taipei Times.