TSMC unveils plan for second fab in Arizona
Taiwan Semiconductor Manufacturing Co (TSMC, 台積電) yesterday said it is more than tripling its US investment to total US$40 billion as it plans to make 3-nanometer chips in 2026 at a second Arizona fab, adding to the chipmaker's original plan of building a US$12 billion fab to make 5-nanometer chips in 2024.
The investment would mark the largest foreign direct investment in Arizona's history and one of the largest foreign direct investments in the history of the US, the world's largest contract chipmaker said in a statement yesterday.
In addition to the more than 10,000 construction workers at the site, TSMC's two fabs are expected to create an additional 10,000 high-paying high-tech jobs, including 4,500 direct TSMC jobs, it said.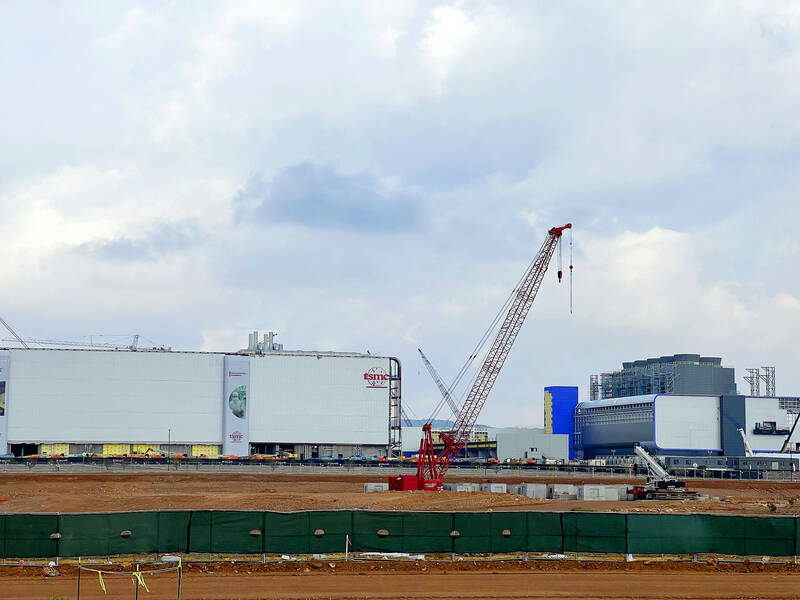 Taiwan Semiconductor Manufacturing Co's new wafer manufacturing facility under construction in Phoenix, Arizona, is pictured on Monday.
Photo: CNA
When complete, the two fabs would produce more than 600,000 wafers per year, with estimated end-product value of more than US$40 billion, the statement said.
"When complete, TSMC Arizona will be the greenest semiconductor manufacturing facility in the United States producing the most advanced semiconductor process technology in the country, enabling next-generation high-performance and low-power computing products for years to come," TSMC chairman Mark Liu (劉德音) said in the statement.
US President Joe Biden was yesterday to visit the Arizona plant. The chipmaker's investment is a big win for Biden after supply-chain issues disrupted the US economy early in his presidency.
Joining Biden on his visit to promote efforts to boost US technology manufacturing were expected to be Apple Inc chief executive Tim Cook, TSMC founder Morris Chang (張忠謀), Micron Technology chief executive Sanjay Mehrotra and Nvidia founder and chief executive Jensen Huang (黃仁勳), among others, the White House said.
They were to attend a "tool-in" ceremony, which is the symbolic moving of the first equipment onto the shop floor of the new US$12 billion facility.
The plant is scheduled to be operational in 2024.
"Bringing TSMC's investment to the United States is a masterstroke and a game-changing development for the industry," Huang said in remarks prepared for yesterday's event.
US semiconductor production now accounts for just 12 percent of the global total, down from 37 percent two decades ago, a White House report on supply-chain problems last year said.
Taiwan's dominant position as a maker of chips used in technology from mobile phones and vehicles to fighter jets has sparked concerns of over-reliance on the nation, especially as China ramps up its military pressure.
"The occasion for the president's travel is to mark a significant milestone that TSMC is reaching in bringing the most advanced semiconductor manufacturing back to the US," US National Economic Council Director Brian Deese said.
Comments will be moderated. Keep comments relevant to the article. Remarks containing abusive and obscene language, personal attacks of any kind or promotion will be removed and the user banned. Final decision will be at the discretion of the Taipei Times.