Outdoor mask rule to be lifted Dec. 1
CAUTION: Wearing a mask in crowded places and for people with chronic illnesses or allergies can help prevent COVID-19 and other infectious diseases, the CECC said
The mask mandate for outdoor settings is to lifted on Thursday, and the weekly cap on international inbound travelers is to be removed on Dec. 10, the Central Epidemic Command Center (CECC) said at its regular news conference yesterday.
The center also announced that starting from Friday, children aged five to 11 can receive a COVID-19 vaccine booster, and that rules for visiting hospital patients are to be partially eased from Dec. 10.
While wearing a mask will no longer be mandatory outdoors, Deputy Minister of Health and Welfare Victor Wang (王必勝) reminded the public that it would still be required for indoor spaces, including public transportation, but with two minor changes made.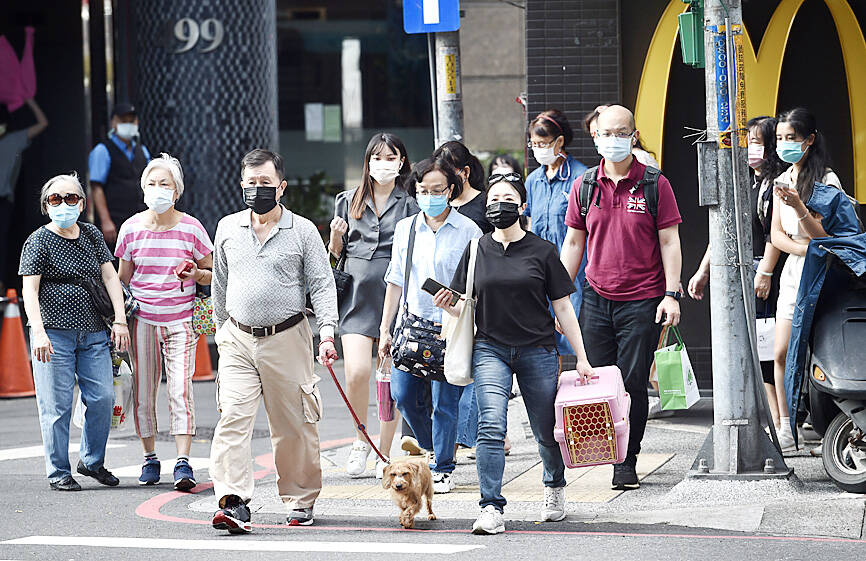 People wearing masks cross a street in Taipei yesterday.
Photo: Peter Lo, Taipei Times
People can remove their masks when singing or giving toasts while making rounds during a banquet, which were temporarily banned because of the COVID-19 outbreak, the CECC head said.
Asked whether masks would be required for outdoor New Year's events, Wang said that the center would continue to monitor the local COVID-19 situation and announce special rules for certain events, if necessary.
Wearing a mask is recommended when people are in crowded places or for people with allergies, chronic illnesses, a fever or respiratory problems to prevent COVID-19 and other infectious diseases, he said, adding that Thursday would mark the 555th day since the mask mandate was implemented.
Starting from Dec. 10, the cap on international inbound travelers is to be removed, as the local outbreak has slowed and imported cases have dropped, which should give people time to make plans for the upcoming holidays, he said.
Centers for Disease Control (CDC) Deputy Director-General Chuang Jen-hsiang (莊人祥) said that starting on Friday, children aged six to 11 who have received the primary series (two doses) of the Moderna or Pfizer-BioNTech vaccines can get Moderna's Omicron BA.4/BA.5-adapted bivalent COVID-19 vaccine as a booster dose.
Children aged five can receive the Pfizer-BioNTech vaccine for children as a booster dose, which must be at least 84 days after their last dose of the primary series, the CECC spokesman said.
The center is working with local education and health departments to arrange for vaccinations on school campuses for five to 11 year olds, he said.
CDC Deputy Director-General Philip Lo (羅一鈞), deputy head of the CECC's medical response division, said that from Dec. 10, visits to all hospital departments would be allowed.
Visits are currently limited to certain departments, such as intensive care units and hospice wards.
However, they would only be able to visit once a day within a set period and only two visitors would be allowed each time.
Exceptions would be made if they are visiting a patient who is to undergo surgery, an invasive exam or treatment or needs a signed consent or to be accompanied, the CECC said.
Visitors will have to present a negative COVID-19 rapid test result, wear a mask and practice hand hygience, Lo said.
Visitors who have been diagnosed with COVID-19 within three months can be exempt from showing a negative test result, but they should make the visit at least 15 days from their last diagnosis, Lo said, adding that people who are practicing self-disease prevention should avoid visiting, unless they test negative and are granted permission by the hospital.
Comments will be moderated. Keep comments relevant to the article. Remarks containing abusive and obscene language, personal attacks of any kind or promotion will be removed and the user banned. Final decision will be at the discretion of the Taipei Times.