Candidates rally support on eve of local elections
Candidates for local office yesterday held rallies and canvassed the streets to garner last-minute support ahead of today's nine-in-one local elections.
On the ballot are more than 22,000 seats for local government posts, including city mayors, county commissioners, city and county councilors, township mayors and borough and village wardens.
A referendum to amend the Constitution to lower the voting age from 20 to 18 is also to be voted on, requiring a majority of eligible voters — or 9.65 million people — to pass.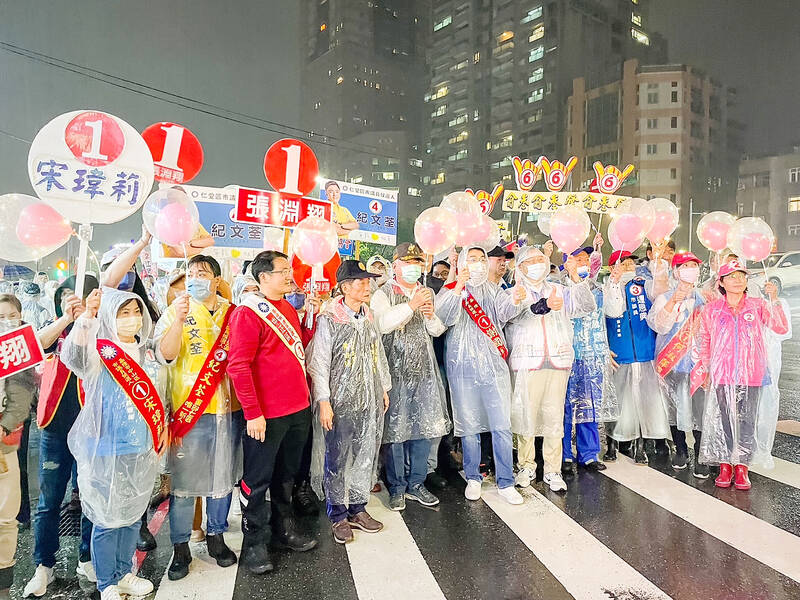 Chinese Nationalist Party (KMT) Keelung mayoral candidate Hsieh Kuo-liang, center, and his supporters hold a parade in the city yesterday.
Photo provided by Hsieh Kuo-liang's campaign
About 19.13 million people — or more than 82 percent of the population — are eligible to participate in the elections, while 19.24 million are eligible to vote in the referendum. About 760,000 are for the first time eligible to cast their ballots.
Polling stations are open from 8am to 4pm, with the Central Election Commission saying it hopes to count all votes by the evening.
Local election results are to be counted before the referendum.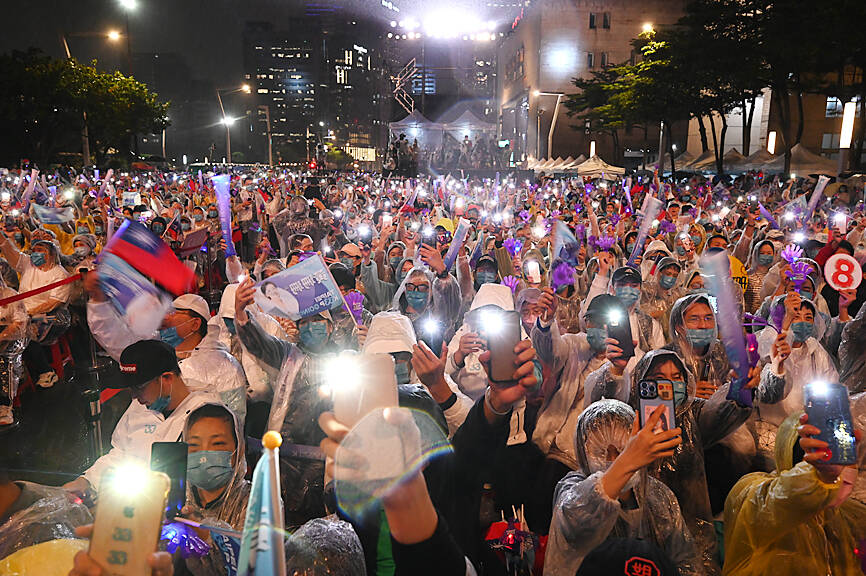 Supporters of independent Taipei mayoral candidate Vivian Huang rally in the city yesterday.
Photo: Tien Su-hua, Taipei Times
The hottest contests are in northern Taiwan, with top party figures rallying last night in Taipei, New Taipei City, Taoyuan, Keelung and Hsinchu.
The Democratic Progressive Party (DPP) is hoping to eke out a win in Taipei with mayoral candidate Chen Shih-chung (陳時中), who led the nation's COVID-19 response as minister of health and welfare, and maintain control of the top roles in Taoyuan, Tainan, Kaohsiung, Keelung, Hsinchu, Pingtung County and Chiayi County.
Meanwhile, the Chinese Nationalist Party (KMT) is looking to hold on to its 14 mayoral seats and flip those in Taoyuan and Taipei, where its candidate is Chiang Wan-an (蔣萬安).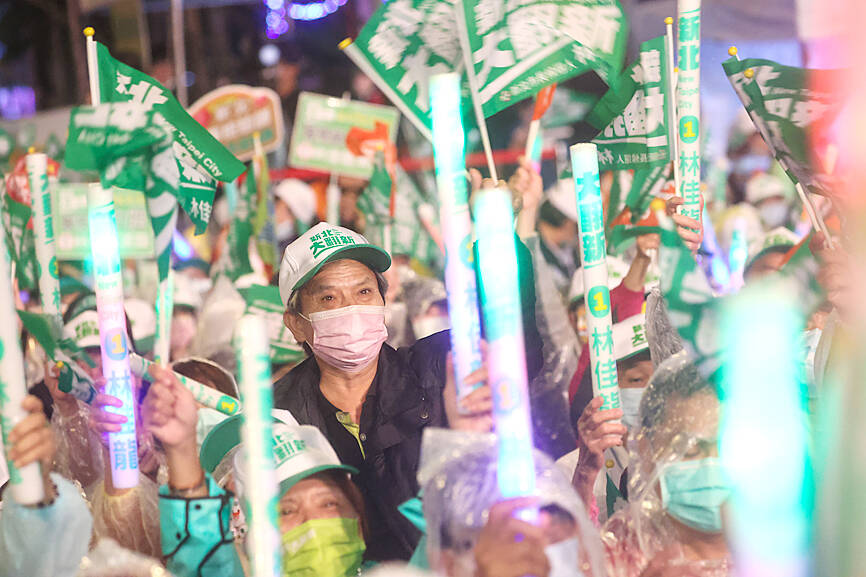 Supporters of Democratic Progressive Party New Taipei City mayoral candidate Lin Chia-lung rally in the city yesterday.
Photo: CNA
The Taiwan People's Party (TPP) was focusing on mayoral races in Hsinchu and Taipei, where its leadership endorsed independent candidate Vivian Huang (黃珊珊).
President Tsai Ing-wen (蔡英文) lent her presence on stage to consolidate pan-green camp supporters for party candidates Lin Chia-lung (林佳龍) in New Taipei City and Chen in Taipei.
"Lin is the best candidate and deserves your vote, and he has good policies to make changes to improve this city," she said. "When every one of you goes to cast your ballot tomorrow, we can have victory and see a complete transformation for New Taipei City," Tsai said.
The rain did not dampen the enthusiasm of the crowds, with organizers estimating at least 20,000 at Lin's event in New Taipei City's Banciao District (板橋) and about 35,000 at Chen's rally near DPP headquarters in Taipei.
After Tsai's departure for the Taipei rally, Vice President William Lai (賴清德) followed up with a speech also calling to support DPP city councilor candidates in Taipei and elsewhere.
At the KMT rally at the Taiwan Cement Songshan property on Keelung Road in Taipei last night, organizers said that 25,000 people came to support Chiang.
KMT Chairman Eric Chu (朱立倫) and former president Ma Ying-jeou (馬英九) spent the day stumping in Taipei, Keelung, Hsinchu County and Taoyuan.
The party has also funneled considerable attention to KMT mayoral candidate Hsieh Kuo-liang (謝國樑) in Keelung, an electoral battleground since the 1990s that saw the KMT and the DPP alternatively carrying the mayoral seat.
Taoyuan was another former pan-blue camp stronghold that the KMT governed from 2001 through 2009. With DPP Mayor Cheng Wen-tsan (鄭文燦) reaching his term limit, KMT candidate and former premier Simon Chang (張善政) has an opening to recapture the jurisdiction.
Taipei Mayor and TPP Chairman Ko Wen-je (柯文哲) for the past two days canvassed for Huang, his former deputy.
Yesterday, Ko first went to Hsinchu to attend the final rally of TPP mayoral candidate Ann Kao (高虹安) before making his way back to Taipei to support Huang at her final campaign rally.
Comments will be moderated. Keep comments relevant to the article. Remarks containing abusive and obscene language, personal attacks of any kind or promotion will be removed and the user banned. Final decision will be at the discretion of the Taipei Times.