Workers protest at Hon Hai facility in China
PAY AND CONDITIONS: A worker accused Foxconn of offering tempting pay, but 'fooling' applicants, while the company denied accusations of poor virus controls
Employees at the world's biggest Apple Inc iPhone factory were beaten and detained in protests over contract disputes amid COVID-19 pandemic restrictions, videos on social media showed yesterday.
Videos that said they were filmed at the factory in Zhengzhou showed thousands of people facing rows of police in white protective suits with plastic riot shields.
Police kicked and hit a protester with clubs after he grabbed a metal pole that had been used to strike him.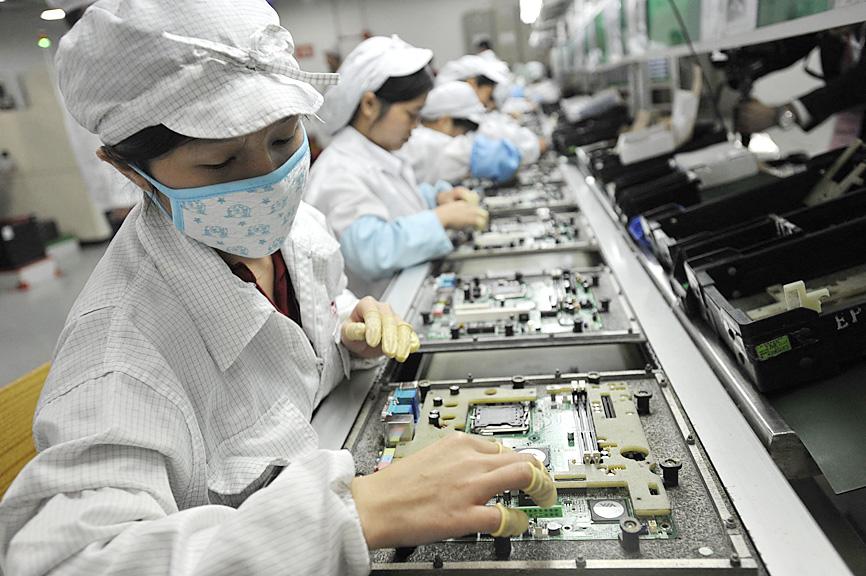 People work at a Foxconn Technology Group factory in Shenzhen, China, on May 27, 2010.
Photo: AFP
Other videos showed protesters spraying fire extinguishers toward police.
A protest began on Tuesday over complaints that Foxconn Technology Group (富士康科技集團), known as Hon Hai Precision Industry Co (鴻海精密) in Taiwan, changed conditions for new workers who were attracted by offers of higher pay, said Li Sanshan, an employee.
Li said that he quit a catering job in response to advertising that promised 25,000 yuan (US$3,500) for two months of work.
Li, 28, said that workers were angry after being told they had to work two additional months at lower pay to receive the 25,000 yuan.
"Foxconn released very tempting recruiting offers and workers from all parts of the country came only to find they were being made fools of," Li said.
The protest lasted through yesterday morning as thousands of workers gathered outside dormitories and confronted factory security workers, he said.
Foxconn yesterday confirmed overnight "violence" at its iPhone factory in Zhengzhou and vowed to "avoid similar incidents."
The company said that workers had complained about pay and conditions at the plant, but it denied that it had housed new recruits with staff who had tested positive for COVID-19, it said in a statement.
"Regarding any violence, the company will continue to communicate with employees and the government to prevent similar incidents from happening again," the statement said.
Foxconn said earlier that the Zhengzhou factory uses "closed-loop management," which means employees live at their workplace with no outside contact.
A man who identified himself as the Chinese Communist Party secretary in charge of community services was shown in a video posted on the Sina Weibo social media platform urging protesters to withdraw.
He assured them that their demands would be met.
Protests have flared as the number and severity of COVID-19 outbreaks have risen across China, including in Beijing, while images of maskless crowds at the FIFA World Cup in Qatar have sparked anger, with people questioning the Chinese government's "zero COVID-19" approach.
"Some people are watching World Cup matches in person with no masks, some have been locked at home for a month, locked on campus for two months without even being able to step out the door," a Guangdong resident wrote online yesterday.
"Who has stolen my life? I won't say," they wrote.
Another user from Shaanxi Province said they were "disappointed" in their country.
"The World Cup has allowed most Chinese people to see the real situation abroad, and worry about the economy of the motherland and their own youth," the second user wrote.
An open letter questioning China's COVID-19 policies and asking if China was "on the same planet" as Qatar spread on the WeChat messaging app on Tuesday before censors removed it from the platform.
Comments will be moderated. Keep comments relevant to the article. Remarks containing abusive and obscene language, personal attacks of any kind or promotion will be removed and the user banned. Final decision will be at the discretion of the Taipei Times.