German official Brantner arrives for two-day visit
Franziska Brantner, German parliamentary state secretary at the Federal Ministry for Economic Affairs and Climate Action, arrived in Taiwan yesterday for a two-day visit, the German Institute Taipei said yesterday, without disclosing further details.
Brantner was to meet with Vice Minister of Foreign Affairs Alexander Yui (俞大?), German business daily Handelsblatt reported.
Ministry of Foreign Affairs spokeswoman Joanne Ou (歐江安) said that Yui would welcome Brantner on behalf of the ministry.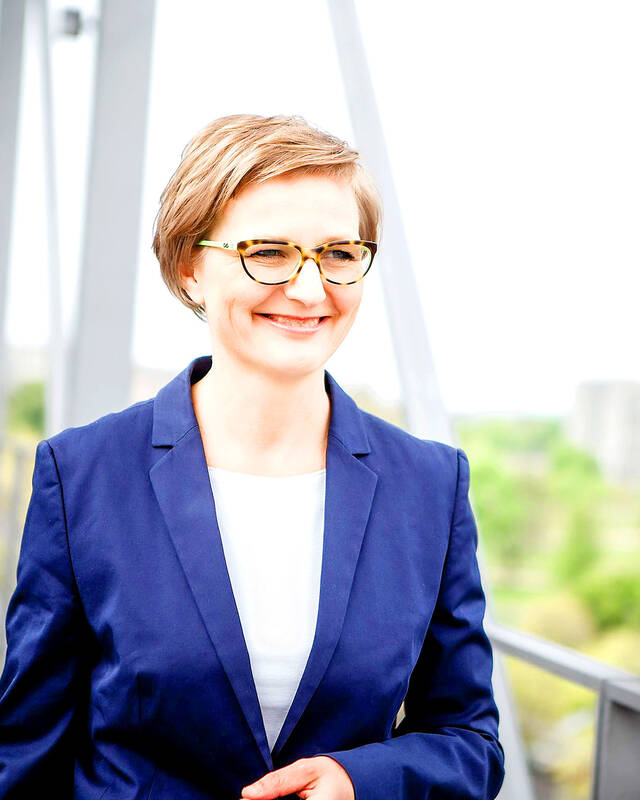 German Parliamentary State Secretary at the Federal Ministry for Economic Affairs and Climate Action Franziska Brantner is pictured in an undated photograph.
Photo from Franziska Brantner's Facebook page
Exchanges between Taiwan and Germany have been increasing, the ministry said, citing two delegations sent by the German Bundestag to Taiwan last month.
Germany's governing coalition, which was formed by the Social Democrats, Greens and Free Democrats in November last year, said that Berlin supports Taiwan's participation in international organizations, and that the "status quo" in the Taiwan Strait could only be changed by a bilateral agreement between Taiwan and China.
Ahead of her trip, Brantner published an article in the Frankfurter Rundschau on Sunday saying that Germany "must find partners to become more independent from China."
The COVID-19 pandemic and Russia's invasion of Ukraine highlighted the fragility of international supply chains, as energy, semiconductors, wind turbines and solar panels are all controlled by a few companies, she wrote.
To be more resilient, Germany has to "turn to the world" to diversify risks, with the German government assisting private companies, she added.
Germany plans to engage in "raw material diplomacy," helping democratic nations extract raw materials while ensuring ecological and social fairness, she wrote.
European Council President Charles Michel echoed the sentiment yesterday, saying before the G20 leaders' summit in Indonesia that Europe is to engage with China, but needs to "rebalance" the relationship to avoid becoming too reliant on the nation in areas like innovative technology.
Europe would also engage with China despite differences between the two sides, as it was "important to listen to each other, to develop a better understanding," Michel told a news conference.
However, Europe must avoid making "the same mistakes" it made by relying too heavily on Russian fossil fuels, he said.
Brantner has on several occasions voiced her support for Taiwan. When China imposed economic sanctions on Lithuania for opening a Trade Representative Office in Taipei, Brantner openly expressed her support for Lithuania.
She also attended the 20th Taiwan-Germany Joint Business Council Meeting in August via videoconference, together with Deputy Minister of Economic Affairs Chen Chern-chyi (陳正祺).
Economic relations with Germany and the EU have also become closer. From January to last month, Taiwan's exports to the EU rose 14.9 percent, while imports increased 8.8 percent, data from the Directorate-General of Budget, Accounting and Statistics (DGBAS) showed.
Total trade with the EU last year climbed 32.5 percent to US$68.75 billion, making Taiwan the EU's 13th-largest trading partner, the DGBAS said.
Bilateral trade in the first 10 months of the year reached US$62.6 billion, up 11.6 percent , it said.
Outbound shipments to Germany, the Netherlands, Italy and Belgium accounted for 67.8 percent of Taiwan's total exports to the EU last year, it said.
In related news, National Science and Technology Council Minister Wu Tsung-tsong (吳政忠) yesterday left Taiwan for a visit to France and Germany.
Wu is to meet German Federal Minister of Education and Research Bettina Stark-Watzinger in Berlin to discuss cooperation opportunities in batteries, semiconductors, artificial intelligence and hydrogen energy, German media outlet Deutsche Welle reported.
The German ministry told reporters that Berlin hoped to promote cooperation with Taiwan and other international partners with "a promise of freedom, democracy and human rights," it reported.
Additional reporting by Reuters
Comments will be moderated. Keep comments relevant to the article. Remarks containing abusive and obscene language, personal attacks of any kind or promotion will be removed and the user banned. Final decision will be at the discretion of the Taipei Times.