Over 1,200 people arrested in crime crackdown: NPA
More than 1,200 suspects have been arrested in the latest crackdown on gangsters and criminal activities, the National Police Agency (NPA) said yesterday.
In the past week through Sunday, the nationwide campaign targeting criminals engaged in kidnapping and extortion netted 1,254 arrests, NPA Directorate-General Huang Ming-chao (黃明昭) said.
The suspects were involved in 683 cases of fraud, money scams, loan-related violence and other criminal activities, with about NT$700 million (US$22.5 million) in cash and property assets frozen, he said.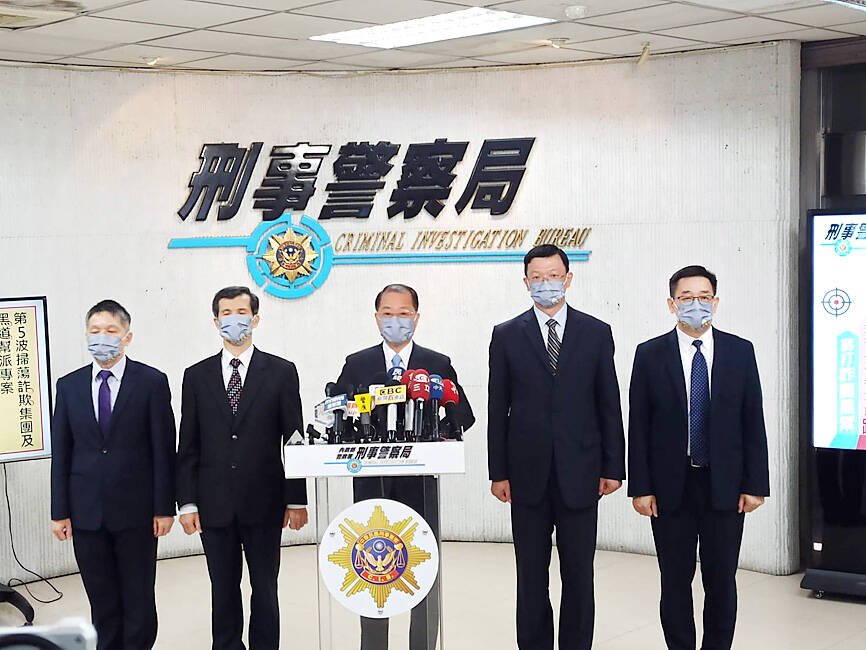 National Police Agency Director-General Huang Ming-chao, center, speaks at a news conference in Tapei yesterday.
Photo: Yao Yueh-hung, Taipei Times
While background checks are still under way, so far at least 13 cases and 49 suspects seem to have direct ties to Taiwan's major criminal syndicates, including the Bamboo Union, the Four Seas Gang and the Heavenly Way Alliance, he said.
One of the suspects is a man surnamed Kuo (郭), who allegedly heads a criminal ring in northern Taiwan, police said, adding that they had apprehended eight suspected accomplices and rescued six people in Miaoli's Tongluo District (銅鑼).
Hsueh Hsien-te (薛先得), captain of the Taipei Police Department's criminal investigation division, said his unit began an investigation after a Taipei resident reported responding to an online advertisement promising high pay, only to be threatened, blindfolded, confined and beaten when he showed up for an interview.
The man said he was lucky because when the criminals tried to transfer money using his account, it issued an alert about unusual transactions.
The gangsters drove him to an area outside the Taiwan High-Speed Rail's station in Taichung's Wurih District (烏日), pushed him out of the car and sped away, the man told police.
The man also reported seeing other captives at the place where he was confined, prompting police to form a special task force to rescue the hostages, Hsueh said.
Police rescued six captives in Tongluo and seized account books and bank cards belonging to the victims, NT$264,300 in cash, drugs including heroin, amphetamine, ketamine and narcotic coffee-mix powder, along with plastic restraints, electroshock guns, air rifles, wooden clubs, blindfolds and other tools, Hsueh said.
Comments will be moderated. Keep comments relevant to the article. Remarks containing abusive and obscene language, personal attacks of any kind or promotion will be removed and the user banned. Final decision will be at the discretion of the Taipei Times.