German Greens urge Taiwan ties after China visit
'STAND WITH TAIWAN': Amid Scholz's trip to China, leaders of opposition parties called for a rethink on ties with Beijing, particularly over trade and human rights
Alliance 90/The Greens urged Germany to forge closer ties with Taiwan after German Chancellor Olaf Scholz's visit to China last week prompted criticism within the country.
Greens coleader Ricarda Lang called for "a turning point" in Berlin's China policy, saying that "Germany should take back its strategic sovereignty over Beijing" and reduce economic reliance on the country, Die Welt reported on Friday.
Commenting on the trip of the Social Democratic Party (SPD) chancellor, Lang said that it would be better if Scholz had been accompanied by human rights experts, civil society representatives and entrepreneurs.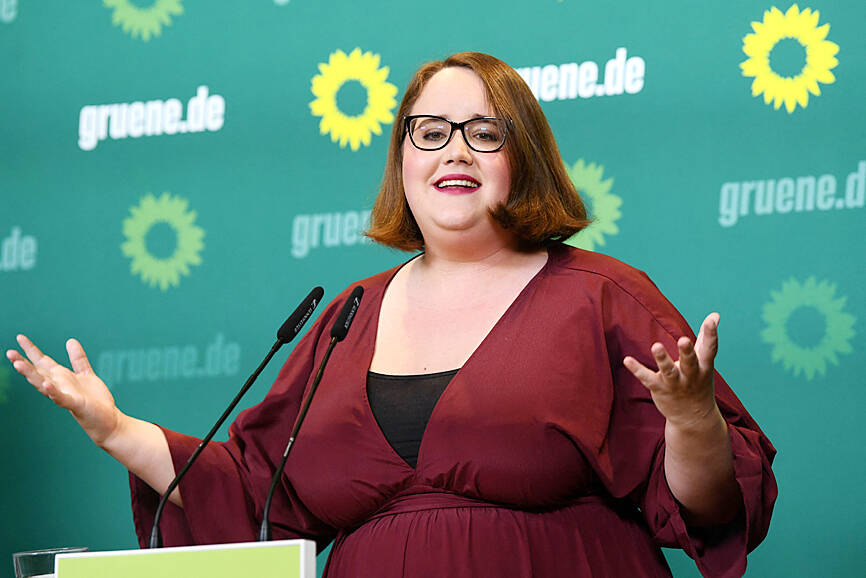 Germany's the Greens coleader Ricarda Lang speaks at a news conference in Berlin on May.
Photo: Reuters
Boosting exchanges with Taiwan is "definitely the right thing to do," she said, adding that Germany should expand trade with Taipei to support the country.
"As Greens, we unequivocally stand with Taipei," she said.
German Minister of Finance Christian Lindner, the leader of the Free Democratic Party, said that the government should develop "a new strategic vision" for dealing with China.
The economic relationship with China should be based on reciprocity and equality, he said.
Berlin has to recognize that Beijing is not just a trade partner, "but also a systemic rival," he said, adding that Germany must protect its infrastructure and intellectual property.
However, taking a new stance on the relationship with China does not mean that Germany has to reduce its trade with it, but it could bring other regions of the world, such as the Americas and Africa, into the picture, he said.
Ahead of Scholz's trip, Der Spiegel on Sunday last week reported that SDP coleader Lars Klingbeil called for "clear exclusion criteria for future security-related transactions with China."
His comment came after the German government on Oct. 27 allowed China's Cosco Shipping Holdings Ltd (中遠海運控股) to buy a stake in a terminal in the Port of Hamburg, which raised concerns over Beijing's strategic influence on Germany.
China must be excluded from issues related to the security and sovereignty of Europe, including digitalization, critical infrastructure, artificial intelligence and quantum computers, he said.
He urged his party to recognize that China's human rights situation "has again deteriorated significantly."
The regional Free Voters party called for a clear approach from the federal government to defend Europe's value-based trade policy.
China is an important trade partner of Germany, but Germany has to protect itself from being affected or extorted politically or economically by substantial funding from Chinese state-owned enterprises, the party said.
"Recognizing that buying cheaply from China comes at a high price" is the first step in changing Berlin's strategies toward Beijing, it said.
Free Voters Secretary-General Gregor Voht said that the SDP "still knows nothing about China," adding that his party pays close attention to China's growing authoritarianism and is worried about Germany's reliance on China.
Comments will be moderated. Keep comments relevant to the article. Remarks containing abusive and obscene language, personal attacks of any kind or promotion will be removed and the user banned. Final decision will be at the discretion of the Taipei Times.