Ukrainian lawmaker pays tribute to fallen Taiwanese
Ukrainian Parliament Foreign Affairs Committee Chairman Oleksandr Merezhko on Friday expressed his heartfelt condolences to the family of a Taiwanese volunteer combatant who was killed earlier this week while fighting in Ukraine.
Tseng Sheng-kuang (曾聖光), a 25-year-old Hualien native and a member of the International Legion of Territorial Defense of Ukraine, was reportedly killed in action on Wednesday, becoming the first Taiwanese combatant to die in Ukraine's war with Russia.
"We're grateful, first of all to him, who had made this ultimate sacrifice, and we're grateful to you [his family], who raised him and supported him as a very moral, very brave, right person," Merezhko said.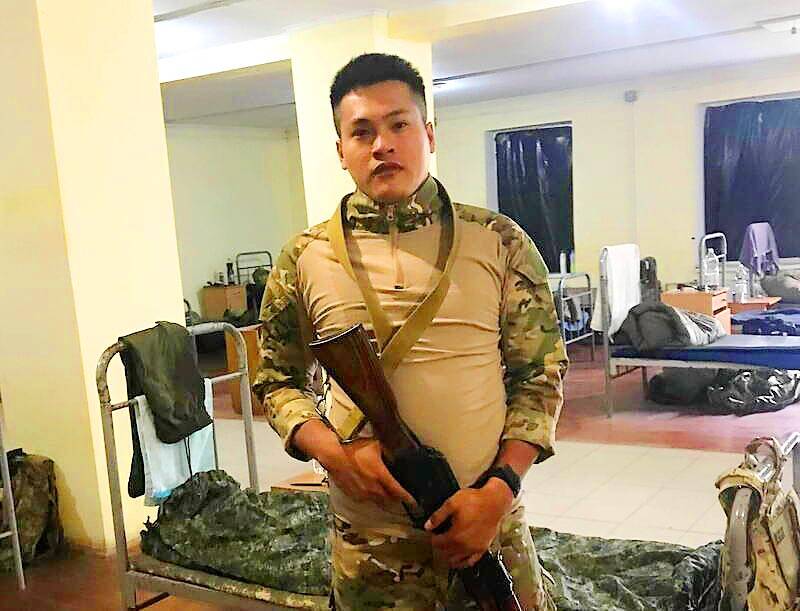 Tseng Sheng-kuang poses for a photograph in an undated photo.
Photo: screen grab from Facebook
Merezhko thanked Tseng for sacrificing his life in the name of Ukraine, as the country fights for freedom and democracy.
"He did everything he could to save us, to support us, to defend us. He was one of our defenders, one of our guardian angels," he said, describing Tseng as a Taiwanese brother who had shed his blood on Ukrainian soil.
"Ukrainians and Taiwanese sacrifice their lives in the name of freedom. That's why it has very profound symbolic meaning to us Ukrainians," he added.
Merezhko said he has already spoken to his colleagues about what they can do to help Tseng's family when they come to Ukraine.
"We are expecting [them], and we welcome the wife, the mother and the sister of the Ukrainian Taiwanese soldier who died. And we would also like to pay our respect to his relatives when they complete the final journey when they come to Ukraine," he said.
Born in Hualien County's Jian Township (吉安), Tseng flew to Ukraine to join the legion in June, soon after his recruitment was approved, Tseng's wife, Huang Li-chen (黃麗珍), said on Friday.
Tseng had originally planned to enlist in March, but Ukraine temporarily suspended the recruitment of foreign volunteers, she said.
In September, Tseng became a member of the Carpathian Sich Battalion, an infantry unit of foreign and Ukrainian volunteers, the Ukrainian military said.
Tseng maintained regular contact with his wife, and they last spoke on Oct. 23, when he told her he would be on a five-day mission, Huang said.
She did not receive any news from him for six days after the mission was due to end and worried for his safety, she said.
She later received a message from a soldier who worked with Tseng, saying that he had died due to blood loss after being wounded on the battlefield in the contested Luhansk region.
On Facebook, Arthur Kharytonov, a member of the Ukraine+Taiwan Forum, wrote that he would do his best to ensure that Tseng is remembered in Ukraine.
"We definitely would like to assist [Tseng's family] with everything we can do," Kharytonov said.
The Ministry of Foreign Affairs last night said in a statement that it had been informed of Tseng's death, but that the family needs to identify the body.
It added that it is in contact with the family and would seek to provide assistance.
Merezhko, citing a US media report, said there are 10 Taiwanese fighting on the front line in Ukraine.
Comments will be moderated. Keep comments relevant to the article. Remarks containing abusive and obscene language, personal attacks of any kind or promotion will be removed and the user banned. Final decision will be at the discretion of the Taipei Times.