EU court rejects extradition to China
LANDMARK RULING: In denying China's extradition request, the ECHR 'in one swoop' did more for human rights than most governments have, Safeguard Defenders said
The Ministry of Justice yesterday said it asked Poland to allow it to repatriate a Taiwanese accused of telecom fraud after the European Court of Human Rights (ECHR) rejected an extradition request from Beijing over torture and human rights concerns.
Liu Hong-tao fled to Poland after Spanish authorities in 2016 arrested more than 200 Taiwanese accused of operating a telecom scam ring to defraud Chinese. After a Polish court approved his extradition to China, Liu appealed to the ECHR, which on Oct. 6 denied that extradition, saying it would contravene the European Convention on Human Rights.
Safeguard Defenders, a human rights non-governmental organization, called the ruling a "landmark decision [that] heralded the end of Europe's extradition to China."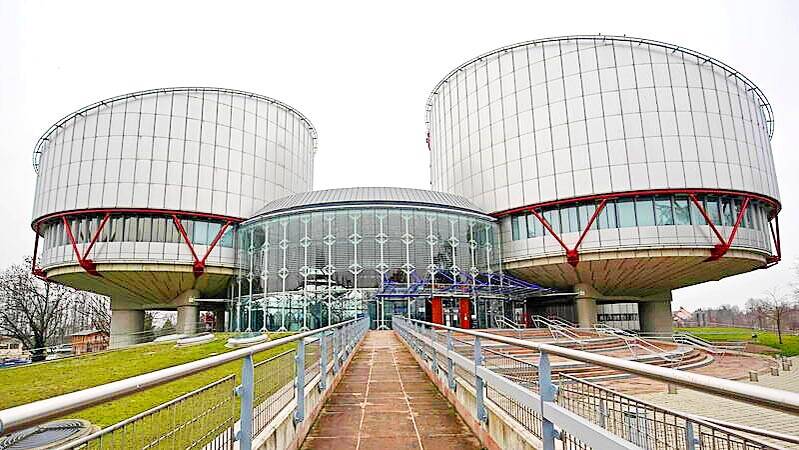 The European Court of Human Rights in Strasbourg, France, is pictured in an undated photograph.
Photo: European Pressphoto Agency
In a statement on Thursday, the group said it was the first instance of the court reviewing an extradition case involving China.
The ministry yesterday said it welcomed the decision, and that authorities are seeking to extradite Liu in accordance with the Taiwan-Poland Criminal Justice Cooperation Agreement signed last year.
Taiwan has a lawful claim of jurisdiction over the case, it said.
In what Spanish media at the time said was the largest joint operation between Chinese and Spanish law enforcement agencies, a task force in 2016 raided the offices of alleged telecom fraud operations in Barcelona, Madrid and Alicante, arresting 269 people, 219 of whom were Taiwanese.
In 2017 and 2018, Spain authorized the extradition of 208 Taiwanese to China, despite protests from Taipei.
The extraditions sparked condemnation from the Office of the UN High Commissioner for Human Rights, which said the suspects could be tortured and executed, Safeguard Defenders said.
Liu was arrested in Poland by Interpol, and on Feb. 27, 2018, a Polish court ruled that Liu could be extradited. His appeal was denied by the Polish Supreme Court on Oct. 1, 2020, which was when Liu turned to the ECHR, the group said.
"The assessment of [Polish] domestic courts did not include any analysis whatsoever of the most recent information" provided about allegations of systematic ill-treatment and abuse in China's legal system, the ECHR ruling said.
The ECHR also determined that Liu's five-year-long custody in Poland was a breach of the human rights conventions against arbitrary detention.
The ECHR's ruling to block Liu's extradition is to go into effect three months after the verdict, at which time Liu would be released, Safeguard Defenders said.
The verdict constituted an upset to European countries' criminal extradition arrangements with China, as Liu was accused of a common crime rather than a political or military offense, and did not belong to a persecuted ethnic group, it said.
"It is hard to overstate how influential this decision could be, and how it, in one swoop, has done more to protect basic rights from being undermined by China, as enshrined in the European Convention on Human Rights, than most or all European government actions so far," the group said.
Comments will be moderated. Keep comments relevant to the article. Remarks containing abusive and obscene language, personal attacks of any kind or promotion will be removed and the user banned. Final decision will be at the discretion of the Taipei Times.