Armed forces prepared for attack: Chiu
READY AND ABLE: The Minister of National Defense said that the military could switch from a peacetime footing to a wartime one when the situation demands
The current military situation across the Taiwan Strait could take a turn for the worse if not handled cautiously, Minister of National Defense Chiu Kuo-cheng (邱國正) said yesterday, adding that the nation's armed forces are always prepared and constantly sharpen their abilities.
At a meeting of the legislature's Foreign and National Defense Committee, Chinese Nationalist Party (KMT) caucus whip William Tseng (曾銘宗) voiced concerns over the delay of several arms sales, which might affect the combat capabilities of the armed forces.
Chiu said that concern "is what the enemy hopes for," as it allows them to make a move before Taiwan is prepared, but the armed forces "would not be sitting around waiting," and would continue to train with existing weapons.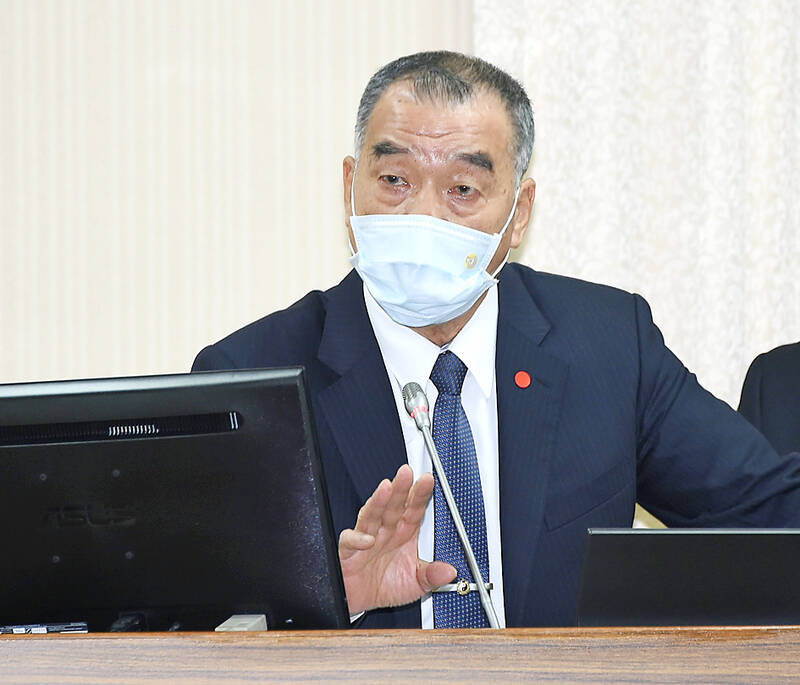 Minister of National Defense Chiu Kuo-cheng speaks at a meeting of the legislature's Foreign and National Defense Committee in Taipei yesterday.
Photo: Tu Chien-jung, Taipei Times
The armed forces are always preparing for war and continuing to improve, Chiu said, adding that they could readily switch from a peacetime footing to a wartime one when the situation demands.
Chiu said that his ministry had agreed to raise the monthly salary for mandatory conscripts from NT$6,510 to NT$15,000 "if everyone thinks it's acceptable."
The military initially hoped the monthly salary could be increased to NT$25,000 based on the minimum wage, which is to be raised to NT$26,400 per month and NT$176 per hour next year, Chinese-language Credere Media reported on Wednesday last week, but the Executive Yuan had proposed raising a conscript's monthly salary to NT$15,000 based on the minimum cost of living, which varied from NT$14,000 to NT$19,000 in different cities and counties.
Directorate-General of Budget, Accounting and Statistics Minister Chu Tzer-ming (朱澤民) on Thursday last week said that raising conscripts' monthly salary to NT$15,000 was acceptable.
Separately yesterday at a meeting of the legislature's Judiciary and Organic Laws and Statutes Committee, Tseng asked about the impact on Taiwan of Chinese President Xi Jinping (習近平) being granted a third term at the head of the Chinese Communist Party (CCP) Central Politburo Standing Committee.
National Security Bureau (NSB) Deputy Director-General Chen Chin-kuang (陳進廣) said that at the CCP's 20th National Congress on Saturday the party included a clause in its constitution saying that it is "adamantly against Taiwan's independence."
Chen said that the newly appointed vice chairman and several members of the Central Military Commission have served in the Chinese People's Liberation Army's Eastern Theater Command or the Vietnam War.
When China's economic growth begins to slow and its grip on society encounters challenges, the CCP might take action to shift the public's attention from domestic affairs to foreign affairs, he said.
Asked by Tseng whether the NSB thought a war would break out in the Taiwan Strait within three years, Chen said: "Taiwan has to be prepared for every possible situation."
When pressed for a response on the possibility of war within a year, Chen said: "We will not rule out the possibility" that Beijing, in a bid to divert some of its internal pressure, could use coercion as an approach, forcing Taiwan to reach a peace deal on the premise of unification.
Additional reporting by Aaron Tu
Comments will be moderated. Keep comments relevant to the article. Remarks containing abusive and obscene language, personal attacks of any kind or promotion will be removed and the user banned. Final decision will be at the discretion of the Taipei Times.