Sweden PM voices concern over China
'UNACCEPTABLE': China's latest rhetoric toward Taiwan is worrying, Ulf Kristersson said, adding that Sweden would never accept threats against democratic countries
New Swedish Prime Minister Ulf Kristersson on Tuesday expressed concern over China's military threat to Taiwan in his first address to the Swedish parliament.
Kristersson delivered his Statement of Government Policy address to lawmakers on his first day as prime minister after winning a parliamentary vote on Monday.
In a section on foreign policy, Kristersson said that Sweden is "facing the greatest foreign, security and defense policy challenges of modern times."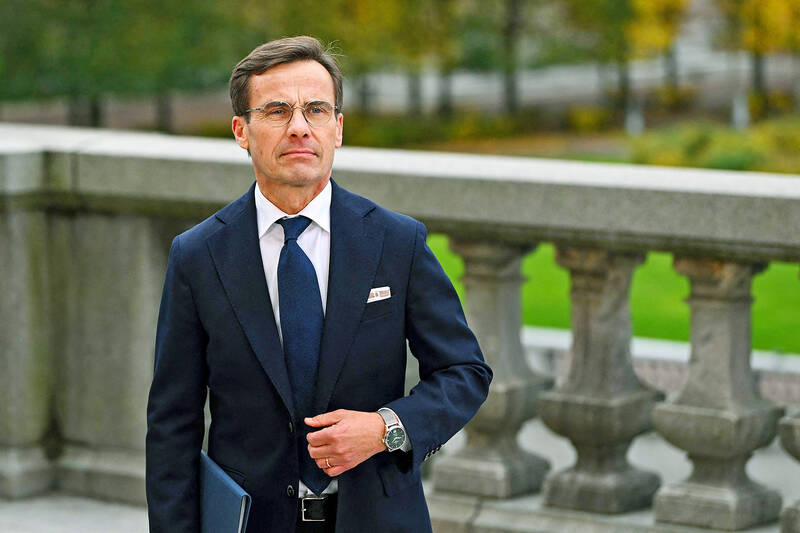 Swedish Prime Minister Ulf Kristersson prepares to pose for a group photo of the new government in front of the parliament in Stockholm on Tuesday.
Photo: AFP
After condemning Russia's antidemocratic actions and calling for European solidarity, he briefly addressed the Chinese threat.
"China's latest rhetoric towards Taiwan is worrying," he said. "Threats of military force are unacceptable. This applies to all countries, and most particularly to permanent members of the UN Security Council."
Sweden-China relations should be "anchored in a common European strategy with a clear transatlantic link," he said.
"Sweden will never accept that aggressive states violate democratic countries' freedom and self-determination," he added. "Might does not make right."
The Ministry of Foreign Affairs on Tuesday thanked Kristersson and his Cabinet for their continued concern for stability in the Taiwan Strait and condemnation of Chinese attempts to change the "status quo."
Taiwan and Sweden share the universal values of freedom, democracy, rule of law and protection of human rights, while also facing challenges posed by authoritarian states, the ministry said in a statement.
"Now more than ever it is important for our countries to work together to defend the rules-based international order and our shared values," it said.
The ministry has already requested that the Taipei Mission in Sweden convey the nation's congratulations to the new government and Swedes, as well as pass along President Tsai Ing-wen's (蔡英文) letter of congratulations, it said.
"Taiwan looks forward to working closely with the new Swedish government under the leadership of Prime Minister Kristersson to further deepen friendly bilateral relations in various fields," it said.
Kristersson is leader of the conservative Moderate Party, which in the past few years has spoken out in support for Taiwan numerous times in the Swedish parliament.
In April, an 11-member delegation from Sweden visited Taiwan led by Boriana Aberg, head of the Swedish-Taiwanese Parliamentary Association.
The three-party coalition between the Moderates, Liberals and Christian Democrats marks the first time since 2014 that conservatives are to govern Sweden, after the right-wing bloc won a narrow majority in Sept. 11 elections.
Comments will be moderated. Keep comments relevant to the article. Remarks containing abusive and obscene language, personal attacks of any kind or promotion will be removed and the user banned. Final decision will be at the discretion of the Taipei Times.