Taiwan ranks fifth worldwide in Internet freedom
Taiwan ranked fifth in Internet freedom worldwide and first in Asia, while China remained at the bottom of the list, an annual report released yesterday by the US nonprofit organization Freedom House said.
Topping this year's Freedom on the Net report were Iceland, Estonia, Costa Rica and Canada, while Taiwan and the UK tied for fifth during the one-year period that ended in May.
Taiwan retained the same ranking as last year in the Freedom House survey and analysis that ranks countries based on its assessment of obstacles to Internet access, limits on content and breaches of user rights.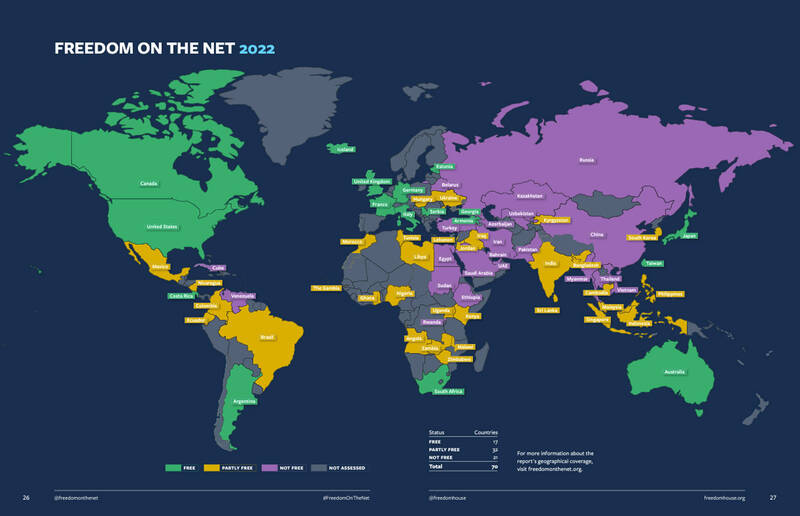 A map released yesterday by the US nonprofit Freedom House shows this year's global Internet freedom ratings.
Photo from the 2022 Freedom House Freedom on the Net report
Taiwan is an example of how the private sector can work with civil society, government entities and academia to design innovative responses to online danger, the report said.
In Taiwan, which faces a barrage of disinformation that can be traced to China, Japan-based messaging application Line worked with civic groups to develop a tool for users to report false information trending on its platform, the report said.
The government launched a similar coordination effort following the Russian invasion of Ukraine, aiming to track war-related disinformation emanating from China, Freedom House said.
On the other end of the spectrum, China was listed as the worst abuser of Internet freedom for the eighth consecutive year, below Iran and Myanmar.
Internet censorship in China intensified during the Beijing Olympics and after Chinese tennis star Peng Shuai (彭帥) accused a high-ranking Chinese Communist Party (CCP) official of sexual assault, Freedom House said.
The Chinese government has continued to tighten its control over the nation's booming technology sector, adopting among other measures new rules that require platforms to use their algorithm to promote CCP ideology, the report said.
For this year's report, Freedom House surveyed 70 countries, which account for 89 percent of the world's Internet users, and it ranked 17 as "free," including Taiwan and Japan, while 32 were rated as "partly free" and 21 as "not free."
Global Internet freedom slid for the 12th consecutive year, with the sharpest downgrades documented in Russia, Myanmar, Sudan and Libya, the report said.
Following Russia's invasion of Ukraine, the Kremlin dramatically intensified its ongoing efforts to suppress domestic dissent and accelerated the closure or exile of the country's remaining independent media outlets, it said.
In at least 53 countries, users faced legal repercussions for expressing themselves online, which often led to draconian prison terms, said Freedom House, a Washington-based nonprofit organization that conducts research and advocacy on democracy, political freedom and human rights.
However, Internet freedom improved in a record 26 countries, the report said.
Comments will be moderated. Keep comments relevant to the article. Remarks containing abusive and obscene language, personal attacks of any kind or promotion will be removed and the user banned. Final decision will be at the discretion of the Taipei Times.