La Fayette frigates to get combat boost
FRENCH CONNECTION: The navy is to combine local weaponry with systems built by France's Naval Group to prolong the lives of six La Fayette ships, a source said
The navy's La Fayette-class frigates are to undergo NT$43.15 billion (US$1.35 billion) in combat systems upgrades over nine years to bolster their anti-surface capabilities, a military source said yesterday.
The project is also a first attempt to integrate Taiwan-based weaponry with French combat systems, the source said on condition of anonymity.
The first of six La Fayette ships was delivered to Taiwan and began service in 1996. Some of the existing systems on the ships would not be able to take on the threat facing Taiwan in the 21st century, the source said, adding that the navy has been making a series of upgrades to various ship systems to help prolong their service life.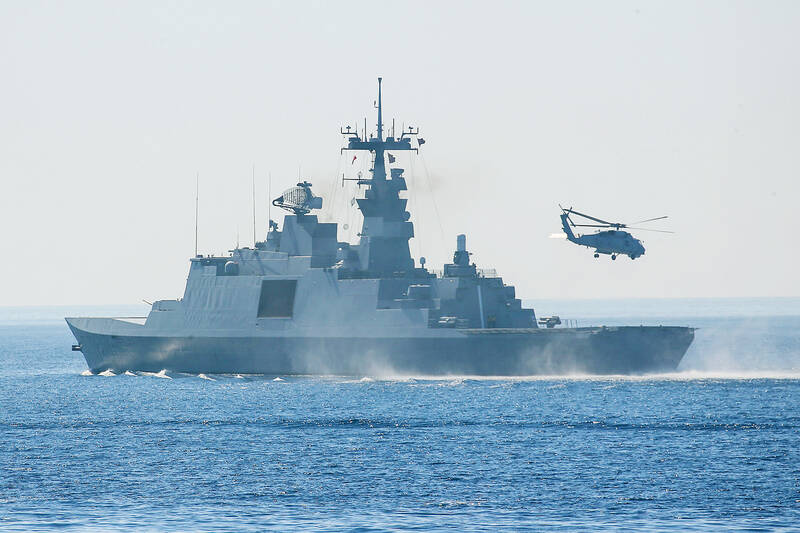 An S-70C Sikorsky anti-submarine helicopter takes off from a La Fayette-class frigate during a joint anti-submarine operation during the Han Kuang exercises on July 26.
Photo: CNA
The proposed combat system upgrades would swap out aging combat and radar systems, as well as anti-air missiles, the source said.
The RIM-72C Sea Chapparal missiles that the ships came with would be replaced with medium-range naval variants of the Tian Jian-II ("Sky Sword," 天劍) missile developed by the Chungshan Institute of Science and Technology, the person said.
The missiles would be launched using a vertical launch system, which would be installed below deck at the ship's prow, the source said, adding that the navy expects the refitting to be completed by 2030.
The first phase of the frigate project has been budgeted at NT$9.73 billion for next year, the source said.
The navy is to select one of the six ships and introduce new hardware from Naval Group, the French defense company that built the ships, and use the new system to issue orders to Sky Sword and Hsiung Feng-III ("Brave Wind," 雄風) anti-ship missiles, the source said.
The navy anticipates some difficulties in integrating multiple systems and would give the project an assessment period of three years, the person said.
Should the trial prove successful and the results align with the navy's combat needs, the navy would begin upgrading the rest of the fleet of La Fayette ships, the person added.
The navy confirmed that it was conducting upgrades of the La Fayette ships.
All six ships have undergone communications and engineering upgrades, and four ships that have completed the upgrades have been tested, while the other two are expected to be finished by the end of this year, the navy said.
Comments will be moderated. Keep comments relevant to the article. Remarks containing abusive and obscene language, personal attacks of any kind or promotion will be removed and the user banned. Final decision will be at the discretion of the Taipei Times.