Musk sparks ire with Taiwan proposal
THE PEOPLE's VOICE: Musk's remarks show the importance of Taiwan strategically, but the nation's sovereignty and the will of Taiwanese must be respected, a legislator said
Lawmakers across political party lines yesterday expressed their disagreement with a suggestion by Tesla and SpaceX chief executive officer Elon Musk that Taiwan become a special administrative region of China.
In an interview with the Financial Times, published on Friday, Musk was quoted as saying "my recommendation ... would be to figure out a special administrative zone for Taiwan that is reasonably palatable, probably won't make everyone happy."
"And it's possible, and I think probably, in fact, that they could have an arrangement that's more lenient than Hong Kong," he added.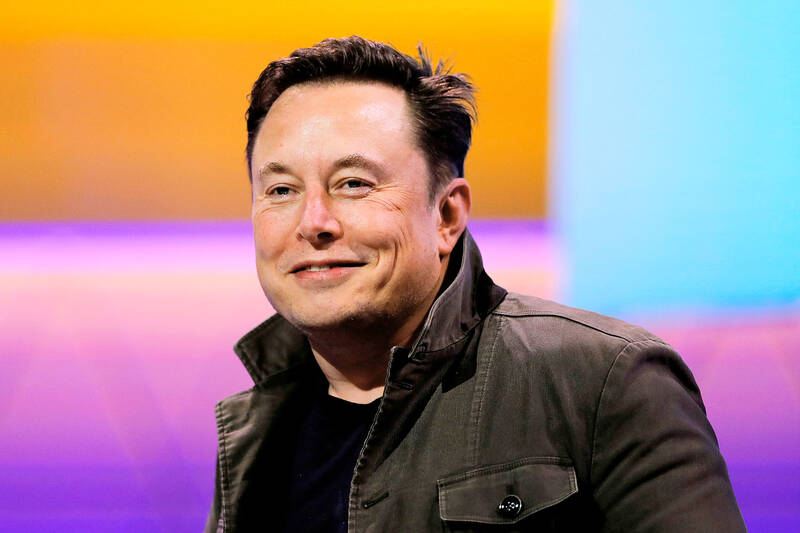 SpaceX and Tesla CEO Elon Musk attends the E3 gaming convention in Los Angeles, California, on June 13, 2019.
Photo: Reuters
The world's richest person made the remarks when the newspaper asked him about China, where Tesla has a large electric vehicle factory in Shanghai.
Democratic Progressive Party (DPP) caucus whip Lo Chih-cheng (羅致政) yesterday said that while the world is concerned about protecting Taiwan's democracy, freedom and human rights, Musk is concerned about other issues.
"Individual independent companies cannot take their ownership as a joke," DPP Legislator Wang Ting-yu (王定宇) wrote on Facebook. "So why should they casually pass off the democratic freedoms, sovereignty and way of life of 23 million Taiwanese? It is not acceptable for Ukraine, and Taiwan certainly will not allow it."
Chinese Nationalist Party (KMT) caucus whip William Tseng (曾銘宗) said that Musk's suggestions are impractical, adding that the Republic of China (ROC) is a sovereign, independent nation and his party would protect its sovereignty, democracy and freedom.
New Power Party caucus whip Chiu Hsiang-chih (邱顯智) said his party strongly opposes Musk's proposal, adding that Taiwan must increase national defense spending and enhance its military capabilities in the face of China's military coercion and political intimidation.
Taiwan People's Party (TPP) caucus whip Chiu Chen-yuan (邱臣遠) said Musk's comments highlight Taiwan's strategic importance, as peace and stability across the Taiwan Strait affect the development of the global economy, but people around the world must respect Taiwan's sovereignty and allow Taiwanese to make their own decisions.
The Mainland Affairs Council yesterday said that neither Taiwan nor any other country would accept Musk's proposal, which is based on investment interests, "to turn a democratic country into an autocratic country's special administration."
Taiwan plays a crucial role in regional democratic politics and global technology and economy, and is not a product of commercial transactions, it said, adding that Taiwan has an advantage in the semiconductor and tech supply chain, and has long worked with Tesla.
It said it welcomes Musk and other global business leaders to visit Taiwan to see its democracy and innovation for themselves.
A senior Taiwanese official familiar with security planning in the region told Reuters that "Musk needs to find a clear-headed political adviser."
"The world has seen clearly what happened to Hong Kong," the anonymous official said. "Hong Kong's economic and social vibrancy abruptly ended under Beijing's totalitarian rule."
The three main candidates running for Taipei mayor also expressed their disagreement.
DPP Taipei mayoral candidate Chen Shih-chung (陳時中) said Musk is a successful entrepreneur, but the cross-strait relationship is complicated, adding that Musk's suggestion minimizes Taiwan and affects the nation's safety.
KMT Legislator and Taipei mayoral candidate Chiang Wan-an (蔣萬安) said that "the ROC is a country with independent sovereignty. We must protect the ROC and protect Taiwan."
Independent Taipei mayoral candidate Vivian Huang (黃珊珊), who is endorsed by the TPP, said Taiwan is a sovereign nation, so it should ignore Musk's irresponsible remarks.
"He can say what he wants to say, but we do not need to care about it," she said.
Additional reporting by Chung Li-hua and Reuters
Comments will be moderated. Keep comments relevant to the article. Remarks containing abusive and obscene language, personal attacks of any kind or promotion will be removed and the user banned. Final decision will be at the discretion of the Taipei Times.