Kremlin's proxies claim win in vote West calls 'sham'
Russia is poised to formally annex areas of Ukraine where it has military control after referendums yesterday reportedly endorsed Moscow's rule.
However, the ballots were widely discredited and earned the Kremlin no relief from international pressure over its assault on its neighbor.
Pro-Moscow administrations of all four occupied regions of southern and eastern Ukraine on Tuesday said that their residents voted to join Russia in five days of Kremlin-orchestrated balloting.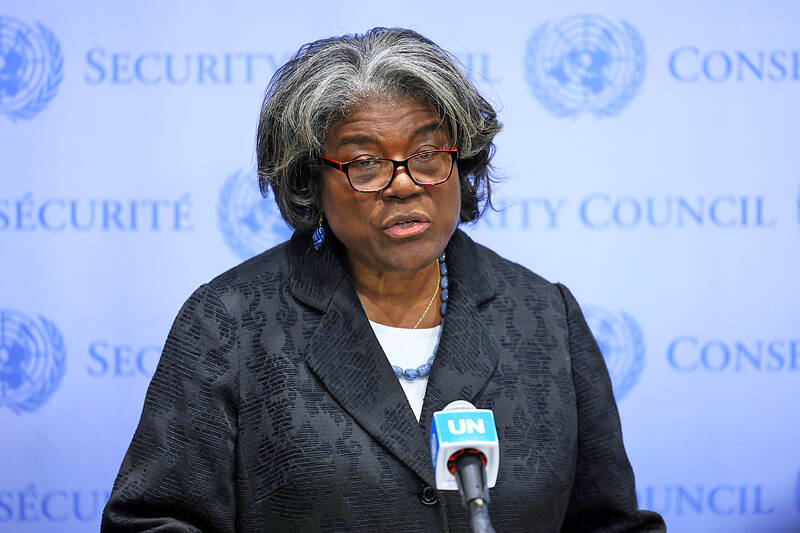 US Ambassador to the UN Linda Thomas-Greenfield speaks at a news conference after a UN Security Council meeting in New York City on Tuesday.
Photo: AFP
Election officials said that 93 percent of the ballots cast in the Zaporizhzhia region supported annexation, as did 87 percent in Kherson, 98 percent in Luhansk and 99 percent in Donetsk.
Officials in the occupied regions yesterday said that they would ask Russian President Vladimir Putin to incorporate them into Russia.
However, Western countries dismissed the ballots as a meaningless pretense staged by Moscow in an attempt to legitimize its invasion of Ukraine.
US Ambassador to the UN Linda Thomas-Greenfield said on Tuesday that Washington would propose a UN Security Council resolution to condemn Russia's "sham" vote.
The resolution would also urge member states not to recognize any altered status of Ukraine and demand that Russia withdraws its troops, she wrote on Twitter.
EU High Representative for Foreign Affairs and Security Policy Josep Borrell yesterday called the ballots "illegal" and described the results as "falsified."
"This is another violation of Ukraine's sovereignty territorial integrity, systematic abuses of human rights," Borrell wrote on Twitter.
In Kyiv, the Ukrainian Ministry of Foreign Affairs said that the ballots were "a propaganda show," and "null and worthless."
"Forcing people in these territories to fill out some papers at the barrel of a gun is yet another Russian crime in the course of its aggression against Ukraine," the ministry said in a statement.
It asked the EU, NATO and G7 nations to step up pressure on Russia through new sanctions, and significantly increase military aid.
The Kremlin remained unmoved amid the hail of criticism.
Kremlin spokesman Dmitry Peskov said that at the very least Russia intended to drive Ukrainian forces out of the eastern Donetsk region.
Comments will be moderated. Keep comments relevant to the article. Remarks containing abusive and obscene language, personal attacks of any kind or promotion will be removed and the user banned. Final decision will be at the discretion of the Taipei Times.